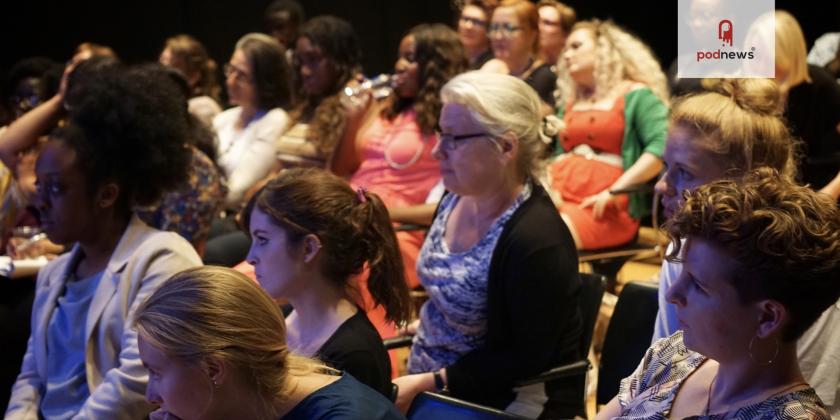 International Women's Podcast Festival returns; Beyond the Self announced as headline show
Press Release · London, UK ·
Content is Queen presents The International Women's Podcast Festival in partnership with Pinterest, a one-day event that unites the global community of female innovators and leaders in podcasting, audio and radio. It is the first and only of its kind in the UK offering a dynamic and refreshing space profiling the women shaping the rapidly expanding world of podcasts. Hosted live at Kings Place in London and streamed to an international audience alongside the global voices stage, the festival brings together the most inspiring women working in podcasting today.
The International Women's Podcast Festival takes place on Saturday 18 June, where Content is Queen have programmed an innovative day of events with an incredible line-up of podcasters and producers from around the world offering a fully intersectional experience tailored to help podcasters create and grow in an inclusive and inviting space.
Announced as the headline show is Beyond the Self, hosted by globally recognised coach, consultant, and writer Africa Brooke. Beyond the Self is a podcast about focusing on what you can control. Appearing alongside Africa will be special guest Blair Imani a writer, mental health advocate, and historian living at the intersections of Black, Queer, and Muslim identity.
"I am looking so forward to being in conversation with Africa Brooke. I'm honoured to be in a community with women and gender diverse people from around the world as we strengthen our networks, share our best practices, and invest in ourselves and each other." - Blair Imani
A host of globally recognised Keynote Speakers include Commissioning Producer for BBC Sounds, Leanne Alie (UK), co-founder of Ghost Island Media Emily Wu (Taiwan), Africa Pod Fest co-director Melissa Mbugua (Kenya), FayFay (Nigeria) of Naija Pod Hub, digital activist and veteran podcaster Bridget Todd (USA) of There Are No Girls on the Internet, Mae Thomas (India) of Maed in India, and Lory Martinez (France) founder of Studio Ochenta.
From multi-award-winning podcasters to women who carved out a niche and innovated in the industry, Content is Queen has programmed a host of panels and talks to gain instant access to some of podcasting's greatest minds, independent creators and industry insiders. Masterclass and workshop curation is designed to take you from idea to launch in just one day, hosted by the minds behind some of the world's biggest podcasts.
Speakers include Sharon McMahon of Sharon Says So, Adrienne Banfield-Norris of Red Table Talk and Positively Gam, Dr Laurie Santos of The Happiness Lab, and The Observer's Miranda Sawyer. Also confirmed are Jude Kelly of The WOW Foundation, Mothers of Invention's Maeve Higgins, Charlotte Williams and Bianca Foley of Sustainably Influenced, Arielle Nissenblatt of Earbuds Collective, The FT's Fiona Sturges, and Kaz Lucas of The Spread, Kenya, who comments:
"A table anyone should be happy to pull up a chair at. Being a part of a women's podcasting festival is an incredible position to be after all the years of sweat, blood and tears. Not something I suggest anyone should miss." - Kaz Lucas, The Spread.
Live Shows include The Masala Podcast with Sangeeta Pillai featuring special guests including Salma El-Wardany, Shazia Mirza, and Seema Anand and The Baggage Reclaim Sessions with Natalie Lue.
Content is Queen founder Imriel Morgan says: "This festival is the first of its kind in the UK and now the world. I've been deeply entrenched in the podcast industry for 7 years now and women's voices and contributions are still woefully underrepresented. When you add race and sexuality to that it's even bleaker. This festival changes that and reimagines the industry from the perspective of a representative group of female leaders so that we can empower and inspire the next generation of voices."
This event has been created so attendees from every background can see themselves represented – including people of colour, LGBTQIA+ people, people with disabilities, young professionals/newcomers, parents and older attendees. At least 25% of profits from The Women's Podcast Festival 2022 will go towards Content is Queen's Summer Microgrant Programme.
Podcast community Content is Queen has quickly established itself as a home for emerging creators, providing resources and production support to successful podcast creators like the award-winning The Log Books, Surviving Society, and Shade. CiQ has now successfully opened two physical podcast studios for the Black, Asian, and LGBTQIA+ and disabled communities. The first is in the heart of Peckham, within The Palms and the second is nestled within Makerversity at Somerset House.
Imriel Morgan is the Founder and CEO of Content is Queen and is the host of the award-winning Wanna Be podcast. She holds an MBA and has a background in tech, having spent years as a start-up marketer before working with social enterprises. Imriel began podcasting back in 2015 when she co-founded the UK's first podcast network built to support underrepresented groups. She believes audio is the most powerful medium in which to share the stories of others and through Content is Queen wants to help amplify them and change the world for the better.
General admission tickets are available now
Listen
This is a press release which we link to from Podnews, our daily newsletter about podcasting and on-demand. This is reprinted verbatim; we may rewrite headlines and descriptions.
This page contains automated links to Apple Podcasts. We may receive a commission for any purchases made.