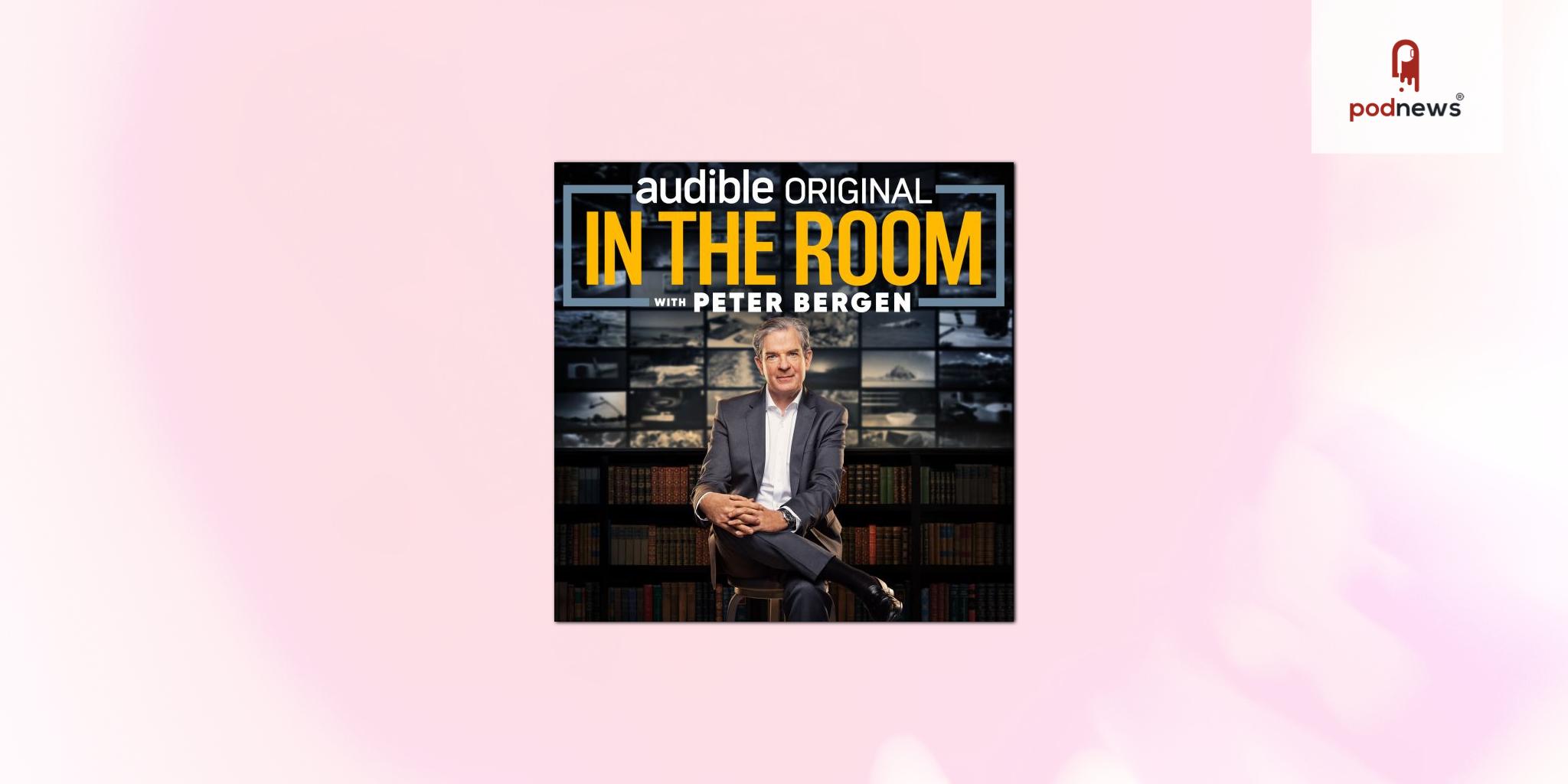 Audible and Fresh Produce Media Announce 'In The Room with Peter Bergen'
Press Release · via Shore Fire Media ·
Audible, the leading creator and provider of premium audio storytelling, and Fresh Produce Media, the audio-first entertainment company, are launching In the Room with Peter Bergen, a weekly podcast exploring the news from a nonpartisan and uniquely security-focused lens, today, May 16th, 2023 on Audible and across all audio services.
For his first ever podcast, Bergen — the renowned national security journalist and best-selling author who initially rose to prominence when he produced the first-ever television interview with Osama bin Laden several years before 9/11 — taps into his exceptional contact network to bring listeners "In the Room'' with experts across the fields of policy, international affairs, government, science, and more, to help unpack the most important and captivating stories of our moment. Emmy- and Peabody Award-winning journalist and editorial leader Alison Craiglow, formerly of Freakonomics Radio, is Executive Producer of the show for Fresh Produce Media.
Peter Bergen said "When the world is constantly screaming 'Breaking News!' it can be hard to cut through the noise to figure out what is actually a threat, what's actually worth paying attention to. With In the Room, I'm only bringing listeners information from those really in the know, whether I'm talking to a former Secretary of Defense, or someone like Breshna Musazai, an incredibly resilient female law student who was attacked by the Taliban while studying in Afghanistan and after a long ordeal is finally in the US. Audible and Fresh Produce have been stellar collaborators in bringing this vision to fruition, and I'm very excited that everyone will be able to hear these conversations beginning very soon."
Framing each episode with a question, like "Will Vladimir Putin Get Away with War Crimes?," Bergen and guests such as General David Petraeus, key 2019 impeachment witness and Russia foreign affairs specialist Fiona Hill, and former national security advisor John Bolton will drill into and provide a better understanding of how each topic shapes our world, affects our national security, and most importantly, impacts our lives.
From Russian nukes and mass shootings, and UFOs to AI, the topics explored on In the Room are presented in deeply reported episodes every Tuesday. With a rich narrative storytelling style, episodes feature multiple guest interviews interwoven together to showcase the full range of their perspectives, though occasional one-on-one interviews may be released on timely stories to offer In The Room's unique point of view on news that matters now. Listeners will be quite familiar with many of the guests, like General Petraeus, but In the Room is just as interested in voices that we don't often hear from, like the last American to leave Afghanistan as it fell again to the Taliban, and an agent at the FBI's famed Behavioral Analysis Unit who is trying to identify the next possible mass shooter. What unites each guest will be that they all have been "in the room," on the ground, and in the know.
Executive Producer Alison Craiglow of Fresh Produce Media added: "Amid the war in Ukraine, Chinese spy balloons, and ongoing concerns over online privacy, I don't know if the concept of 'security' has ever been so top-of-mind, or so broadly defined. To make sense of these issues and how they affect us, there's nobody who can bring us closer to that goal than Peter. Whether we're trying to get answers from a Pentagon official, someone hiding in the mountains of Afghanistan, or an analyst in the deep recesses of the FBI, Peter has these people on speed dial. And his calls get returned. Working on this series together is a true honor, as well as an adventure."
"Audible is committed at its core to providing listeners with innovative original content from experts at the top of their fields," said Pat Shah, Head of Acquisitions and Partnerships at Audible. "In the Room with Peter Bergen offers deep insight into hot button issues. It delivers an exciting yet intimate listening experience that makes you feel as if you are in the room with those who were involved in incredibly high profile and high risk, national security affairs. It is unlike any other program you will find today."
In the Room launches today, May 16th, with new episodes dropping each Tuesday on Audible and wherever you get your podcasts.
Listen
This is a press release from Shore Fire Media which we link to from Podnews, our daily newsletter about podcasting and on-demand. This is reprinted verbatim; we may rewrite headlines and descriptions.
This page contains automated links to Apple Podcasts. We may receive a commission for any purchases made.