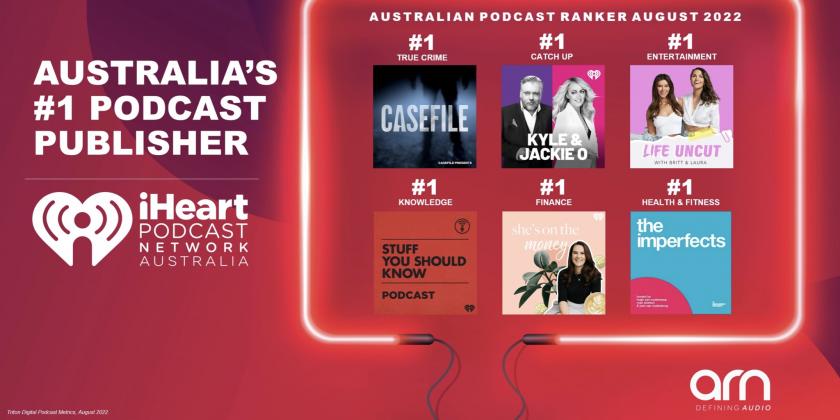 ARN's iHeartPodcast Network Australia dominates with five of the top 10 podcasts
Press Release · Sydney NSW, Australia ·
ARN's iHeartPodcast Network Australia has dominated the latest Podcast Ranker results, delivering five of the top 10 podcasts and recording a combined total of 5.6 million listeners.
Released today, the results from the August report also show iHeartPodcast Network Australia had over 25 million downloads last month (up 6.5%) – more than 4 million downloads ahead of its closest competitor.
The network's top titles range across a variety of genres and include Casefile from Audioboom (#1 True Crime and #2 overall); The Kyle & Jackie O Show (#1 Catch Up and #3 overall); Life Uncut with Brittany Hockley & Laura Byrne (#1 Entertainment, #5 overall); Stuff You Should Know (#1 Knowledge, #7 overall and the most downloaded podcast again for the month); and The Imperfects (#1 Health & Fitness, #9 overall).
Other standouts for ARN's iHeartPodcast Network include No Such Thing as a Fish from Audioboom (#18); and She's On The Money with Victoria Devine (#1 Finance, #26 overall); while the biggest mover on the Podcast Ranker was Theo Von's comedy podcast This Past Weekend, jumping a massive 78 places to #54.
ARN's Head of Digital Audio, Corey Layton, said "To hold half of the Top 10 most popular podcasts, and lead in the genres that count, is a huge achievement and reflects our commitment to create quality connections with our listeners and brands alike. These fantastic results show that audiences are hungry for premium, diverse content, and we will continue to expand our offering with even more exciting podcasts being added over the coming months".
This is a press release which we link to from Podnews, our daily newsletter about podcasting and on-demand. This is reprinted verbatim; we may rewrite headlines and descriptions.