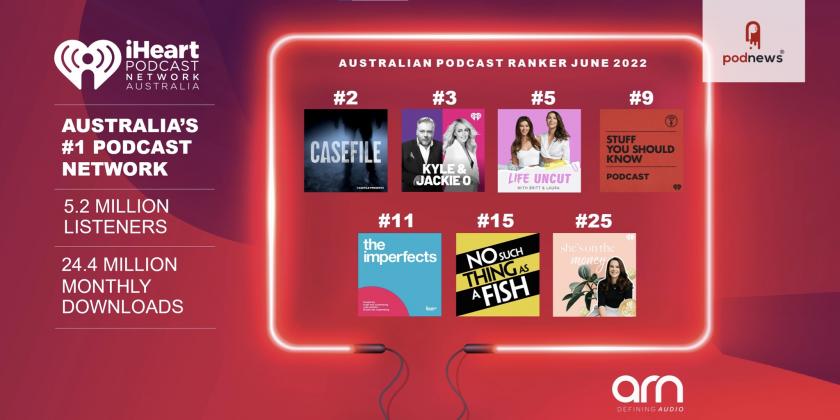 ARN's iHeartPodcast Network Australia holds top spot for 26th consecutive podcast ranker
Press Release · Sydney NSW, Australia ·
Wednesday July 13, 2022 – ARN's iHeartPodcast Network is Australia's leading podcast network for the 26th consecutive ranker with an incredible 24.4 million monthly downloads.
Today's monthly Podcast Ranker report for June shows iHeartPodcast Network Australia again has the largest podcast audience in Australia with a combined total of 5.26 million listeners. The network also holds four of the Top 10 most listened to podcasts in the country.
ARN's iHeartPodcast Network leads the way in the hugely popular true crime genre with Casefile (from Audioboom which is part of the iHeartPodcast Network) #1 in Crime and #2 overall. The Australian-made podcast had 806,523 listeners and just under two million downloads in June.
Kyle & Jackie O continue to dominate with The Kyle & Jackie O Show sitting as Australia's #1 Catch-up podcast (a position it has held since the survey was first introduced) and moving up two places to #3 most popular overall. The podcast had 501,226 monthly listeners and 1.9 million downloads.
Rounding out the Top 5 for ARN's iHeartPodcast Network is Life Uncut with Brittany Hockley and Laura Byrne, which is the #1 Entertainment podcast and #5 overall with 445,326 listeners and 1.4 million monthly downloads. Their recently launched KIIS Original Podcast Hooked, Hitched & Hung Up also made its debut in today's Podcast Ranker results, coming in at #78.
Meanwhile, KIIS FM Drive's Will & Woody were the biggest risers in the report, with their catch-up podcast jumping a massive 58 spots to #44.
Other standouts for the network include:
ARN's Head of Digital Audio, Corey Layton, said, "Being Australia's top Podcast Network for the 26th consecutive ranker is an outstanding achievement and is testament to the hard work of our incredible team and partners. It is great to see such strong results across the genres that count as we continue to expand our diverse offering through our originals and partnerships with the best creators in Australia and across the globe."
This is a press release which we link to from our daily newsletter about podcasting and on-demand. This is reprinted verbatim; we may rewrite headlines and descriptions.