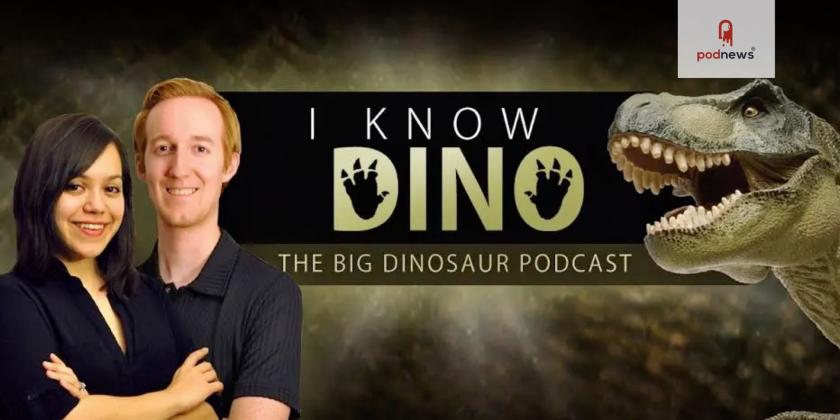 I Know Dino celebrates eight years of big dinosaur podcasting
Press Release ·
I Know Dino: The Big Dinosaur Podcast is celebrating their eight-year anniversary!
I Know Dino is a weekly show all about dinosaurs, hosted by husband and wife team Garret Kruger and Sabrina Ricci. When the show launched in 2015, there were no other podcasts dedicated to dinosaurs.
Eight years later, they have nearly 3 million downloads worldwide, have conducted interviews with over 150 dinosaur experts, and have become full-time podcasters. And they still love talking about dinosaurs all the time.
Each week, I Know Dino dives into the latest dinosaur news (there's a new discovery every week), features a "dinosaur of the day" segment, and a fun fact. The couple also have a "dinosaur connection challenge" segment, where listeners suggest random topics and challenge them to connect the topic to dinosaurs. Past topics include sandwiches, chocolate, and the Titanic.
As part of the celebrations, all throughout January I Know Dino will be highlighting 31 of the best and most memorable episodes from the past eight years.
Here are five:
And patrons of the show at the Triceratops tier and above will also receive an exclusive, limited edition I Know Dino patch. Join their di-know-it-all community by January 31 at patreon.com/iknowdino to claim a patch.
About the hosts
Garret Kruger and Sabrina Ricci love dinosaurs so much they had a dinosaur-themed wedding and then started their podcast.
Listen
This is a press release which we link to from Podnews, our daily newsletter about podcasting and on-demand. This is reprinted verbatim; we may rewrite headlines and descriptions.
This page contains automated links to Apple Podcasts. We may receive a commission for any purchases made.