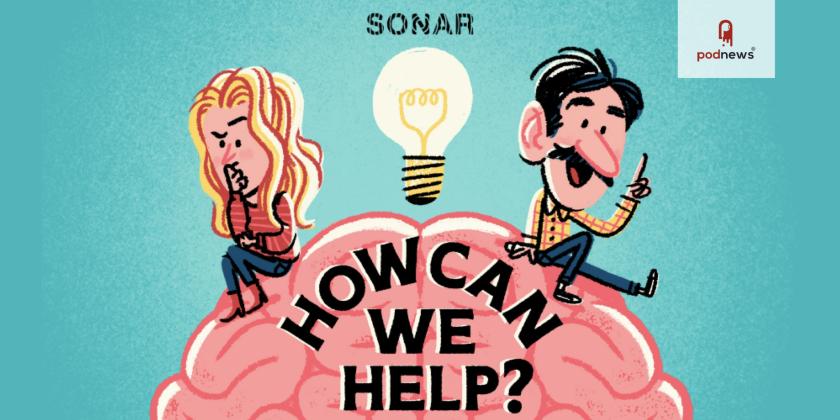 The Sonar Network proudly announces HOW CAN WE HELP?
Press Release · Gatineau, QC, Canada · via Victoria Laberge PR ·
The Sonar Network, Canada's award-winning independent podcast network, is proud to announce How Can We Help?, a new show by Jackie Pirico (2023 Juno Award nominee for Comedy Album of the Year) and Mark Little (Mr. D, Prime Video's Gary and His Demons). On How Can We Help?, Jackie and Mark share perfect, unimpeachable ideas on how to improve your life. Got a nosy neighbor? A workplace dilemma? A loooove problem? No question is too difficult for these experts in unsolicited-advice-giving! Listeners are invited to submit their own questions and dilemmas and hear these two charming comedians weigh in with their hilarious takes on the situation.
Brought to you by the team behind the acclaimed My Gorgeous Son and This Is Rats Nest, How Can We Help? brings all the uproarious laughs of Pirico and Little's live stand-up and sketch shows to the comfort of your earbuds. Special guests include such revered comedians as Brandon Wardell (I Think You Should Leave, Curb Your Enthusiasm), Chris Wilson (This Hour Has 22 Minutes), Kayla Lorette (New Eden), Michael Balazo (Schitt's Creek), Jack Hirschfield, Tim Gray, Dana Smith, and Jordan Foisy.
How Can We Help? joins the Sonar Network and is now available for free on every podcast app and ad-free on SONAR+ on Apple Podcasts. Subscribers to SONAR+ can access ad-free episodes and bonus content.
ABOUT JACKIE PIRICO
Jackie Pirico is a Guelph-born, Toronto-based comedian who's part of the acclaimed comedy collective Laugh Sabbath. Self-proclaimed pet journalist, Jackie makes the greatest Instagram Stories investigating all the various aspects of her precious pet, Nutland. Her comedy album Splash Pad received a 2023 Juno Award nomination for Comedy Album of the Year.
ABOUT MARK LITTLE
Mark Little is an award-winning actor, writer and comedian. He has appeared on JFL and Conan, co-founded the sketch comedy group Picnicface and was named one of Variety's 10 Comics To Watch. Mark has starred in multiple TV shows, including CBC's Mr. D, and has won a total of 15 Canadian Comedy Awards. In recent years, Mark has written and provided voices for numerous animated series, including Cloudy With A Chance Of Meatballs, Transformers: BotBots, Cupcake & Dino: General Services, and Doomlands. The second season of Gary And His Demons, an animated series co-created by Mark Little and Mark Satterthwaite, premiered on Prime Video in February 2023.
Listen
This is a press release from Victoria Laberge PR which we link to from Podnews, our daily newsletter about podcasting and on-demand. This is reprinted verbatim; we may rewrite headlines and descriptions.
This page contains automated links to Apple Podcasts. We may receive a commission for any purchases made.