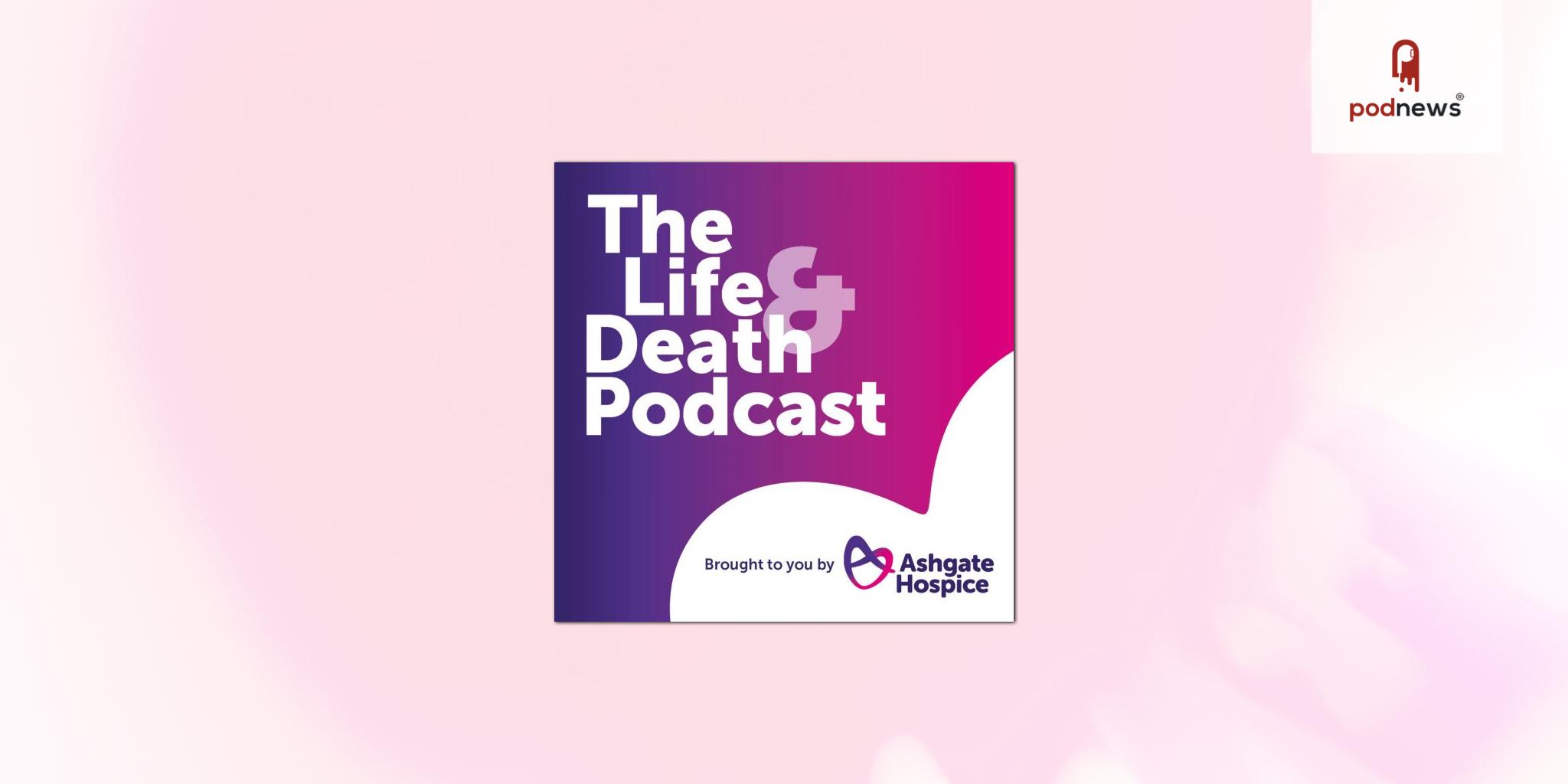 From Ashgate to Arizona – hospice's grief podcast goes stateside
Press Release · Ashgate, UK ·
Ashgate Hospice's popular grief podcast is going stateside – as the charity meets guests from as far as Arizona who have experienced death, dying and bereavement.
The North Derbyshire hospice's The Life and Death Podcast explores frank and honest conversations around death and what 'dying well' really means.
Each episode welcomes experts, writers, doctors and people who have experienced end-of-life care to discuss their unique relationships, hospice life, and how death affects the living.
Amongst the guests featuring in season three include Sunday Times best seller and journalist Clover Stroud, author of the recently released 'The Death of My Blood' and neuroscientist Mary-Frances O'Connor, an author and associate professor at the University of Arizona.
Episodes will be released on Mondays every fortnight, with the first episode already released on Monday 2nd May to coincide with Dying Matters Awareness Week. In the first episode, host and Senior Physiotherapist at Ashgate Hospice, Stephen Rumford, meets 45-year-old Kimberley Greaves to discuss life as a young widow and mum to two children.
The pair discuss the awkward conversations Kimberley faces when she tells people her husband has died, to how her children kept her going through the darkest of times.
Stephen said: "The aim of the podcast from its inception was to look as openly and sensitively at all aspects of death and dying and how they extend into all aspects of life as human beings.
"The third series continues that line of conversation and what we have now are six episodes that will provide a great resource to anyone who is bereaved and anyone who is curious about the subject.
"This series guests includes those who have survived the death of a partner and face parenting alone. To an academic who has made it her life's work to study and try to understand how the human brain processes and understands grief.
"Later in the series, I chat with a former doctor, writer and cultural commentator about how it is that we manage death in modern healthcare settings.
"The series is a great conversation starter, a support for those who have experienced bereavement and incredibly thought-provoking. I hope our listeners enjoy the considered opinions of our guests as they share their unique experiences with us."
Other guests include:
Mary-Frances O'Connor – neuroscientist, author and associate professor at the University of Arizona. Here she leads the grief, loss and social stress lab, investigating the effects of grief on the brain and the body.
Clover Stroud – Sunday Times Bestseller and journalist writing for the Daily Mail, Sunday Times, Daily Telegraph and author of her new book, The Red of My Blood. Her book shares her grief story following the death of her beloved sister, Nell.
Stacey Heale – writer, Ted Talk contributor and well-known grief commentator on social media. Her husband, Greg Gilbert, lead singer of noughties indie-rock band the Delays, died of bowel cancer in 2021.
Seamus O'Mahoney – recently retired consultant gastroenterologist who worked most recently at Cork University Hospital in Ireland as well as at NHS hospitals in England. Seamus has established himself as a well-regarded commentator on modern medicine and healthcare systems and written extensively about our expectations around life, death, disease and the daily experiences he often had with patients in hospital.
Series one, two and the special one off Christmas episode are available to stream on all platforms by searching for 'The Life and Death Podcast Ashgate Hospice' or by clicking here. Episodes from series three will be released fortnightly over the next couple of months.
Listeners can subscribe to the podcast to ensure they never miss out on a newly released episode.
Listen
This is a press release which we link to from our daily newsletter about podcasting and on-demand. This is reprinted verbatim; we may rewrite headlines and descriptions.
This page contains automated links to Apple Podcasts. We may receive a commission for any purchases made.