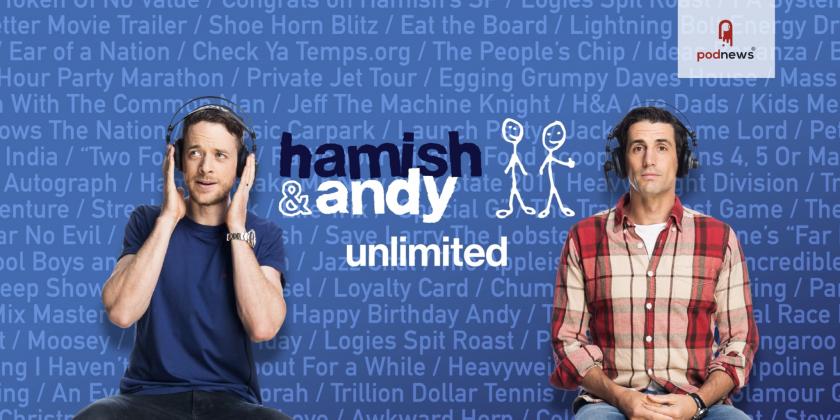 Hamish & Andy's entire radio show archive available on Apple Podcasts now
Press Release · Melbourne VIC, Australia ·
Australia's no. 1 podcasters and comedy duo, Hamish & Andy, are making their entire radio show archive available on Apple Podcasts.
The 'Hamish & Andy Unlimited' subscription includes 12 years of broadcasting spanning 2006 to 2017, featuring 1,800+ episodes. 'Hamish & Andy Unlimited' includes many iconic Hamish & Andy moments that will bring delight and nostalgia for people around the world (think the tall ship voyage; Fred Basset; Frank Stallone) as well as favourite segments and celebrity interviews (remember the Ed Sheeran Peep Show?!). Hamish and Andy have also shared in their words some favourite moments from creating the Cool Boys cover band to the Andy by Hamish fragrance adventure. See below for more details as well as a quote on each moment.
'Hamish & Andy Unlimited' will be available as a subscription for A$2.99 inc. GST per month. You can get it here.
Hamish Blake & Andy Lee say: "We are pumped to be launching 'Hamish and Andy: Unlimited" with Apple. Hopefully people enjoy wandering down memory lane as much as we did when putting this altogether."
Andy's favourite moments
Best Bloke in the World Prank: We called a random number to see if they'd lie and be a reference for a job interview even though they had never met the person. When you try these things, you never expect them to work but we stumbled across the most amazing bloke. He gave the best reference to someone he has never ever met.

The Cash Claw on the Cruise Ship: We broadcast from a cruise ship and in our spare time, spent so much money on a skill tester game that you could win money on. Having wasted all our dough, we decided to play it one last time on air in front of the whole boat in the performance area. I bloody came up. We won!

Rob Thomas fronts Cool Boys and the Front Man: We never knew that this silly day would turn into a two year adventure. We learned the backing to 'Smooth' by Rob Thomas and made a deal with him. "If we start playing the song and you don't think we are good enough by the time the vocals come in, you can just place the microphone down and walk off." Remarkably, we were just to the level so he sung and we went on to form 'Cool Boys & the Front Man,' a band that toured Australia twice.

Rhianna Lawsuit: We had Rhianna on the show many times. In a previous interview Hamish had suggested a lyric, which she laughed at so we said "if we ever catch you using it, we'll sue you." Little did we know that she'd accidentally used a similar lyric a few years later, so when she was next on, we reminded her. She was shocked!

The Wrong 'Cheers' Sound Effect: The best moments in radio came as a surprise. Hamish asked for a 'cheering' sound effect to try and claim a victory. He wanted a crowd going wild with applause. Ben, who pushed the buttons, accidentally played the theme song to the TV show 'Cheers' and it took us a moment to work out what was going on but when the penny dropped, it was magic.
Hamish's favourite moments
Andy by Hamish: The world of celebrity fragrances is full of celebrities simply calling a fragrance their own name, and hoping that brand power will sell units. But they all have one thing in common that was ripe for disruption: they all do their own name. So when I tricked Andy into giving me permission to own his name for the purposes of marketing a fragrance the adventure of Andy By Hamish was born. I don't reckon I've laughed harder than when I had to do a photo shoot with the face of a fragrance who didn't want to be there. Was a great adventure.

Horgs Beat the Bomb Stitch-up: I don't know why but this sticks out for me, it was maybe our first year of radio and we convinced our mate Horgs that we'd seen the amount for the classic radio contest "beat the bomb" and could rig it so he was selected. To be guaranteed to win $40k, all he had to do was play along and act surprised. We roped in the guy who actually ran the contest to give him the fake call. Sitting in the studio eating my jumper to stifle laughter as that played out just sticks out in my mind as a moment where I thought "I can't believe this is our job."

Cool Boys Bus Tour: Our first tour in our cover band with highly specific conditions (we only play one song per gig, always the same song, only play pre-existing gigs and change front person every gig) was so much fun. Andy getting his bus drivers licence so he could drive us up the East Coast in a tour bus that had a keg and bar plumbed into it was epic. We had so much fun that trip, we barely had time to play our one song four times over the week, but somehow we managed.

Share the Flame: We did the show from London for a few months one year while travelling and the Olympics were on. We came up with a plan to share (key point: "not steal") the Olympic Flame as it passed by on the relay, where one of us would run towards the runner with a fake hand on doused in kerosene. The plan was to put the hand into the flame, light it, run off, then pass it to others who had fake hands too, with the idea being that at least one of us would get away. I mean, the idea got crushed HARD by legal, but the few weeks of excitement and the live rehearsals leading up to the heist are fond memories for me about how unhinged we tended to get when doing the show overseas.

Selling Tim-O-Matic's Autograph: It's a long story but I spent almost an entire year of the show running a side hustle where I sold pub coasters that had dance and music sensation Tim-O-Matic's autograph on them (which I'd learned how to do). A lot of discussions were had over IP which I won't bore everyone with, but it was another one of the small things that grew into something big and the longer it went, the dumber, and therefore funnier, it was.
Listen
This is a press release which we link to from our daily newsletter about podcasting and on-demand. This is reprinted verbatim; we may rewrite headlines and descriptions.
This page contains automated links to Apple Podcasts. We may receive a commission for any purchases made.