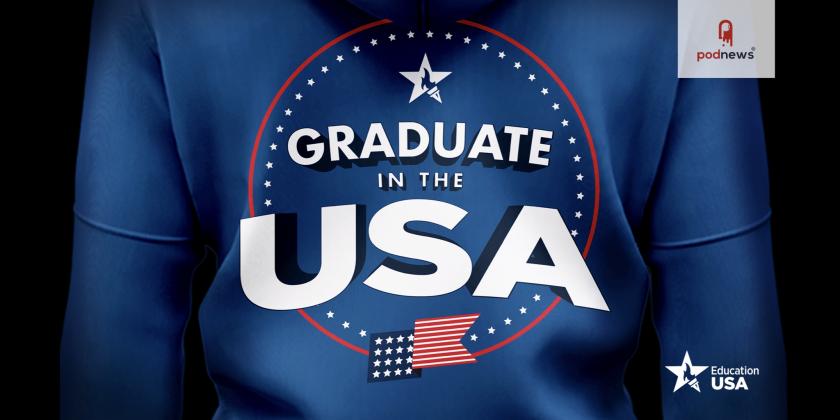 The US Embassy partners with Mushroom Studios to create Graduate In The USA podcast
Press Release · Yarralumla ACT 2600, Australia ·
U.S. Embassy Australia, in collaboration with the Mushroom Group's podcast division Mushroom Studios, today announces the Graduate In The USA podcast, a six-part series that provides Australian students, parents, and school staff with exclusive insights on how to navigate the U.S. college admissions process. The first episode, out next Wednesday 27 April, will feature an interview with Australian American AFL ruckman Mason Cox.
Each 30 minute episode in the six-part series will feature an interview with an expert on American universities, including admission personnel, a sports coach, college athletes, and a former U.S. Ambassador. The series will give listeners the inside word on the university admission process as well as on what life is like as a college student in the United States.
As the U.S. Embassy's Head of Public Engagement Samantha Juster said, "Every year a number of Australian students consider studying at a U.S. college. This podcast will give both students and their parents the information they need before they go. A U.S. college degree opens the door to a world of opportunities."
The first episode will feature an interview with American Australian Mason Cox who, before becoming an AFL ruckman for the Collingwood Football Club, graduated with an engineering degree from Oklahoma State University in 2014. Interviewed by Melbourne's U.S. Consul General Kathleen Lively, Mason Cox shares what it's like living and studying on a U.S. college campus, how opportunities students are exposed to can change their lives dramatically, and how a hobby of playing basketball led him to living and working in Melbourne.
Later episodes will discuss how international students can find their best fit university amongst the vast diversity of U.S. higher education options, differences between the U.S. and Australian university experiences, and tips on how to compile a competitive admissions application.
The series will feature interviews with former U.S. Ambassador Jeff Bleich; Australian political scientist and Dean of the University of Southern California Marshall School of Business Dr. Geoffrey Garrett; New York University (NYU) Associate Director of Customer Service Admissions Operations, Australian Liam Dean-Johnson; Senior Associate Dean of the Office of Undergraduate Admission at University of Pennsylvania, Liz O'Connell; and Heather Marini, an Australian quarterback coach at Brown University.
EducationUSA Australia brought Mushroom Studios on to co-produce the new podcast series Graduate In the U.S.A. EducationUSA Australia is part of the U.S. State Department.
Prior to the Graduate In the U.S.A. podcast series, Mushroom Studios co-produced two series of the 37 Degrees Latitude podcast for the U.S. Embassy Australia. Hosted by the former U.S. Consul General Mike Kleine, 37 Degrees Latitude explored how major Australian startups including Culture Amp, CloudPeeps, Blackbird Ventures, and 99 Designs made it big in the United States.
Mushroom Group Chief Executive Matt Gudinski said: "I'm thrilled for Mushroom Studios to once again be working with the U.S. Embassy Australia on this podcast. Having previously worked with the U.S. Embassy Australia on two series of the 37 Degrees Latitude podcast amongst other things, it feels like a natural progression for us to be working on Graduate In The U.S.A."
Mushroom Studios Creative Director Courtney Carthy said: "We're very excited to help bring the diverse voices and stories of the U.S. college experience to Australian students. Graduate In The USA was recorded across two countries, five US states and two Ivy League universities. It's been great to support EducationUSA Australia giving Australian students a firm foothold if their tertiary ambitions are to graduate in the USA."
Listen
This is a press release which we link to from our daily newsletter about podcasting and on-demand. This is reprinted verbatim; we may rewrite headlines and descriptions.
This page contains automated links to Apple Podcasts. We may receive a commission for any purchases made.