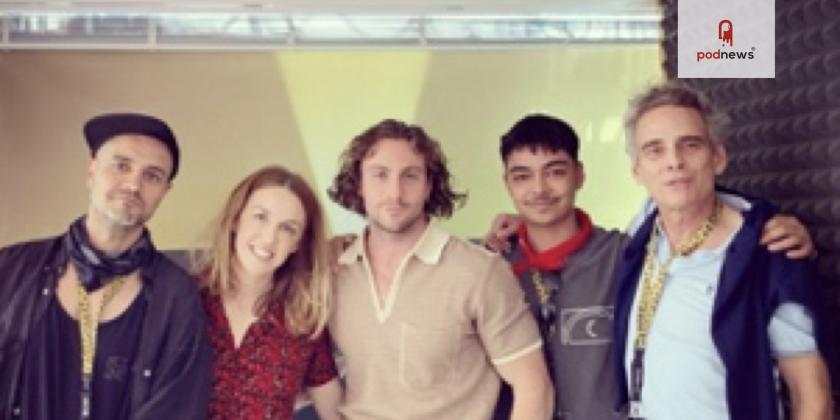 BrandAudio produces second release of Locarno Film Festival podcast series
Press Release · Locarno, Switzerland ·
The second five episodes of Futurespectives, the Locarno Film Festival podcast series, are now available on the festival website and all favourite podcast channels.
Presented by UBS, Futurespectives was conceived and produced by BrandAudio to ensure the Locarno Film Festival could also get heard in the audio space of its communities and the earphone generation at large.
Futurespectives offers listeners a futuristic retrospective featuring exclusive conversations with an illustrious line up of Hollywood A listers including Matt Dillon, Daisy Edgar-Jones, Juliette Binoche, Udo Kier and Aaron Taylor-Johnson, to incredible directors such as Todd Haynes, Costa-Gavras and Kelly Reichardt, Emmy winning producer Jason Blum, the one and only avant-garde artist, composer, musician, and film director Laurie Anderson, to the Festival Directors Giona A. Nazzaro and Simona Gamba… and many more leading industry game changers, new talent and inspiring story tellers who are challenging perceptions via their craft. "We are delighted with the results of the Futurespectives podcast series we formatted, which far exceeded our client's expectations", says BrandAudio's Managing Partner Darryl von Däniken.
Futurespectives is hosted by Gabby Sanderson, presenter, producer and journalist with decades of experience working for leading audio channels such as the BBC, Apple Music Radio, iHeartMedia, RTE, Bauer Media, and one of the key anchors at the International Radio Festival. In Futurespectives Gabby explores her guests' hidden stories, journeys, and dreams, introducing audiences to fresh perspectives on the future of film, culture and society. Darryl von Däniken says: "Working with leading organisations such as the Locarno Film Festival and UBS, who value innovation as a key driver to get their brands noticed, allows us to fully play out our creative approach to the incredible attributes that audio podcast storytelling offers. And being able to plug in to our global audio network and commission professionals such as Gabby Sanderson and Nik von Frankenberg, offers us the opportunity to curate and ultimately realise exciting audio formats such as Futurespectives for leading organisations and brands".
The first Futurespectives podcast series will drop regular releases all the way into 2023, aiming to enhance the festival experience beyond the 11 days of the physical event each summer. "The Locarno Film Festival will continue its ongoing expansion in being active throughout the year with a number of innovative engagements, and adding podcast storytelling to the festival's communications mix will form part of such engagement", says Darryl von Däniken.
Listen
This is a press release which we link to from Podnews, our daily newsletter about podcasting and on-demand. This is reprinted verbatim; we may rewrite headlines and descriptions.
This page contains automated links to Apple Podcasts. We may receive a commission for any purchases made.