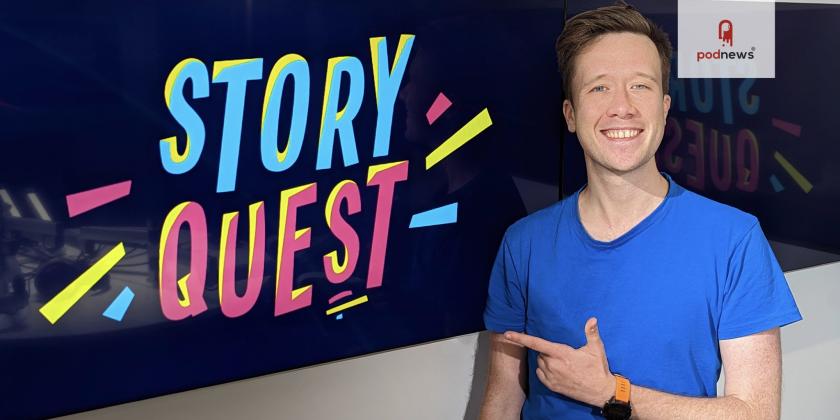 Children put in charge of Fun Kids Story Quest podcast
Press Release · London, UK ·
Children's radio station Fun Kids is launching a brand new, interactive version of its popular Story Quest podcast, where young people see their story ideas brought to life.
Starting today, Thursday November 3rd, young listeners will be suggesting story ideas which the Fun Kids team will then turn into a special tale. The stories will then appear in audio on the Story Quest podcast as well as video on The Fun Kids website and YouTube. On the show each child will introduce the story then afterwards talk to the presenter, Dan Simpson, about where their idea came from and what they thought about the tale Fun Kids created.
Children from all over the world have submitted ideas in the hope that their stories will be brought to life by the creative team at Fun Kids, who were shortlisted as Network/Publisher of the Year at the Audio Production Awards on Monday.
Story Quest is a regular fixture in the Kids & Families podcasts chart with over a million downloads since its launch.
Fun Kids Content Controller, Lloydie James Lloyd said:
"We know kids have the best imaginations and we wanted to make sure they had a platform. Most children's stories come from the heads of adults but with Story Quest, we wanted to tap into the creative genius of our listeners before we created our stories.
"Each story will be written from their suggestions and then read out by a Fun Kids presenter so the young person behind the story can hear their idea brought to life. It is a real creative challenge for our team to bring to life such innovative ideas. Each story is unique and a valuable chance to interact with our listeners."
The first of the new stories will be available from Thursday 3rd November 2022 on all main podcast platforms as well as on YouTube and funkidslive.com. New stories will then be published every Thursday.
Listen
This is a press release which we link to from Podnews, our daily newsletter about podcasting and on-demand. This is reprinted verbatim; we may rewrite headlines and descriptions.
This page contains automated links to Apple Podcasts. We may receive a commission for any purchases made.