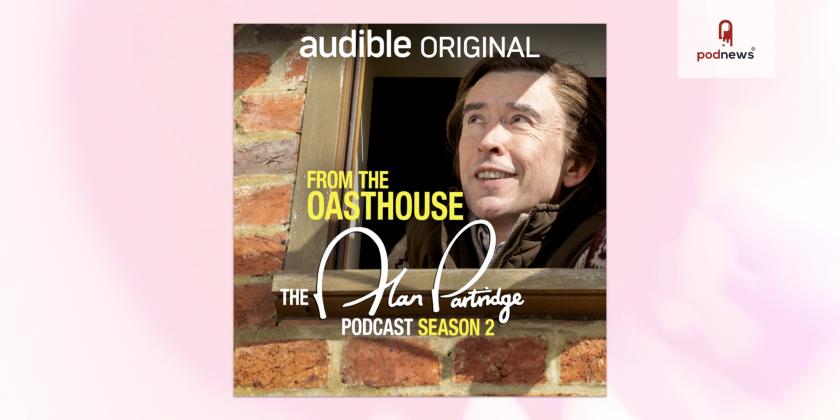 Alan Partridge returns confidently to the world of podcasting with season 2 of Audible's From The Oasthouse
Press Release · Norwich, UK ·
One of the nation's best-loved broadcasters will be making a welcome return to the podcast airwaves later this year, as Audible, a world-wide leader of spoken-word entertainment, announces it has greenlit a second series of From the Oasthouse, The Alan Partridge podcast, launching in September.
Following the triumphant success of his first award-winning foray into podcasting (The Independent "up there with his funniest work"), Alan Partridge will be back once again, offering his unique perspective on life's big questions, the hot-button issues of the day, his professional successes and the most intimate details of his personal life in a series he is already calling 'seminal'.
Across 11 episodes, the second series will come partly from the Oasthouse - in order to satisfy people who'd rather he didn't mess with the format - and partly from other locations - to appeal to those who found the original format a bit limiting.
Dedicated to the rich heritage of the podcasting format, each episode sees Alan record the most intimate details of his personal life, through a fascinating series of conversations and richly sound-designed audio vignettes. After which, to quote Alan, "audio is sent directly to Audible to ensure it meets the technical specifications laid down in his contract."
Alan Partridge, host of From The Oasthouse: The Alan Partridge Podcast, said: "When it comes to podcasting I was a late adopter. I believed - like millions of others - that the future of broadcasting lay in hologram technology. Over a decade later and with Peartree Holograms now dissolved, I can see that I backed the wrong horse, just as I had with Betamax. Now, I have thrown my all into podcasting and am pleased to be considered one of finest podcasters of all time. My new series will cement that legacy."
An Audible Original, From The Oasthouse: The Alan Partridge Podcast Series Two, has been written by Steve Coogan, Rob and Neil Gibbons and produced by Baby Cow for Audible.
Available to pre-order now, with the series launching in September exclusively on Audible.
This is a press release which we link to from our daily newsletter about podcasting and on-demand. This is reprinted verbatim; we may rewrite headlines and descriptions.