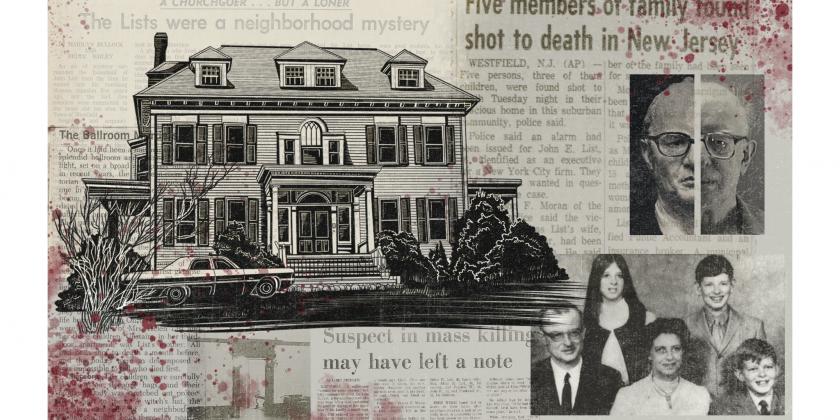 NJ.com Launches Its First True Crime Podcast: Father Wants Us Dead
Press Release · Woodbridge, NJ, USA ·
NJ.com, the No. 1 local news site in the United States, will investigate one of the most notorious murderers in New Jersey history when it launches its first true crime podcast on Tuesday, May 10, 2022, Father Wants Us Dead. Two award-winning journalists go inside the mind of a killer, uncovering new details about the twisted 1971 John List murders. They take listeners along as they trace List's brutal slayings of his wife, mother and three children, the shockwaves the killings sent through their upscale suburb, and the unbelievable 18-year quest to bring a seemingly mild-mannered accountant and Sunday school teacher to justice after he vanished to start a new life.
Throughout nine episodes, journalists Rebecca Everett and Jessica Remo tell the chilling story like it's never been told before and introduce listeners to sources speaking out for the first time. Remo and Everett, who have 25 years of combined experience, obtained hundreds of pages of police, prosecutor, and FBI files, some of which have never been released publicly. They contacted over 100 sources close to the case, interviewing nearly 50, and in this podcast, debunk myths that have been told and retold over the years about the infamous murders, which reverberate within the psyche of the community.
The sources heard in the podcast include close friends who paint a picture of the List family and their final days, the people who witnessed the horrific crime scene and can't forget it, the unsuspecting souls who were part of List's second, undercover life, and the investigators who refused to stop searching for this family killer. It also features an interview with America's Most Wanted host, John Walsh, who became integral to the discovery of List's whereabouts.
Despite the popular genre and notorious story, no podcast besides this one has ventured to do a deep-dive on this case and introduce it to the ever-growing true crime audience – and Everett, Remo and NJ Advance Media, the statewide news leader behind NJ.com and The Star-Ledger, are just the right ones to do it. As Remo puts it, "I just feel fully confident that no one else now knows this case as well as the two of us." Everett goes on to say, "We bring the eye of an investigative reporter to it, as well as a reporter who grew up in the area and really knows the impact this had."
Father Wants Us Dead launches its trailer May 3, 2022 on Megaphone, a division of Spotify. You can listen and subscribe to or follow Father Wants Us Dead on Spotify, Stitcher, Apple Podcast, Pocket Casts, or anywhere podcasts are available.
Listen
This is a press release which we link to from our daily newsletter about podcasting and on-demand. This is reprinted verbatim; we may rewrite headlines and descriptions.
This page contains automated links to Apple Podcasts. We may receive a commission for any purchases made.