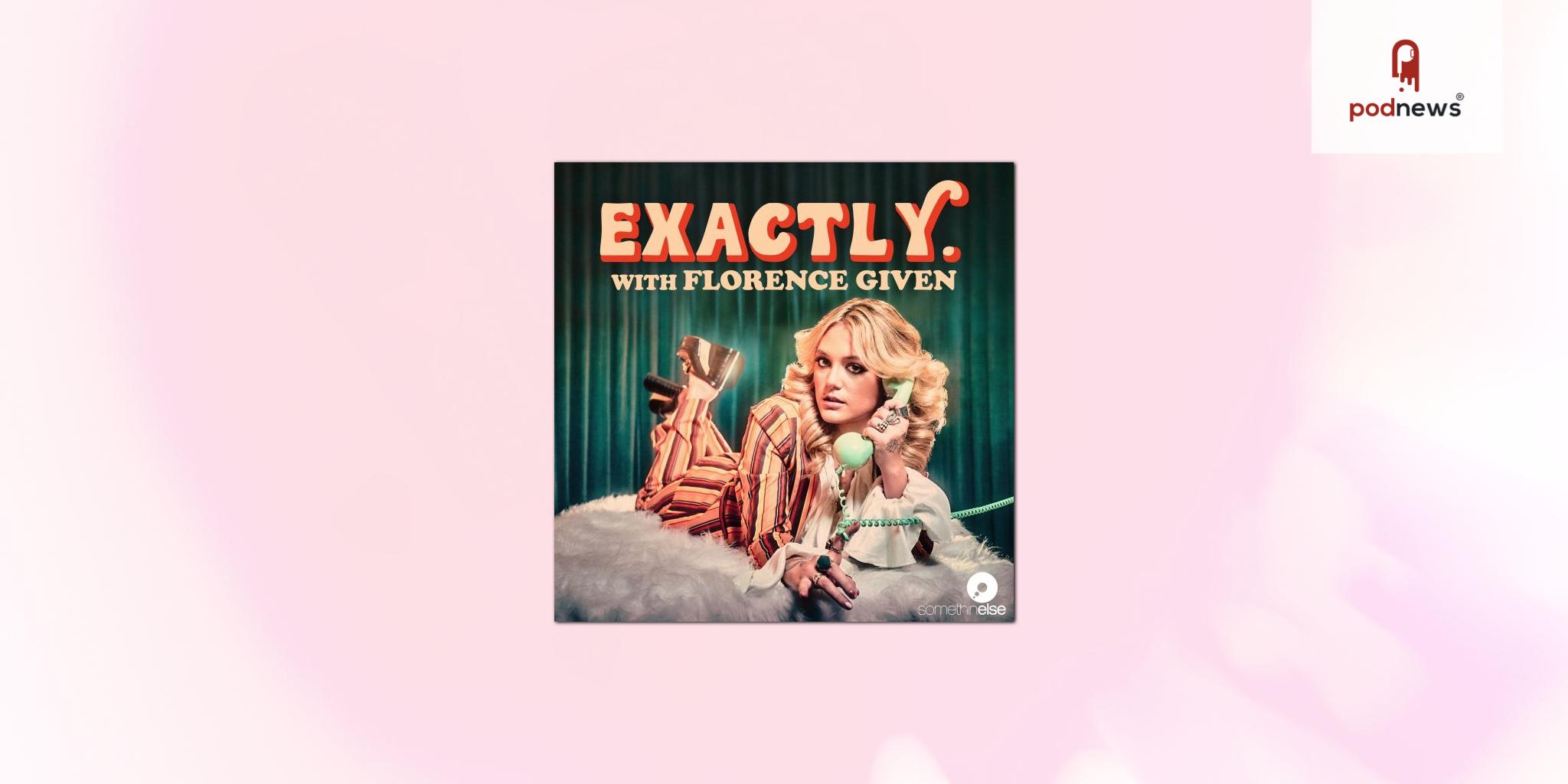 Florence Given premieres new podcast - Exactly. With Florence Given
Press Release ·
Somethin' Else, a Sony Music Entertainment company, announced the premiere of its new podcast Exactly. with Florence Given on Monday, January 17th. At 23 years old, Florence is the bestselling author, feminist, and illustrator behind Woman Don't Owe You Pretty – her record-breaking debut book which empowers readers to know their worth. Florence is on a mission to connect people by exploring different perspectives and philosophies on life. Click here to listen to the trailer.
Florence and her guests will take big topics – sex, relationships, social media, feminism, and body image – and examine them through a feminist lens. Guests include actor Jameela Jamil, author Layla Saad, dominatrix Miss Erica Storm and comedian Sofie Hagen. Together, they will delve into conversations about sexual empowerment, queer and sexual identity, social media and activism, and more.
Throughout the series, Florence will unpack these provocative subjects with passion, humor, and sensitivity and will connect, challenge, and empower listeners each week.
Florence Given said, "I've started this podcast because I want to have conversations that have the nuance and depth you can't get from an Instagram caption. It's always been so important for me to bring people together; I love human beings and I love learning. I want to connect us, I want to empower us, I want to educate us and figure this shit out myself along the way."
Inspired by her nickname 'Floss', listeners can also subscribe to 'Extra Floss' on Apple Podcasts to get ad-free episodes of Exactly, starting on Monday January 17. With over 770,000 social media followers, there will also be a chance for Florence's community to join in the conversations. Audiences can submit their own questions on the big topics, plus Florence will take calls from listeners. Subscribers will also have access to exclusive weekly bonus series, 'Ask Floss', where she will be answering questions that listeners send into the show.
Topics and guests include:
Sexual empowerment with dominatrix Madam Storm
Queer identity and sexual identity with Megan Barton-Hanson
Healing after sexual trauma with Dr. Thema
Friendship boundaries and inter-racial friendships with Florence's best friend Char
Narcissistic relationships with Dr. Ramani
Social media and activism with Layla Saad
The problem with wokeness with Ayishat Akanbi
Feminism in Progress with Jameela Jamil
Trans liberation and feminism with Shon Faye
Fat acceptance with Sofie Hagen
About Florence Given
Florence Given (she/her) is a 23-year-old Sunday Times Best-Selling, record-breaking author, and an award-winning influencer. With the launch of her record-breaking debut book Women Don't Owe You Pretty (Cassel June 2020), Florence became the youngest author to hold a position in the top 5 of the Sunday Times best-seller list for a consecutive 12 weeks in a row. The book has sold over 190,000 copies, spent a total of 28 weeks in the best-seller list and has been acquired for translation into 14 languages.
Florence's work confronts oppressive attitudes towards women and their bodies and she uses her platform to raise awareness of issues surrounding sexuality, consent, race and gender. Florence shares her bold illustrations accompanied by a short essay on her Instagram to her 600k+ followers. She announced in December 2021 that she had written her first novel. 'Girl Crush' is to be published August 2022 by Brazen, Octopus.
About Somethin' Else
Somethin' Else is a leading podcast producer based in New York and London. Its hit shows include Power: The Maxwells, David Tennant Does A Podcast With…, The Official Podcast for The Crown and No Time To Die: The Official James Bond Podcast. Somethin' Else is part of Sony Music Entertainment.
About Sony Music Podcasts
Sony Music Podcasts is a division of Sony Music Entertainment, a global leader in audio at the intersection of music, podcasting, entertainment and technology. Through our diverse global partnerships with leading creators and our team of sales, marketing and business development professionals, Sony Music Podcasts uses our core strengths to help the podcast community achieve greater levels of success. In alignment with our creator-first philosophy, we drive impactful storytelling through compelling content everywhere.
Listen
This is a press release which we link to from our daily newsletter about podcasting and on-demand. This is reprinted verbatim; we may rewrite headlines and descriptions.
This page contains automated links to Apple Podcasts. We may receive a commission for any purchases made.