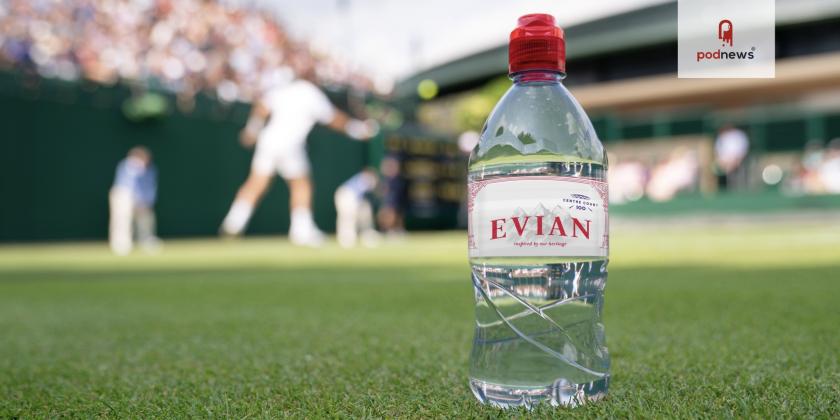 evian and Wimbledon celebrate 100-years of Centre Court through new podcast series
Press Release · London, UK ·
evian natural mineral water, the Official Water of The Championships, together with Wimbledon, announce its first-ever podcast series, 'Wimbledon: Between the Lines', celebrating 100 Years of Centre Court. As a long-standing supporter of world-class tennis talent, evian has hydrated1 crowds, athletes and events across the globe and is proud to be partnering with Wimbledon on the nine-part official podcast series, taking listeners around the Grounds of the All England Club to reveal stories from the world of tennis and beyond.
Wimbledon: Between The Lines will see BBC Radio 1 presenters and tennis enthusiasts Matt Edmondson and Mollie King co-host the podcast, where they'll explore not only tennis but a range of lifestyle topics including the quirks and traditions that make Wimbledon so iconic and special.
The first episode will see Matt and Mollie joined by evian's Global Ambassador and tennis star, STAN WAWRINKA, with future episodes welcoming guests including; UK Stylist, ELLA-LOUISE GASKELL, TV Presenter and Disability Advocate, SOPHIE MORGAN and many more, as well as those at the heart of the iconic event such as the ball boys and girls, umpires and more. Recorded on-site at SW19, including from evian's VIP Suite, listeners can expect tennis-talk, revelations, and conversations, all in celebration of the centenary of Centre Court in its current home on Church Road, Wimbledon. Episodes will be released on all major streaming platforms, including Apple and Spotify, in the week before and throughout Wimbledon.
Matt Edmondson said: "I love tennis, and I famously love to stay hydrated, so getting to spend the summer with evian at Wimbledon is a dream come true. Mol and I can't wait to get to work on Wimbledon: Between the Lines and we have some very special guests up our sleeves. Some of my favourite days out ever have been at Wimbledon, and we can't wait to welcome listeners into the magic of Centre Court."
Mollie King said: "Nothing beats a day at Wimbledon, from the matches to the strawberries and cream and summer fashion, which is why I'm so excited to be partnering with two iconic brands - Wimbledon and evian, for this year's event. We'll be celebrating 100 years of Centre Court by bringing you behind-the-scenes with the Wimbledon: Between the Lines podcast while also talking to some incredible guests, so don't forget to tune in!"
In honour of Centre Court's 100-year anniversary, evian has reflected on its own history as a natural mineral water first discovered in 1789, that comes from its pristine mountain source with an unchanged mineral composition across the ages. evian will commemorate its unique heritage as well as Centre Court's centenary through the launch of a limited-edition heritage label at this year's event. The reimaged label was inspired by a 1922 bottle design from the iconic brand and will be available to players at The Championships and in evian's VIP Suite, featuring on evian's popular 75cl bottles which are made from 100% recycled plastic*.
As part of evian's ongoing sustainability commitments and ambition to become a circular brand by 2025, evian's VIP guests will be encouraged to dress in a more eco-conscious way at The Championships, by honouring the brand's 'Summer Smart and Eco-Conscious' dress code. In support of this, evian is partnering with British stylist, Ella-Louise Gaskell, known for helping people to build more sustainable wardrobes by buying less and buying better, to offer VIP guests an exclusive styling service with tips and advice on more sustainable dressing. The brand also announced its VIP Suite at Wimbledon will be recertified carbon neutral by the Carbon Trust, achieved through actions to reduce its carbon footprint such as reusing materials and removing red meat from the menu, whilst offsetting the remaining impact.
Following on from evian's partnership with environmental charity HUBBUB at last year's event that saw recycling rates increase by 53% in Wimbledon Town Centre and Village, evian will launch a recycling reward scheme with Reward4Waste within the Grounds and in the Wimbledon Town Centre for the first time, in a bid to support recycling at The Championships. The scheme will incentivise attendees to recycle their water bottles through a QR code that will be found on recycling bins across the Grounds. By scanning the QR code and then the barcode on their evian drink, attendees will enter for a chance to win Finals tickets to The Championships 2023. With deposit return schemes for drinks containers on the horizon for the UK & Ireland, evian's reward scheme will provide insight into the impact return schemes can have, and the role digital technology can play in making a scheme as convenient and engaging for consumers as possible.
Dillon McEvoy, Head of Marketing at evian, said: "We are thrilled to be launching this podcast in partnership with Wimbledon, Matt and Mollie. As a longstanding partner of The Championships, we're excited to be celebrating 100 years of Centre Court with the launch of our exclusive heritage label bottle for players."
"Marking the centenary, we take the opportunity to recognise the progress evian have made and the need to continue to innovate for a more sustainable future. We've continued to make strides with our sustainability commitments. We've launched 'Bottles made from bottles', will be trialling a digital recycling reward scheme at the tournament, and have reached carbon neutrality as a global brand and in our VIP Suite at Wimbledon. We're proud of these steps and will challenge ourselves to do continue to do more on our sustainability journey."
Gus Henderson, Commercial Director at the All England Club, said: "This is a special year for Wimbledon and we're delighted that evian is joining with us to celebrate the centenary of Centre Court in its current home. This milestone gives us the opportunity to remember some of the event's most iconic moments and unique traditions, but also look forward to what the next 100 years might bring. With this in mind, one of our key commitments is to become Environment Positive by 2030 and we look forward to working alongside partners like evian who are equally committed to a more sustainable future."
Just this year, evian announced its latest innovation, evian Sparkling, offering the freshness and pure2 taste of evian natural mineral water, now with delicate sparkles. Available in an elegant 33cl recyclable aluminium can and 100% RPET bottle1, for the first time-ever guests will be able to enjoy Wimbledon with an evian Sparkling.
Excludes caps and labels
evian is pure and natural as all natural mineral waters
Drinking at least 2 litres of water a day can contribute to the maintenance of normal physical and cognitive function.
Listen
This is a press release which we link to from our daily newsletter about podcasting and on-demand. This is reprinted verbatim; we may rewrite headlines and descriptions.
This page contains automated links to Apple Podcasts. We may receive a commission for any purchases made.