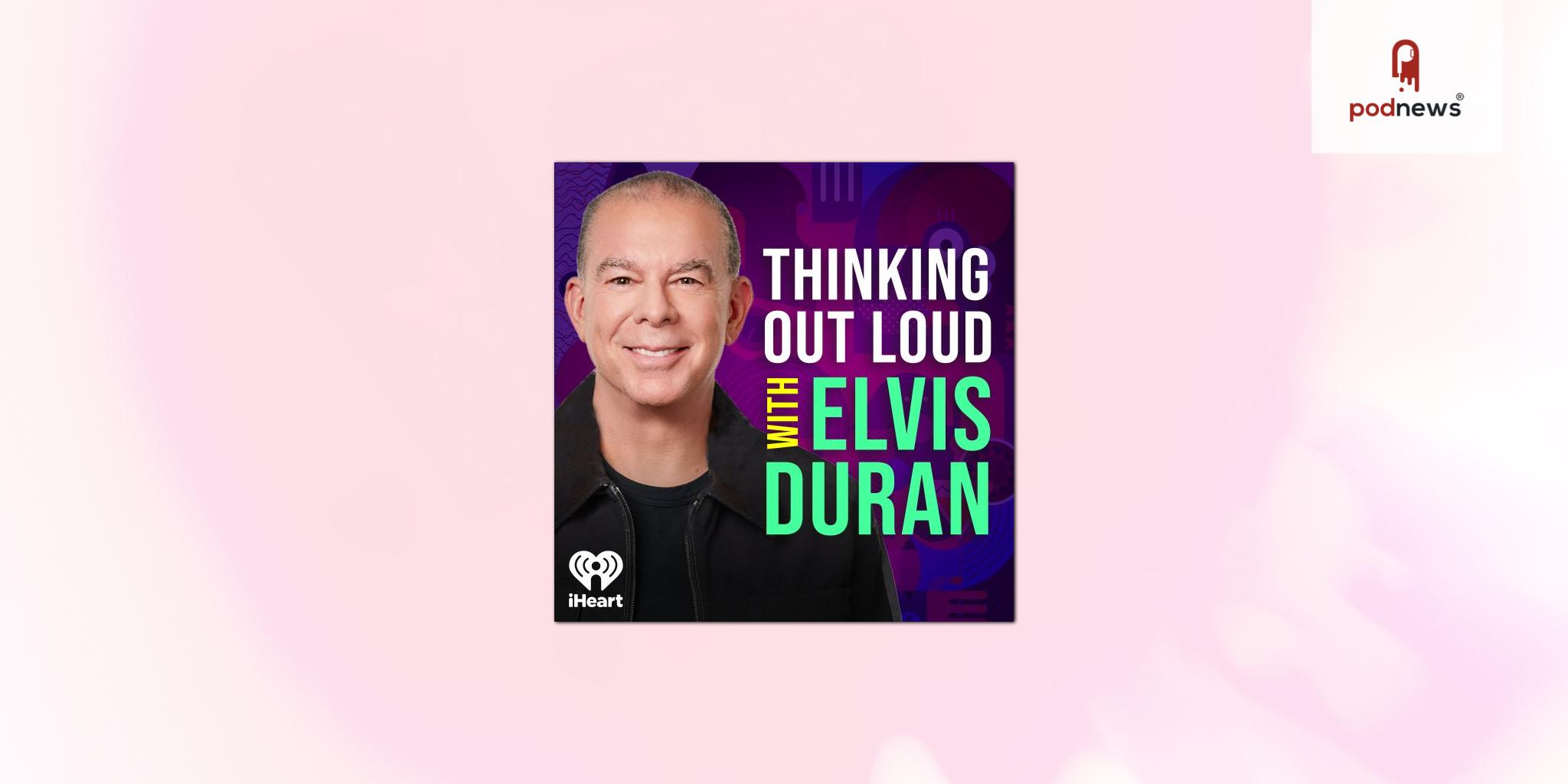 iHeartMedia and Top On-Air Personality Elvis Duran Launch Elvis Duran Podcast Network
Press Release · New York, NY, USA ·
iHeartMedia, the No. 1 podcast publisher globally according to Podtrac, and top nationally-syndicated radio personality Elvis Duran, announced today a partnership to launch the Elvis Duran Podcast Network which will be distributed by iHeartPodcasts.
The agreement includes a slate of original entertainment podcasts that will be co-produced by Duran and iHeartPodcasts including a new, original podcast, "Thinking Out Loud with Elvis Duran." Listeners can hear the first episode now, which features a conversation with singer-songwriter Kesha. Additionally, the network will be home to the replay podcast of "Elvis Duran and the Morning Show," the most-listened-to Top 40 radio morning show in the country. The network also includes podcasts featuring popular segments and extended show content from the Premiere Networks-syndicated program, which reaches more than five million monthly listeners on 70 stations nationwide, as well as upcoming new podcasts from cast members including Medha Gandhi and others.
"We're excited to launch this network and connect with even more listeners and fans," shared Duran. "I'm confident the audience will love the variety of personalities, including Tommy DiDario and Medha Gandhi, and the entertaining programs that we'll be presenting. I'm also looking forward to sitting down with a wide range of people on my new podcast and taking a deep dive in whichever direction they choose - something I'm not always able to do on my radio show. It's going to be a fun adventure together!"
"Elvis has long been a companion for millions of people across the country every morning as they prepare to start their day - it's truly an art the way he engages and energizes these listeners in a way that very few can," said Will Pearson, President iHeartPodcasts. "We couldn't be more excited to be introducing a whole network of shows curated by Elvis himself that are guaranteed to entertain people everywhere throughout the day."
The Elvis Duran Podcast Network will feature the following podcasts, which are available on the iHeartRadio app and everywhere podcasts are heard:
Thinking Out Loud with Elvis Duran – Launching today, this new, original podcast features conversations with some of Duran's favorite people - artists, performers, and even a few regular schmucks - for honest, thoughtful and fun conversations. New episodes will drop weekly on Thursdays. Click here to listen to the first episode featuring a conversation with singer-songwriter Kesha, who talks about her fascination with the spiritual world, making music and how she's almost certain her mom is an alien. Plus, she talks about her latest album "Gag Order."
Elvis Duran and the Morning Show ON DEMAND – From the first caller of the day to Danielle's entertainment report, fans can listen to the entirety of each day's "Elvis Duran and the Morning Show" from start to finish without having to set an alarm. Elvis Duran Presents: The 15 Minute Morning Show – "The Elvis Duran and the Morning Show" team sits down to spend exactly 15 minutes discussing the topics that didn't make the show that day (or just make fun of each other without having to watch their language).
I've Never Said This Before with Tommy DiDario – Going places that will surprise and delight you, seasoned entertainment and lifestyle reporter Tommy DiDario speaks with actors and artists about their journey to success and what they learned along the way. This is a space for guests to reveal who they truly are - and in each interview they'll tell at least one thing they've never said before. Episodes drop weekly on Tuesdays.
All shows on The Elvis Duran Podcast Network will be distributed by iHeartPodcasts which is home to more than 785 original podcasts. With over 374 million downloads each month, iHeartPodcasts is the leading publisher according to Podtrac, with a substantial lead over the next largest podcaster. iHeartPodcasts span every category from business, sports, spirituality and technology to entertainment, family, comedy and true crime – and everything in between – making iHeartRadio the largest publisher of podcast content in the world. iHeartPodcasts are distributed on all major podcast platforms, including the iHeartRadio app.
Listen
This is a press release which we link to from Podnews, our daily newsletter about podcasting and on-demand. We may make small edits for editorial reasons.
This page contains automated links to Apple Podcasts. We may receive a commission for any purchases made.