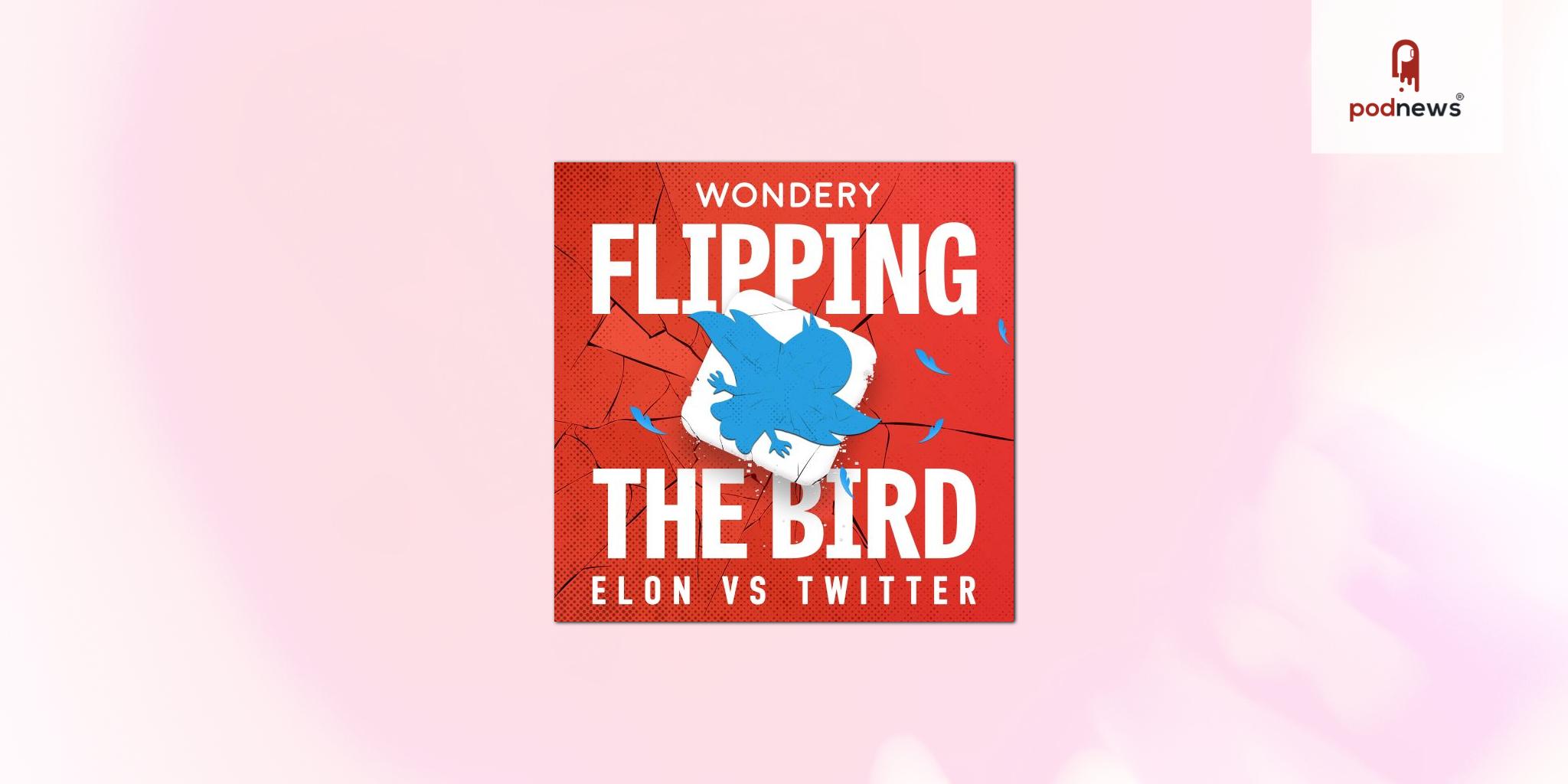 Wondery Announces Original Podcast Flipping The Bird: Elon vs. Twitter, Detailing Elon Musk's Twitter Takeover
Press Release · via SSM&L ·
From Wondery comes the new six-episode podcast Flipping the Bird: Elon vs. Twitter, launching April 24. Hosted by award-winning journalist David W. Brown, the voice behind Wondery's hit podcast Business Wars, Flipping the Bird: Elon vs. Twitter tells the wild story of when the world's richest man took charge of the world's "digital public square." The first two episodes of Flipping the Bird: Elon vs Twitter will release on Wondery+ on April 24, followed by a wide release on May 1. Prime members can listen ad-free on Amazon Music starting May 1.
Buoyed by memorable moments shared by the Twitter employees who were on the ground and in its Slack channels, Brown and his Wondery producing team paint a vivid picture of what went down at the Silicon Valley giant as it became increasingly clear that Musk's reign would be as unpredictable as Twitter's next trending topic. Digging into the human stories beyond the headlines through never-before-heard interviews, Flipping the Bird examines the rich themes of power, money, and ego through the microscope of Musk in an incisive, yet crowd-pleasing, way.
Brown is managing editor and anchor of the daily statewide public radio news hour Texas Standard, based at Austin NPR affiliate KUT-FM. He is the former anchor of the Peabody award-winning public radio business program Marketplace and a veteran public radio journalist for more than three decades. He is a frequent contributor to NPR and his features and interviews appear on All Things Considered, Morning Edition, and many other national programs.
Flipping the Bird is the latest ripped-from-the-headlines business investigation helmed by Brown, who has become a leading voice in the genre through his work on Business Wars. Business Wars was downloaded over 15 million times just within its first year of production in 2018, and has exploded in popularity in the last few years. The show won the 2023 Ambie Award for the Best Business Podcast, the Webby Award in 2019 for business podcasts, and the iHeartRadio Podcast Award for the Best Business and Finance Podcast in 2020.
Flipping the Bird is a Wondery production.
Listen
This is a press release from SSM&L which we link to from Podnews, our daily newsletter about podcasting and on-demand. This is reprinted verbatim; we may rewrite headlines and descriptions.
This page contains automated links to Apple Podcasts. We may receive a commission for any purchases made.