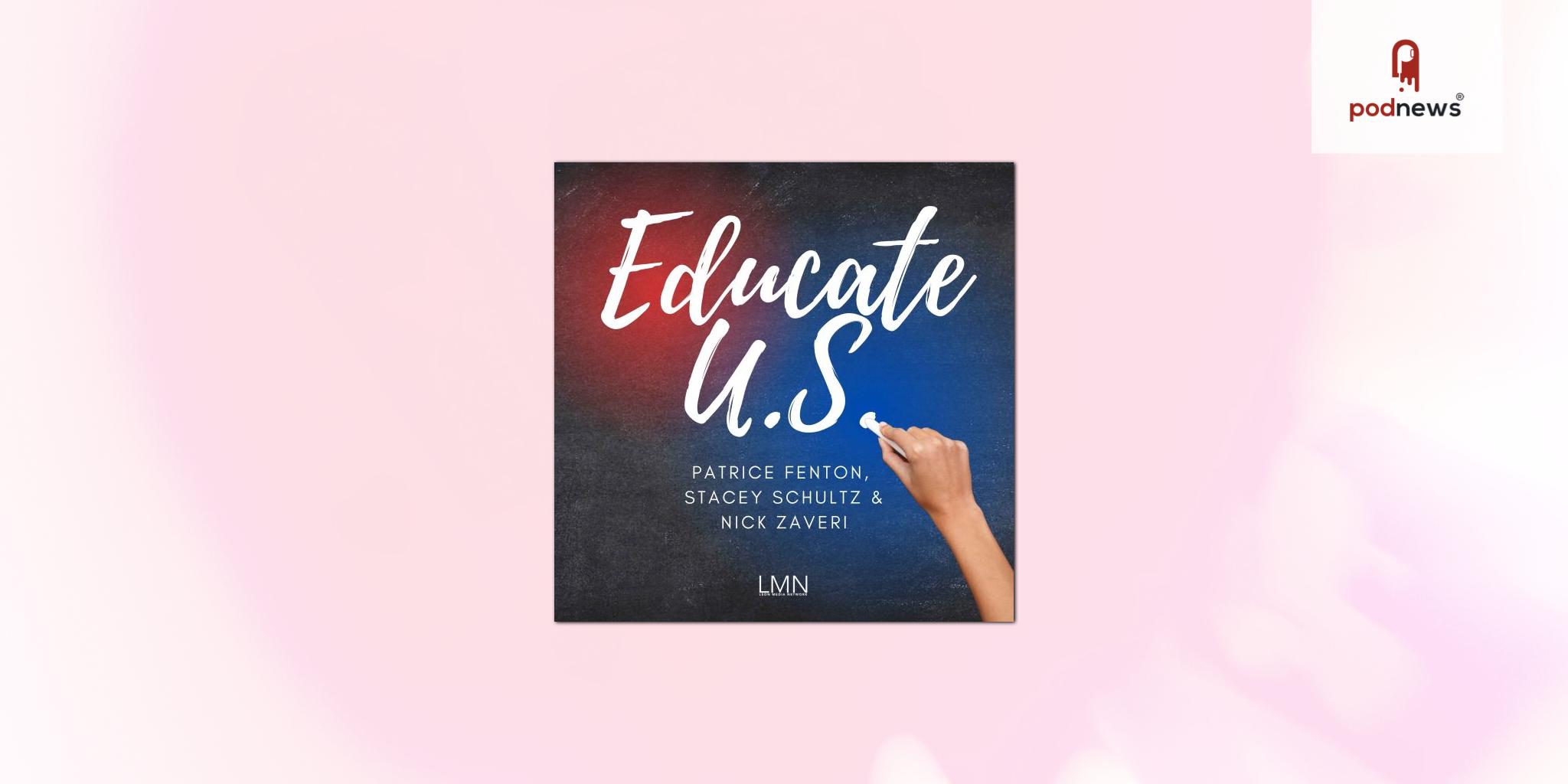 Leon Media Network launches Educate U.S. Podcast
Press Release · Miami, FL, USA ·
Leon Media Network is proud to announce the official launch of the Educate U.S. Podcast, which features co-hosts Nick Zaveri, Dr. Stacey Schultz and Dr. Patrice Fenton discussing important and pressing topics around the education space. Educate U.S., which will have new episodes premiering on Mondays each week, is available now on all major podcast platforms through the distribution of Leon Media Network.
"I am incredibly excited to welcome Stacey and Patrice to the Leon Media Network family with this new show," said Michael Leon, Chief Executive & Content Officer of Leon Media Network. "The education space has been in the news for so long that we wanted to devote a show to the issues that are playing out in the field of education, and also what is the call to action to potentially help solve some of these issues. This show will feature real conversations with folks who are doing some amazing work in education, subject matter experts in the space, and more importantly, will help break down the topics we see playing out in the news about this field. To also have my co-host Nick on Can We Please Talk? as a co-host on this show, a field he is very experienced in, is the cherry on top. I cannot wait for people to listen to this show!"
A graduate of Rutgers University, Nick Zaveri made a brief stint on New Jersey radio before catching the education bug and deciding to tutor students at a local learning center. He enjoyed that experience so much that he soon began managing the center part-time in addition to working with students from elementary school all the way to the college level. He continues to support students and educators today, and he has been working as an Instructional Coach and Client Success Manager at Educate LLC in New York since 2008. With more than 20 years of experience alongside students and educators, Zaveri brings the perspective of educators into weekly discussions of news and events to the Educate U.S. Podcast and Can We Please Talk? Podcast, which he co-hosts on the Leon Media Network with Michael Leon.
_"_I am so excited for this program," said Zaveri. "The conversations I've had with my friends and colleagues finally moves from our private discussions to a public forum where we get to unpack what is going on in the education world to inform and engage others. The fact that I get to do this show with my friends makes it all that much more exciting!"
Dr. Stacey Schultz is the President of Educate LLC, where she leads a high-impact team focused on innovation and transformation through daily operations and strategic initiative planning. With nearly 20 years of experience in the field of education, Dr. Schultz has led programs that foster inclusive classrooms through the support of diverse teachers and their needs. She has also facilitated service-learning curriculum and professional development for teachers and paraprofessionals. Additionally, Dr. Schultz is the co-author of an upcoming book that is being written with her Educate U.S. co-host, Dr. Patrice Fenton.
"I am incredibly honored to co-host Educate U.S. with two exceptional individuals," said Dr. Schultz. "Together, we are embarking on an exciting journey to deliver insightful discussions, thought-provoking conversations and valuable insights through our podcast series. Collaborating with such talented individuals is a privilege, and we are thrilled to share our collective expertise with a wider audience. I want to express my heartfelt gratitude to Leon Media for their invaluable support. Their platform has played a crucial role in amplifying meaningful conversations, and I feel humbled to be a part of it."
Dr. Patrice Fenton brings decades of experience in the field of education to the Educate U.S. Podcast. She is the co-founder of the Ella Baker Institute, which is a community-responsive organization centered on teaching and learning to accelerate youth leadership and community well-being. As mentioned, Dr. Fenton is also authoring an upcoming book with Educate U.S. co-host, Dr. Stacey Schultz.
"I could not be more thrilled about the launch of Educate U.S.," said Dr. Fenton. "To be able to talk about one of my passions with two of the most intriguing and thoughtful minds in education I know is a gift. To be able to share those conversations on a public platform is something I do not take for granted. I am super excited for the journey ahead!"
Home to a wide array of podcasts, Leon Media Network was founded by Michael Leon, who co-hosts the Can We Please Talk? Podcast with Educate U.S. co-host Nick Zaveri. The network also features Ask the Experts with four-time Emmy nominated boxing producer, editor, journalist and on-air talent Curran Bhatia; Back Your Play with veteran sports analyst and radio host Rich Quiñones; and Where My 40's At? with breast cancer survivor and advocate Ariana Nieves. The network also has new shows in production that will be launching in the near future.
To learn more about Leon Media Network, make sure to visit us online: LeonMediaNetwork.com
Listen
This is a press release which we link to from Podnews, our daily newsletter about podcasting and on-demand. We may make small edits for editorial reasons.
This page contains automated links to Apple Podcasts. We may receive a commission for any purchases made.