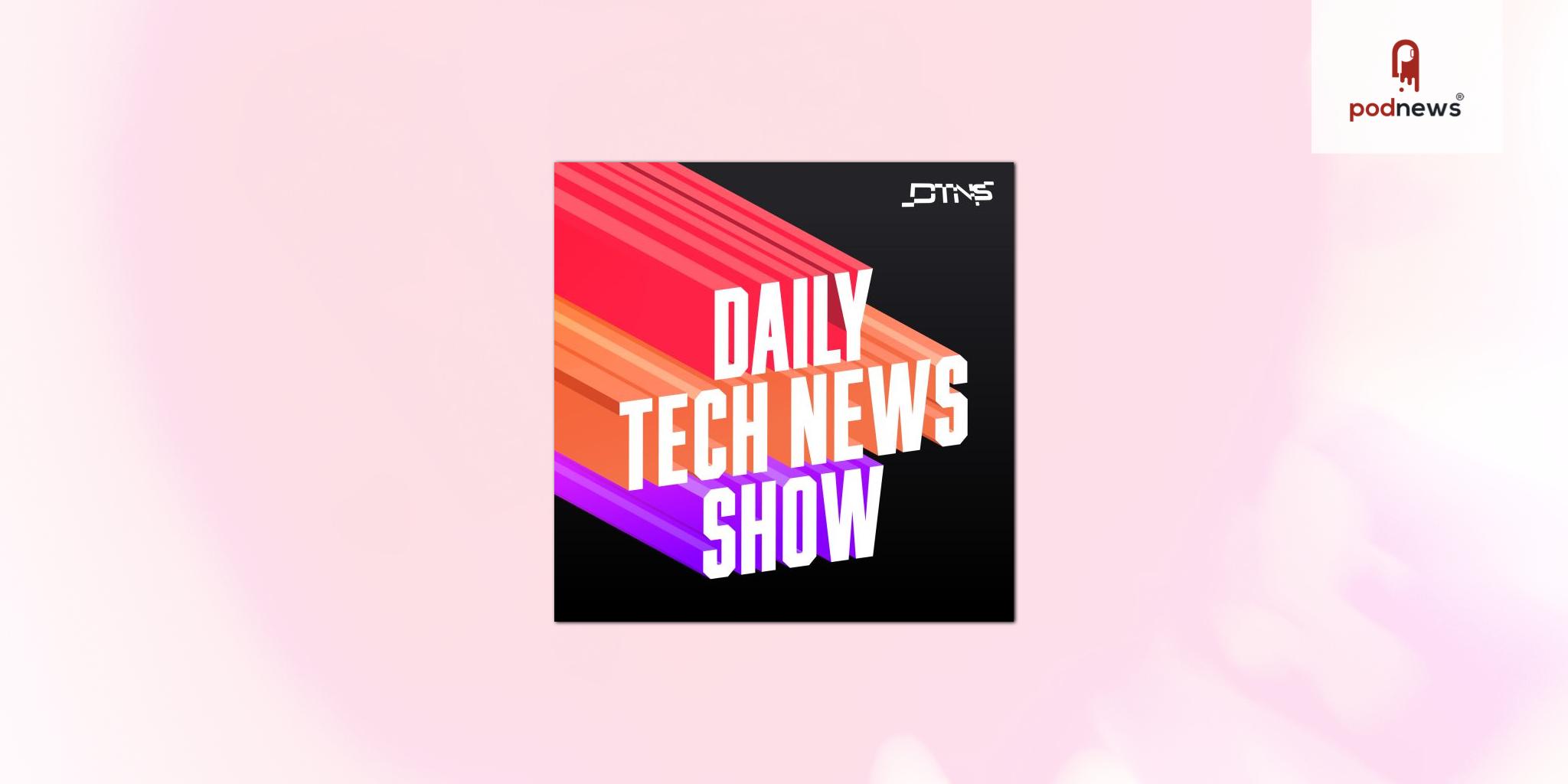 Daily Tech News Show Celebrates 10 Years in Podcasting
Press Release · Los Angeles, CA, USA · via Guinivan PR ·
Daily Tech News Show, the podcast covering the most important tech issues of the day with the smartest minds in technology, will begin its tenth year in podcasting on January 2, 2023.
Co-hosted by Tom Merritt and Sarah Lane, Daily Tech News Show is dedicated to giving listeners tech news that's easy to understand. In just 30 minutes, Tom and Sarah, along with regular contributors and guests, analyze the day's top tech headlines in a fun and informative way. "I love helping people understand technology," says host Tom Merritt. "If you want to understand this tech thing you heard about, we're the show that will explain it to you."
Tom Merritt is an award-winning independent tech podcaster and host of regular tech news and information shows, like Daily Tech News Show. He previously produced TechTV's The Screen Savers and served as an executive producer for TechTV's website until 2004. From 2004 until 2010, Tom was executive editor for CNET TV at CNET.com. He hosted the daily Buzz Out Loud podcast, one of three original podcasts on the network, and a weekly how-to show called The Real Deal. From 2010 to 2013, he created and hosted the award-winning Tech News Today and weekly cord-cutting show Frame Rate on the TWiT network.
Tom launched Daily Tech News Show, a placeholder name that stuck, in 2014 with the support of Patreon subscribers who knew him from Tech News Today. "People didn't want the TWiT show to end," he says.
In its first decade, Daily Tech News Show's subscribers have continually supported the show's fundraising goals, most notably with the addition of co-host Sarah Lane in 2017, who had previously hosted programming with Tom at TechTV and TWiT.
Sarah Lane is a media creator with 25 years of experience producing content for television and online platforms. She was the first co-host of G4's daily live variety hour Attack of the Show! and has hosted and produced programming for TechTV, Revision 3, Current Tech, TWiT and TechCrunch. At TWiT, Sarah produced, hosted, and edited various live shows across the network, including iPad Today, Tech News Tonight, iFive for the iPhone, and The Social Hour. She joined TechCrunch in 2015 as its first executive producer of video and hosted TechCrunch's daily video show Crunch Report. She managed buildouts for new VOD platforms at Lionsgate and Pluto.tv before joining Daily Tech News Show in 2017.
Since premiering on January 2, 2014, Daily Tech News Show has covered the most important tech news of the day with regular expert contributors including Dr. Nicole Ackermans (functional morphology and neuroscience), Nica Montford (artificial intelligence and machine learning), Shannon Morse (security and privacy), Patrick Norton (home theater) and Tim Stevens (tech and automotive). The show broadcast live from the Consumer Electronics Show floor from 2018 to 2020 and has covered major tech events and trends including Apple and Samsung product launches, Worldwide Developers Conference, the rise and possible fall of cryptocurrency, and advancements in robotics and artificial intelligence.
In August 2021, Daily Tech News Show began featuring an annual Experiment Week, where guests debut new podcast ideas on the Daily Tech News Show feed. Two podcasts that premiered during Experiment Week, The Tech Jawn and BBQ and Tech, have since launched on their own as companion podcasts.
As Daily Tech News Show celebrates ten years in podcasting, hosts Tom Merritt and Sarah Lane look forward to exploring new technology trends, returning to live events, and arranging a meetup with their fans. Support from the show's community remains strong, Sarah says. "People want to hang out with people they like and learn something."
About Daily Tech News Show
Daily Tech News Show aka DTNS is dedicated to giving you tech news that's easy to understand. In just 30 minutes, Tom Merritt and Sarah Lane, along with our regular contributors and guests, analyze the day's top tech headlines in a fun and informative way. This show is available in both audio and video. Watch or listen live at 4:00 PM Eastern Monday through Friday on Twitch. Subscribe at dailytechnewsshow.com.
Listen
This is a press release from Guinivan PR which we link to from Podnews, our daily newsletter about podcasting and on-demand. This is reprinted verbatim; we may rewrite headlines and descriptions.
This page contains automated links to Apple Podcasts. We may receive a commission for any purchases made.