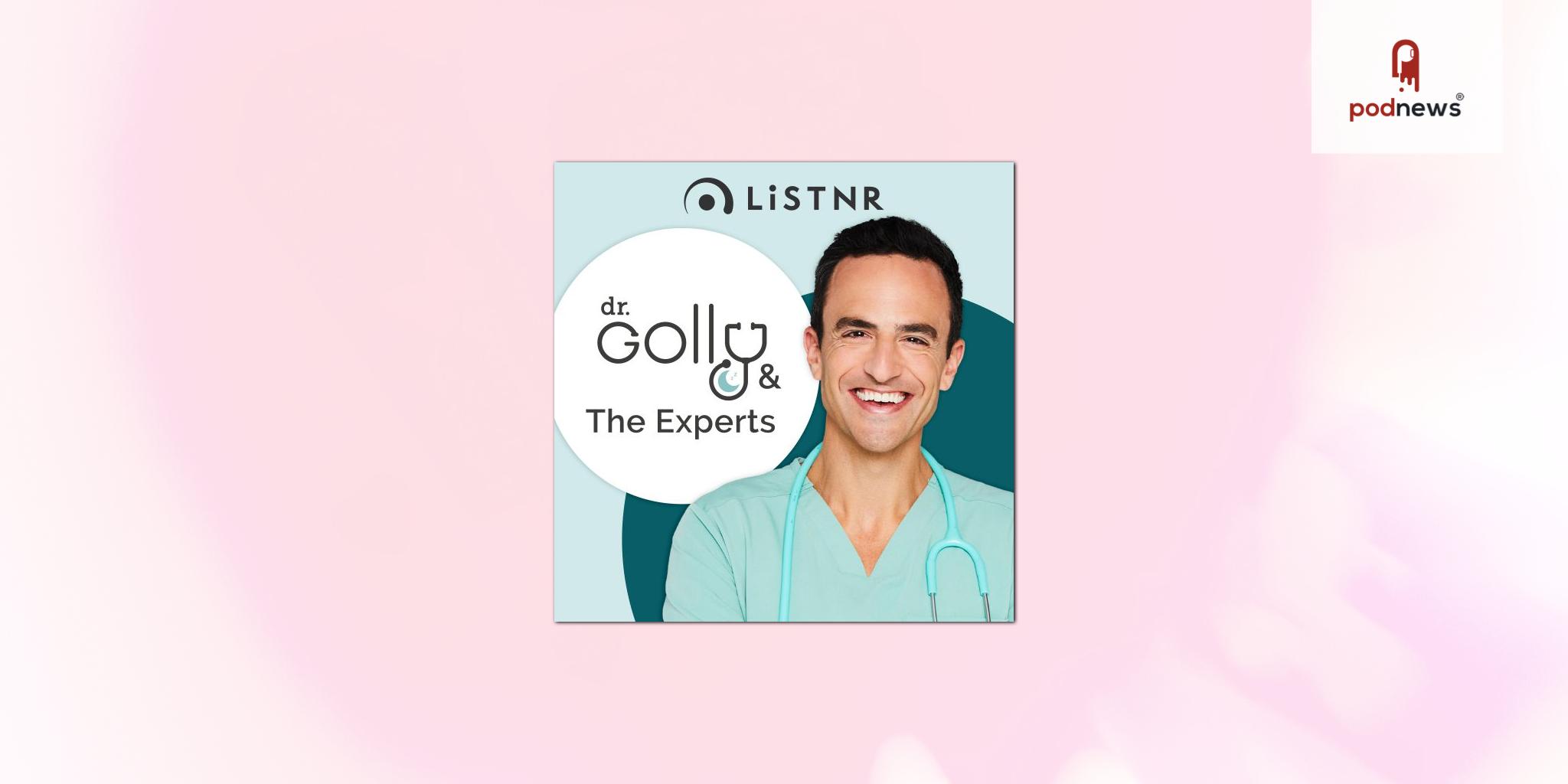 LiSTNR launches Dr Golly and the Experts
Press Release · Melbourne VIC, Australia · via SCA ·
It's one thing to study and practice medicine for decades and be able to talk about different conditions when it comes to children's health and development. It's another thing entirely to live through the experience as a parent.
In a new LiSTNR original podcast, Dr Golly and the Experts, launching today, April 26, Dr Daniel Golshevsky (Dr Golly) talks with 'experts' - parents who have, through necessity, become a specialist in their child's – or their own - health journey, from diagnosis to day-to-day treatment and beyond.
The stories are sometimes painful, often heart-warming and always inspiring and told through the voices and hearts of high-profile Australians as they talk to Dr Golly, a Melbourne-based paediatrician and father of three.
Given his unique position as former Chief Resident Medical Officer at The Royal Children's Hospital in Melbourne, Dr Golly has treated many high-profile Australian families as they deal with medical conditions ranging from epilepsy, autism, eczema, sleep deprivation, croup and ADHD, and he has a rare talent as an expert, and as an expert translator. He's a pleasure to listen to.
In the first episode Dr Golly speaks with Australian sports broadcaster and Seven Sport presenter, Hamish McLachlan, whose daughter Milla was diagnosed with West Syndrome at eight months old. This story tugs at the heartstrings and defines the power of hope.
Dr Golly and the Experts leans into the fact that parents are often more knowledgeable on the specifics of their child's – or their own - condition than a paediatrician or GP. Parents often need to become an advocate, keeping up with the latest research, trials and treatments in order to feel educated and empowered to make crucial decisions for their family's health.
In talking to parents, Dr Golly shares their challenges confronting a diagnosis, managing their own struggles, and finding solutions and treatment for their children, and themselves. Rich in storytelling and combined with Dr Golly's evidence-based explainers, this podcast combines compelling interviews with information for parents battling significant parenting obstacles and long term medical issues.
In upcoming episodes Dr Golly speaks with Steph Claire-Smith, author and co-host of the @kicpod + KICBUMP and co-Founder of @keepitcleaner about childhood eczema, AFL players Jarrod Roughhead and Jordan Lewis on their fatherhood experiences, former AFLW player Moana Hope and model Isabella Carlstrom on breastfeeding issues, and bestselling author, podcast host and TEDx speaker Melissa Ambrossini on mixed families.
A summary of the first episode of Dr Golly and the Experts is below… and have the tissue box nearby.
DR GOLLY AND THE EXPERTS
EPISODE 1: Hamish McLachlan
"The Royal Children's Hospital. When you go in there, you realise it's filled with brilliant people saving children's lives every hour. And suddenly whoever were your gods, and whoever were your heroes, they are in that building wearing scrubs."
Australian sports broadcaster and host with Seven Sport, Hamish McLachlan's story is inspiring. It's also one of critical numbers. His daughter Milla was diagnosed with West Syndrome at eight months old. West Syndrome is characterised by infantile spasms, developmental delay or regression, and the EEG pattern of hypsarrhythmia (disorganised brain electrical activity with no recognisable pattern).
Hamish and his wife Sophie's journey to parenthood was not easy.
Sophie was involved in a car accident that saw her reproductive system almost shut down, and with a 3% chance of conceiving naturally, they chose IVF, even though there was only a 33% chance that it would be successful. Eighteen months later and after the pain of miscarriages, Sophie was pregnant. At eight weeks Sophie started bleeding and was then bedridden for six weeks. At eight months, she developed preeclampsia which led to an emergency c-section.
So when perfect baby Milla arrived, Hamish and Sophie breathed a deep, grateful sigh of relief.
Eight months later, Hamish was covering the Australian Open tennis when a phone call from Sophie changed their world. Milla was twitching, spasming, seizing. Fortunately Sophie videoed Milla, and when they showed their paediatrician, her face "went from hopeful to terrified."
She said: "Hamish, Sophie, the head of Neurology is waiting for you at the Royal Children's in the emergency department. Go now and don't go home."
Hamish describes being in a room with 12 medical professionals, and baby Milla with 37 electrodes on her head.
"After two hours…. Jeremy Freeman, Head of Neurology, walked into the room surrounded by nine or 10 others, and said, 'Your daughter has West Syndrome. There's a 10% chance she dies in hospital, an 80% chance she's got brain damage for life, and a 10% chance she gets through unscathed.'"
"So we talk, and we talk. And after an hour. I say, 'What haven't I asked you?' He said, 'Well, you haven't asked me if I'm the best in the world at this.' I said, 'Are you?' He said, 'It's me or a guy in Canada, and he's here too.'"
Their options were few. Hamish and Sophie could pray or start giving formulas of the powerful steroid prednisolone four times a day for 31 days and hope the seizures stopped within six days. These numbers held the key to little Milla's life.
They were the most agonising days of their lives - counting her seizures, managing medication, watching her breathe and fight pain. "Everything else was just insignificant and so secondary," said Hamish.
Dr Golly and Hamish talk of parental guilt. "Yes, we thought what have we done wrong here? And if I can give any advice to those that are listening who are thinking the same, don't. It'll eat you up and it'll churn you, and it will destroy you as a couple. These were the cards we were dealt," said Hamish
Together they tell the story of the next six months, of how the seizures stop, but the cloud of permanent brain damage remains. At six months they see Dr Freeman, and Milla just happens to be holding a marker pen in her hand. Dr Freeman sees only this, and does a series of simple cognitive tests, then tells Hamish and Sophie that she has just passed milestones that two and three year olds don't.
Milla is a medical miracle.
There'll be few that listen to this episode and don't shed tears. This could happen to any parent, and it's what makes these stories so powerful.
Listen
This is a press release from SCA which we link to from Podnews, our daily newsletter about podcasting and on-demand. This is reprinted verbatim; we may rewrite headlines and descriptions.
This page contains automated links to Apple Podcasts. We may receive a commission for any purchases made.