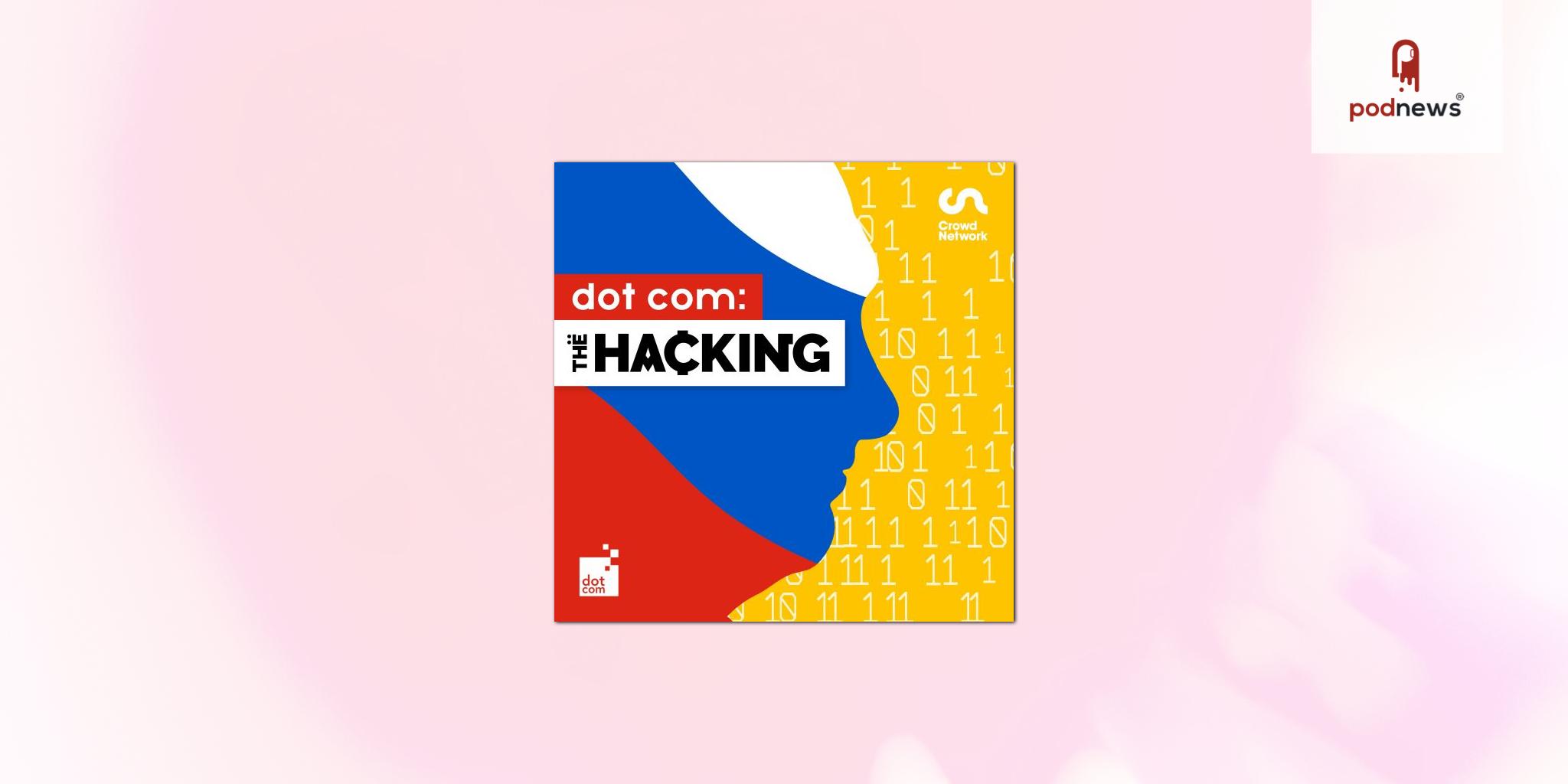 Crowd Network launches new podcast series diving into the world of Russian ransomware, dot com: The Hacking
Press Release · Manchester, UK ·
Dot com, the documentary podcast lifting the lid on internet culture from Crowd Network (Crowd), is returning for a third series on Tuesday 26th July: The Hacking. Host Katie Puckrik – who also hosts Crowd's chart-topping We Didn't Start the Fire podcast – will decipher the complex world of Russian ransomware, mapping out the key cyber gangs behind these disastrous attacks and delving into the impact of ransomware on everyday people's lives, across the globe.
dot com: The Hacking launches as the threat of ransomware from Russian-affiliated groups is on the rise, with attacks almost doubling from 2021 and President Biden declaring a state of emergency. With Russian cyber intelligence becoming increasingly sophisticated, the war in Ukraine is being fought on two fronts: on the physical realm, and on the digital. And the world's eyes are turning to a place of war where the stakes are potentially even higher: the metaverse.
Over four episodes, Puckrik will speak to hackers, cybersecurity experts and victims to unravel the shocking stories behind this highly relevant topic. Guests include Michael Daniel, ex-Special Advisor to Barack Obama; IT staff and nurses from a maternity hospital in Dublin, which reverted to pens and paper following a catastrophic $20 million ransomware attack last year; young Black men from Chicago who fear for their futures after their college was forced to close, and Katie Paxton-Fear, a hacker from Manchester, UK.
The third series adds to a growing repertoire of internet worlds explored by the dot com series. Series one, The Wikipedia Story, cast a lens on the volunteer army behind the world's biggest encyclopaedia, whilst series two, Redditland, uncovered the weirder and often more sinister side to the social media website Reddit.
Dot com: The Hacking is the latest podcast from Crowd Network, a rapidly growing audio-on-demand network based in Manchester. It is the second in a run of shows released this summer by the network, which launched a new series of hit podcast Go Love Yourself, hosted by GBBO star Laura Adlington and best friend Lauren Smith, earlier this month.
Katie Puckrik shared her excitement for the latest series: "In this brave new world of ours, nothing is too small—or big—to be digitalised…including acts of war. The Hacking is a ripped-from-the-headlines take on the devastating cyber assaults faced by nations, infrastructure, and everyday folks. In the past few years, ransomware attacks have dominated headlines, and The Hacking is your one-stop shop that exposes the matrix behind the madness.
"Russian cyber hackers feel far away, but they might be in your computer ruining your life's work this very second. These attacks affect millions of lives in any country and any profession, including the harrowing recent experiences of the Rotunda Hospital staff in Ireland. And like most terrifying phenomena, the underworld of ransomware is completely fascinating.
"And now that I've burrowed amid the 0's and 1's to meet the hacking insiders from victims to perpetrators to experts, my eyes are opened to a dangerous new reality. Which is exactly what we want the show to do for our listeners."
All four episodes of The Hacking will be available to subscribers to the Crowd Stories channel on 26th July, with episodes two to four available to non-subscribers in the following weeks across Apple Podcasts, Spotify and all other podcast platforms.
Listen
This is a press release which we link to from our daily newsletter about podcasting and on-demand. This is reprinted verbatim; we may rewrite headlines and descriptions.
This page contains automated links to Apple Podcasts. We may receive a commission for any purchases made.