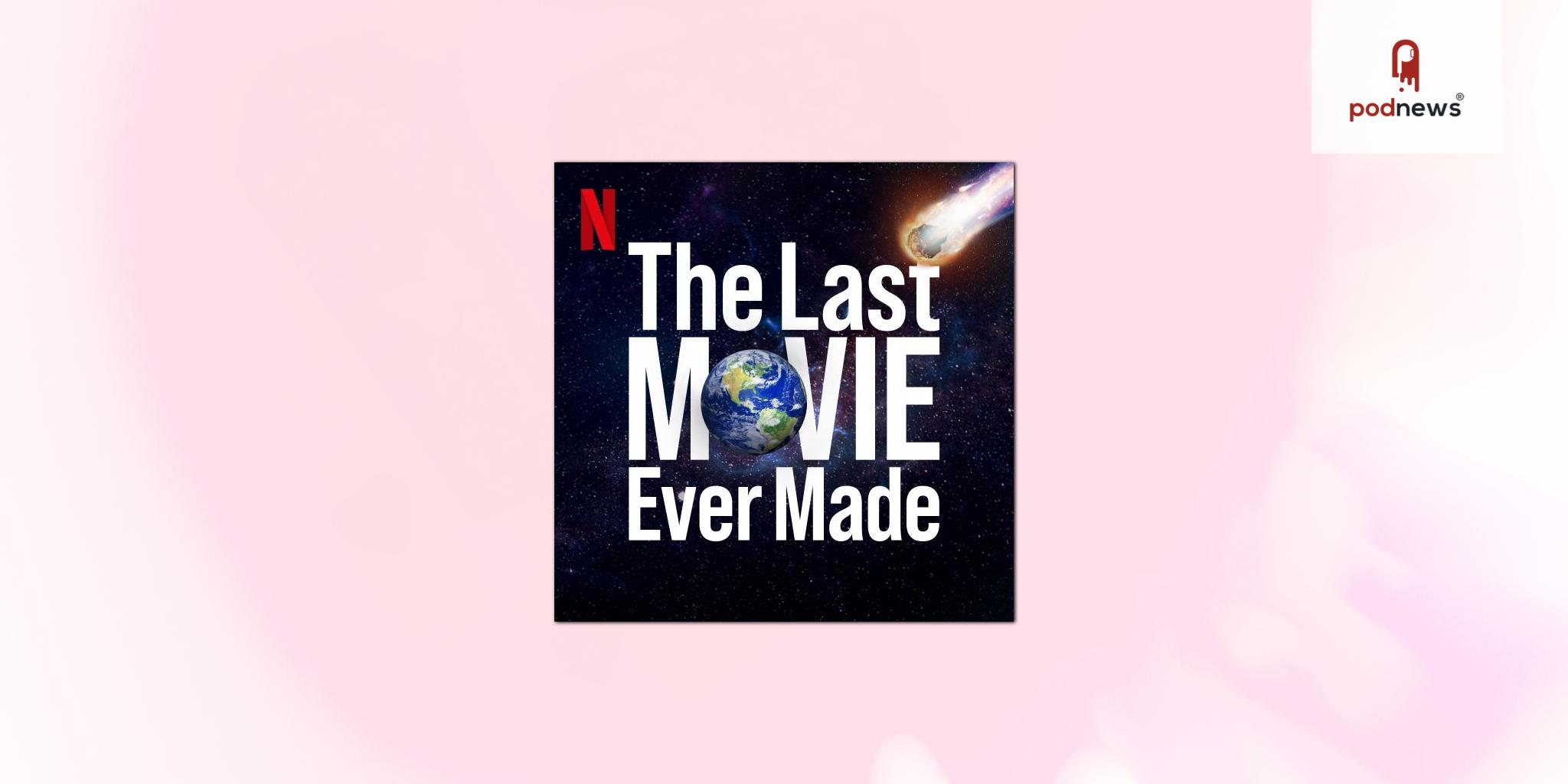 Netflix Launch The Last Movie Ever Made: The Don't Look Up Podcast
Press Release · New York, United States ·
Netflix, Audacy's Pineapple Street Studios and Hyperobject Industries today announced The Last Movie Ever Made: The Don't Look Up Podcast, a six-part oral history of the making of Don't Look Up, Adam McKay's Netflix disaster comedy. It's a time capsule of a unique period in American culture as seen through the lives of some of Hollywood's biggest creative forces. Listeners will hear how the cast and crew – including Jennifer Lawrence, Leonardo DiCaprio, Meryl Streep, Rob Morgan, Cate Blanchett, Tyler Perry, Timothee Chalamet, Himesh Patel, Ariana Grande, and many more – stayed sane and safe while making a movie as the country was in chaos.
In early 2020, Adam McKay set out to make a comedy. It was called Don't Look Up, and it was meant to make fun of, and point to, the forces stopping us from saving ourselves from climate change. 2020, of course, had other plans.
By October 2020, the pandemic is raging. And 603 people enter a bubble in Boston. Their mission? Make a movie. Their world? Chaos. It feels like it might be…the Last Movie Ever Made. This is a podcast about what happened when the cast and crew of the movie Don't Look Up created a story about one crisis – while living through another.
The Last Movie Ever Made: The Don't Look Up Podcast launches with the first two episodes on January 7, 2022, everywhere podcasts are available. New episodes will drop on Fridays through February 4, 2022. Listen to the trailer and follow the show here: The Last Movie Ever Made.
Throughout the six episodes, the podcast documents life inside the production bubble when COVID was raging, vaccines were months away, and the country was fractured politically and socially. Listeners will hear how Jennifer Lawrence and Leonardo diCaprio became acting sounding boards for each other given that their director couldn't get within 6 feet of them on set; hear outtakes from the movie of Meryl Streep improvising as the U.S. President; how composer Nicholas Brittell enlisted lyricist Taura Stinson to write a love song that was also a ballad to the end of the world, and then how Ariana Grande and Kid Cudi collaborated with them to bring it to life; what Tyler Perry, Jennifer Lawrence, Ariana and others were actually doing the moment the rioters stormed the nation's Capital on January 6th, and what they did when news of the insurrection reached them in the production bubble; why Tyler Perry first said no to the movie and then said yes only to find pure joy in improvising with Cate Blanchett; and the day-to-day life of five months in a bubble where, by day, they were making a satire about societal collapse. By night, they were isolated in hotel rooms, watching society collapse on the nightly news, and recording their reactions in real time.
The Last Movie Ever Made is a production of Netflix, Hyperobject Industries, and Pineapple Street Studios. It's narrated by Pineapple Street Senior Producer Emmanuel Hapsis, and produced by Hapsis, Gabrielle Lewis, Staci Roberts-Steele, Danielle Waxman, Sophie Bridges, and Alexis Moore. It is edited by Darby Maloney. Mixing, sound design, and original music is by Hannis Brown. The show is written by R. Roosevelt. Executive producers at Hyperobject Industries are Adam McKay, Harry Nelson, and Clare Slaughter. Executive producers at Pineapple Street Studios are Bari Finkel, Jenna Weiss-Berman, and Max Linsky. The launch of The Last Movie Ever Made builds on a successful years-long relationship between Pineapple Street Studios and Netflix.
Don't Look Up is streaming now on Netflix. Follow @NetflixFilm on Instagram and Twitter. Follow Pineapple Street Studios on Twitter @PineappleMedia and Instagram @Pineapple.fm. Follow Hyperobject Industries on Twitter @Hyperobject_Ind and Instagram @Hyperobject_Industries.
About Netflix
Netflix is the world's leading streaming entertainment service with 214 million paid memberships in over 190 countries enjoying TV series, documentaries, feature films and mobile games across a wide variety of genres and languages. Members can watch as much as they want, anytime, anywhere, on any Internet-connected screen. Members can play, pause and resume watching, all without commercials or commitments.
About Hyperobject Industries
HyperObject Industries is a production company founded by Oscar winner Adam McKay, who has spent three decades as a writer, director, and producer. He is the writer and director of Anchorman, director of The Big Short and Vice, Executive Producer of Succession, and writer and director of Don't Look Up. McKay brings together a team of producers in Kevin Messick, Betsy Koch, Todd Schulman, and Maeve Cullinane. Producers Harry Nelson and Clare Slaughter helm podcasts; projects include Death at the Wing, Broken: Jeffrey Epstein, and Things You Don't Need to Know with Ari Cagan.
About Pineapple Street Studios:
Founded in Brooklyn in 2016 by Jenna Weiss-Berman and Max Linsky, Pineapple Street Studios, an Audacy company, paved the way for in-depth, diverse storytelling by way of high-quality original and partner podcasts. Pineapple Street Studios creates inventive, award-winning original podcasts: multi-episode narratives, investigative journalism, branded series, and talk shows that routinely debut in the top ten on the Apple Podcasts charts, reach tens of millions of listeners, and have been cited repeatedly on "best-of" lists. Pineapple Street Studios is behind some of the most critically acclaimed shows, including 70 Over 70, Patrick Radden Keefe's Wind of Change, Welcome to Your Fantasy, Missing Richard Simmons, Back Issue, The New York Times' Still Processing, activist Brittany Packnett Cunningham's Undistracted, and The Catch and Kill Podcast with Ronan Farrow.
About Audacy:
Audacy, Inc. (NYSE: AUD) is a scaled, multi-platform audio content and entertainment company with the country's best radio broadcasting group, a leader in virtually every segment of audio, and America's #1 creator of original, premium audio. Audacy engages over 170 million consumers each month, bringing people together around the news, sports, podcasts and music that matter to them. Learn more at www.audacyinc.com, Facebook (Audacy Corp) and Twitter (@AudacyCorp).
Listen
This is a press release which we link to from our daily newsletter about podcasting and on-demand. This is reprinted verbatim; we may rewrite headlines and descriptions.
This page contains automated links to Apple Podcasts. We may receive a commission for any purchases made.