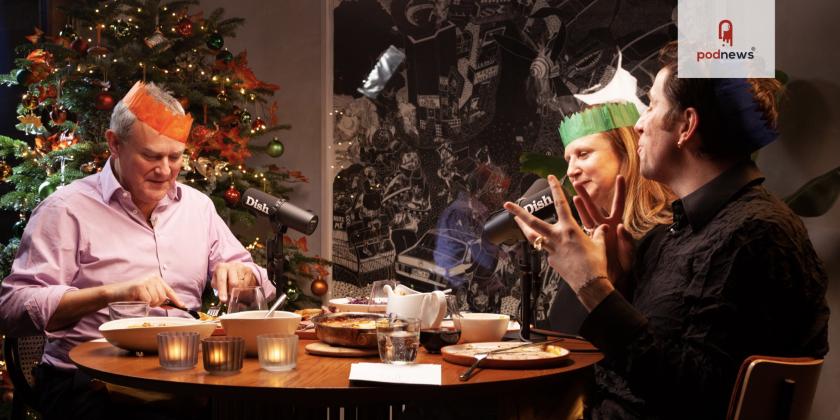 Nick Grimshaw and Angela Hartnett invite guests back to theirs for Christmas editions of their Dish podcast
Press Release · London, UK · via Persuasion ·
Dish, the hit podcast hosted by Nick Grimshaw and Angela Hartnett, will be getting extra social for the festive season as the presenting duo escape the studio and cosy up at Grimmy's own home, where some special guests have been invited round for Christmas food, drink and laughs.
In a series of episodes, Hugh Bonneville, Dermot O'Leary and Alison Hammond, and Annie Mac will all settle down for a fireside chat, while Michelin star chef Angela Hartnett cooks and Grimshaw serves up the drinks. The hosts' warm reception and sense of humour make Dish the most hospitable and social show on the planet.
Dish takes a pioneering approach to turning podcasts into a social event: it's recorded like a podcast, shot for Instagram and edited for TikTok. As a result, it's had 20 weeks at number one on Apple's food podcast chart and is regularly in the top 20 Apple shows.
Listeners have rated Dish 4.9 on Spotify and 4.8 on Apple Podcasts, and left over 1100 reviews. It's been called "Riotous fun" by the Guardian, listed by Apple as one of the shows that "Got Big Laughs In 2022" and has been featured on Saturday Kitchen, Sunday Brunch, This Morning, Lorraine, The Zoe Ball Breakfast Show and every major newspaper.
So far, guests of the weekly podcast, which launched in June 2022, include Stanley Tucci, Frankie Bridge, Rylan Clarke, Dolly Alderton, David Harewood, James May, Scarlett Moffatt, Russell Howard, Michelle de Swarte, Ottolenghi, Jayde Adams, Mary Berry and Paul Chowdhry.
The informal, social environment means that the conversation always flows. Tucci confessed his kids only like eating sausages, Bridge talked about the Strictly Come Dancing Curse, and Clark told of his inadvertently intimate encounter with Nicole Scherzinger.
The podcast is funded by Waitrose, which supplies all the food, drink and recipes for every show.
Hugh Bonneville will air on 21st December, Dermot and Alison 28th December and Annie Mac on 4th January.
somethin:else creative studio is part of Sony Music Entertainment. We are a social led creative agency who help brands, broadcasters and talent increase their cultural firepower through content strategy and production. We work with BBC, BPI, Harper Collins, The Restaurant Group, Waitrose, NCS and Swarovski
Listen
This is a press release from Persuasion which we link to from Podnews, our daily newsletter about podcasting and on-demand. This is reprinted verbatim; we may rewrite headlines and descriptions.
This page contains automated links to Apple Podcasts. We may receive a commission for any purchases made.