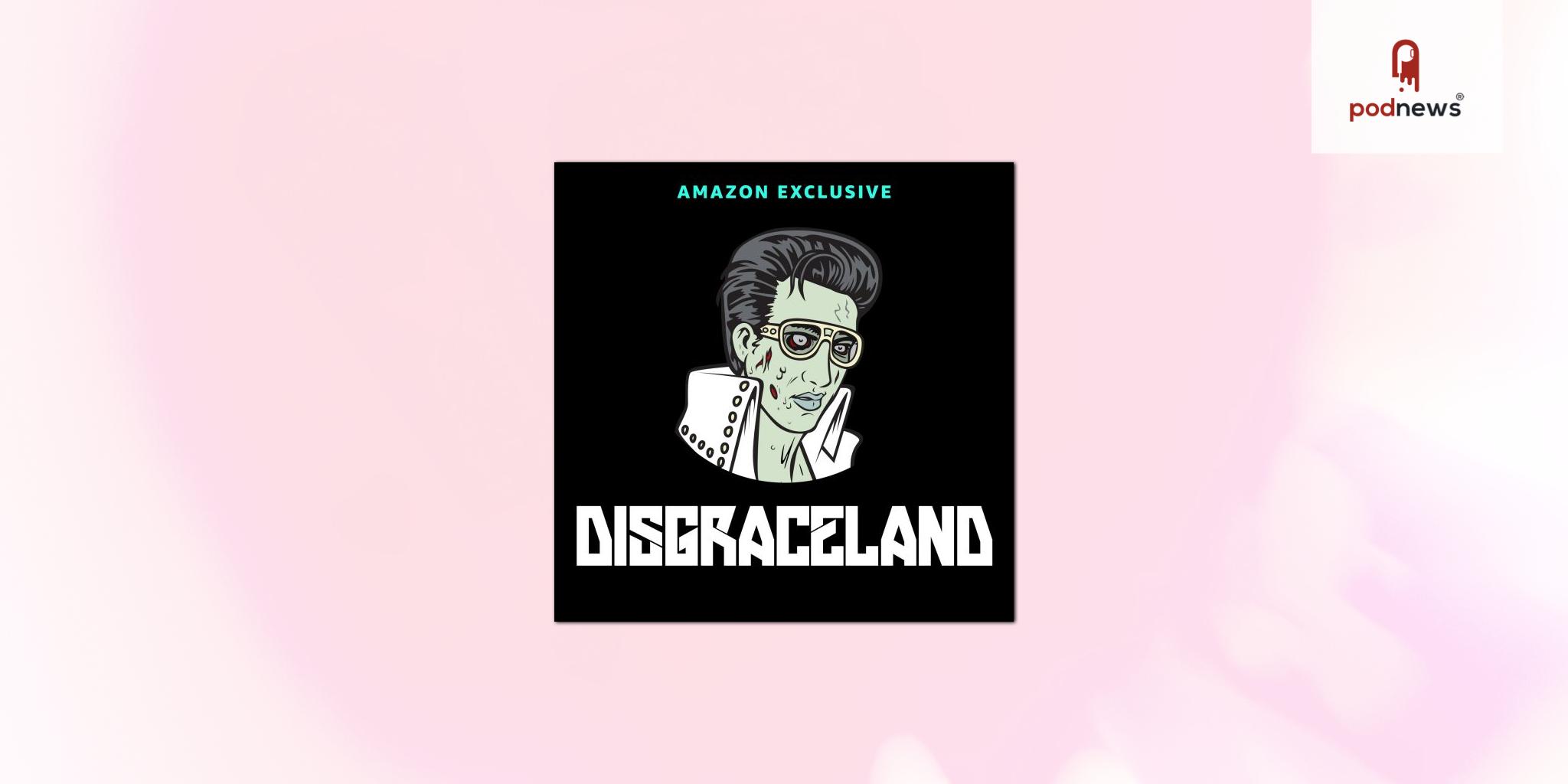 Disgraceland, the award-winning music-meets-true-crime podcast, returns Jan 11 with Taylor Swift
Press Release · Boston MA United States ·
The number one most downloaded music podcast in the world, Disgraceland returns on January 11 with a brand-new season exclusively on Amazon Music. Season 9 of the audio series will explore more of the most outrageous stories in music history, featuring criminal antics and crazy connections from infamous musicians around the globe, starting with a premiere episode focused on Taylor Swift's stalkers, vanishing masters, love letters and more.
Host Jake Brennan returns with his signature style of captivating storytelling for this season of the award-winning music meets true crime podcast from Double Elvis. Stories this season will include Tom Petty's mystery arsonist, Juice WRLD's tragic history with prescription pills, Sublime's hobbies like inciting a riot at their first show, vandalizing their record label's headquarters and doing some unspeakable deeds to a Dennys kitchen with their mobile home's septic tank, amongst other insane tales from some of the world's most famous musicians.
Season 9 of Disgraceland will include the following episodes:
Jan 11: Taylor Swift - Interstate Stalking, Vanishing Masters, and Love Letters Gone Wrong
Jan 18: Tom Petty - House Fires, Hiding a Heroin Habit, and Run-Down Dreams
Jan 25: Sublime - Hoodlums, Police Helicopters, and Getting Dirty at Denny's
Feb 1: Hank Williams - Sanatoriums, Poison Pills, and Fired from the Grand Ole Opry
Feb 8: The Eagles Part 1 - International Drug Smuggling, Endless Cocaine, and California Excess
Feb 15: The Eagles Part 2 - Death, a Plane Crash, and Innocence Lost at What Cost
Feb 22: Billie Holiday - Heroin Hounds, 'Whorehouse Music,' and the Queen of Jazz
Mar 1: Juice WRLD - Percocets, Lucid Dreams and a Whole Lotta Lean - 100th episode
Mar 8: Miles Davis Part 1 - Blasting Bebop, Blasting Racism, and a Devastating Heroin Habit
Mar 15: Miles Davis Part 2 - Mountains of Pills, Bitches Brew, and the Reinvention of the Original Motherfucker
Mar 22: The Temptations - Fame, Drugs, and Paranoia
Mar 29: George Harrison (The Beatles Pt 5 - Season Finale) - Surviving the Beatles, the London Drug Squad, the Hell's Angels, and a Home Invasion
Listeners can listen to the first episode of season 9 of "Disgraceland" on Amazon Music exclusively, beginning on January 11th. The first episode of "Disgraceland" will also be available across all other podcast platforms on January 18th, with select episodes released throughout the season on Apple Podcasts, Spotify, Stitcher and all other podcast platforms. For more information, please visit https://www.disgracelandpod.com.
Listeners can access Disgraceland in the Amazon Music app for iOS and Android, on Amazon Echo devices, and at music.amazon.com/podcasts. For more information about Disgraceland, visit https://www.disgracelandpod.com.
About Double Elvis
Double Elvis is an audio-first media company that explores life through the lens of music. Rooted in podcasting, Double Elvis was co-founded by Brady Sadler and Jake Brennan, creator & host of the podcasts "Disgraceland" ​(#1 most downloaded music podcast),​ "27 Club," "Blood On The Tracks" and more. The company specializes in storytelling about music and aims to provide both a platform for artists and a destination for music fans. Since its founding in 2018, the company has released an additional number of critically acclaimed podcasts, such as "Dear Young Rocker," "About A Girl," their spinoff of Disgraceland,"Badlands," and others, and has continued to expand on their existing audio series.
Double Elvis has also partnered with a number of notable podcast and music companies to produce new series. In 2020, Double Elvis collaborated with Tenderfoot TV to produce "Dead and Gone," a true crime and music podcast exploring the various deaths and disappearances of Grateful Dead fans. In 2021, in partnership with Def Jam Records and iHeartRadio, Double Elvis launched "Here Comes the Break," a hip-hop and mental health podcast that fuses a fictional scripted narrative with real artist interviews and exclusive music releases from Def Jam artists.
In September of 2021, Double Elvis announced a partnership with various independent podcasts; 'Washed Up Emo,''Sounds and Vision with Andrew Loog Oldham', 'Women in Hip Hop,' and a new series from Lol Tolhurst, co-founder of The Cure, and Budgie, of Siouxsie and the Banshees, titled 'Curious Creatures'. Through these partnerships, they provide independent creators with support in community building, audience growth, marketing, and monetization, while encouraging full control and independence of the creator's project.
About Amazon Music
Amazon Music reimagines music listening by enabling customers to unlock millions of songs and thousands of curated playlists and stations with their voice. Amazon Music provides unlimited access to new releases and classic hits across iOS and Android mobile devices, PC, Mac, Echo, and Alexa-enabled devices including Fire TV and more. With Amazon Music, Prime members have access to ad-free listening of 2 million songs at no additional cost to their membership. Listeners can also enjoy the premium subscription service, Amazon Music Unlimited, which provides access to more than 75 million songs and the latest new releases. Amazon Music Unlimited customers also now have access to the highest-quality listening experience available, with more than 75 million songs available in High Definition (HD), more than 7 million songs in Ultra HD, and a growing catalog of spatial audio. Customers also have free access to an ad-supported selection of top playlists and stations on Amazon Music. All Amazon Music tiers now offer a wide selection of podcasts at no additional cost, and live streaming in partnership with Twitch. Engaging with music and culture has never been more natural, simple, and fun. For more information, visit amazonmusic.com or download the Amazon Music app.
Listen
This is a press release which we link to from our daily newsletter about podcasting and on-demand. This is reprinted verbatim; we may rewrite headlines and descriptions.
This page contains automated links to Apple Podcasts. We may receive a commission for any purchases made.