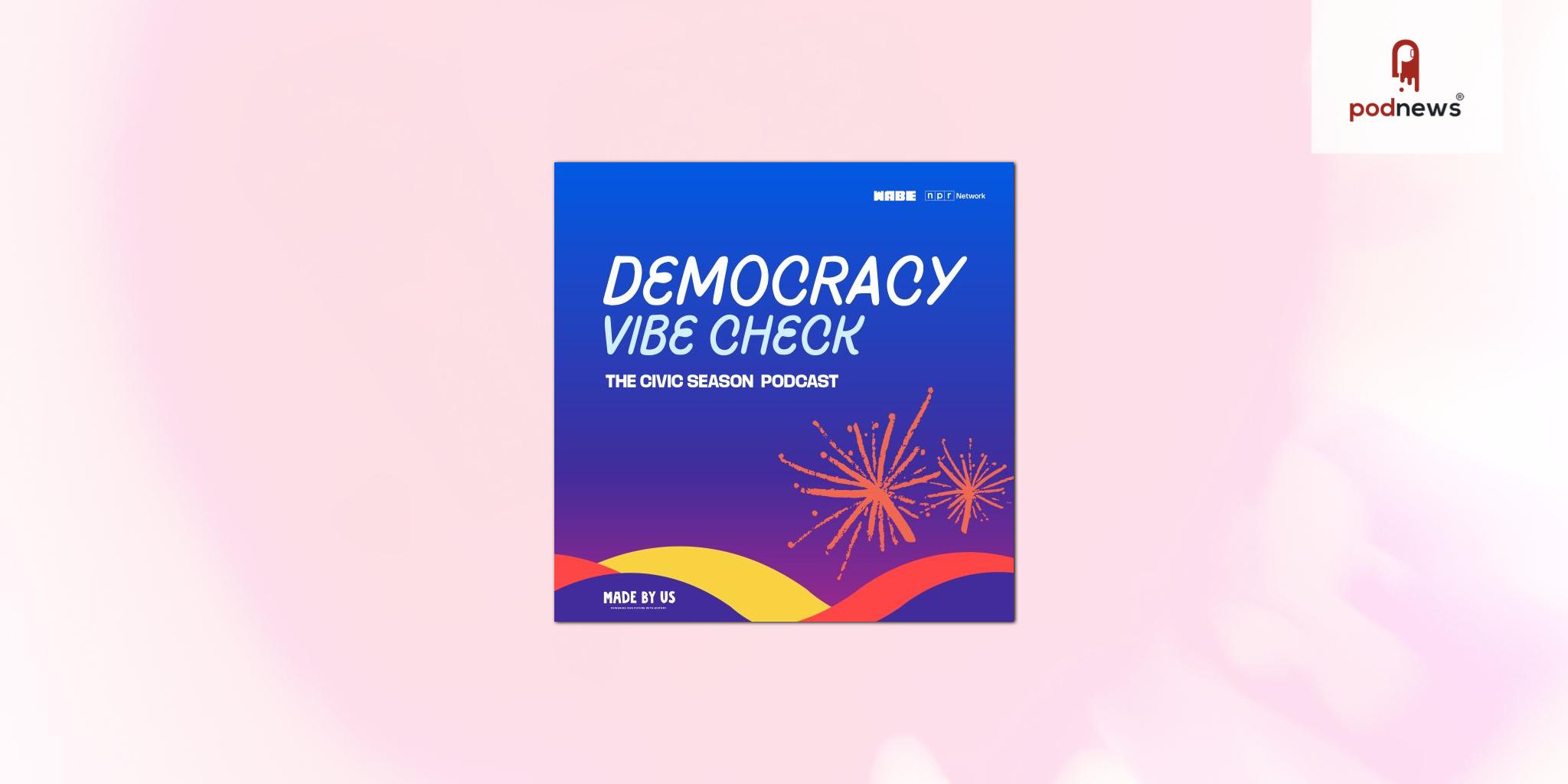 New Podcast "Democracy Vibe Check" Explores How Gen-Z Engages in Civic Season, a New American Tradition
Press Release · Atlanta, GA, USA · via WABE ·
WABE, Atlanta's home for NPR and PBS, is proud to announce the launch of its latest national podcast Democracy Vibe Check: A Guide to Civic Season. The seven-episode series explores ways young people across the country are engaging in a new American tradition, Civic Season. Democracy Vibe Check is streaming on wabe.org and other podcast platforms.
Held between Juneteenth and July 4th, Civic Season unites America's oldest federal holiday with its newest in a summertime celebration of who we are as a nation, how we got here, and where we want to go next. New episodes are slated to premiere on Wednesday mornings at 7 a.m. ET through Wednesday, July 5. Listeners can submit their own stories to be included in the final episode.
Democracy Vibe Check is produced by WABE Studios in partnership with Civic Season and Made By Us. Participating organizations include the Atlanta History Center, the National Center for Civil and Human Rights, the Smithsonian's National Museum of the American Latino, and Thomas Jefferson's Monticello. The series hosts–Maggie Bell, Gabriel Cruz, and Cameron Katz–represent the voices of Gen-Z from Atlanta, central to the guiding values and activation around Civic Season.
"Civic Season is about unleashing access to the complex American story and finding your place in it," said Caroline Klibanoff, Executive Director of Made By Us. "From Atlanta to the rest of the country, the Democracy Vibe Check podcast is an invitation to join the fun through conversation, games, and activities that help you discover your story."
Bell is a spirited community organizer who works across the state of Georgia. As a proud HBCU grad, she understands the power of the Black youth vote and is determined to increase political engagement amongst her peers. Bell has a history of advocating for canceling student debt, criminal justice reform, and voting rights.
Cruz (he/him) grew up in Puerto Rico and moved to Atlanta to study biomedical engineering at Georgia Tech. After graduating, he became passionate about learning the history he didn't learn in school. In his free time, he loves building Legos and playing chess.
Katz (she/her) is the Community Engagement Manager for Made By Us. Through her work, she frequently speaks, writes, and creates content about history, civic engagement, and Gen-Z's power to shape the future of the United States. Cameron recently graduated from Emory University with a double major in U.S. History and English Creative Writing.
Listen
This is a press release which we link to from Podnews, our daily newsletter about podcasting and on-demand. We may make small edits for editorial reasons.
This page contains automated links to Apple Podcasts. We may receive a commission for any purchases made.