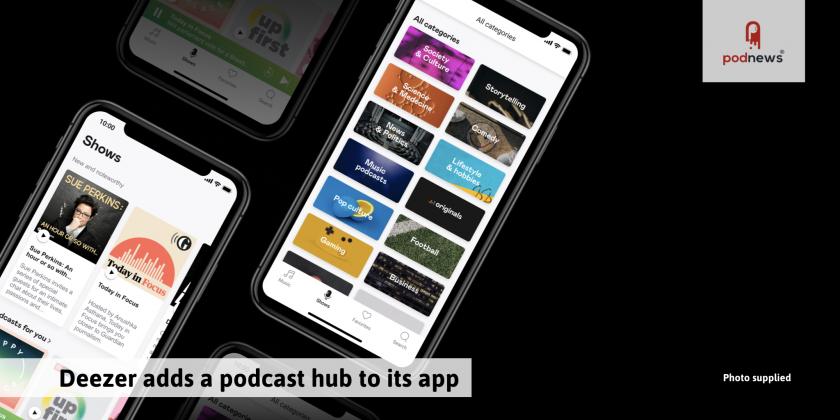 Much more than music - Deezer introduces dedicated hub for non-music audio content
Press Release ·
This article is at least a year old
London, UK—Your music speaks volumes about your personal taste and now you can expand your Deezer experience even further with some of the best non-music audio content in the world. Starting today, podcast and radio enthusiasts will be able to quickly access all their favourite non-music content all in one place. Deezer is making a new "Shows" tab available around the world* on iOS devices.
"Shows" is a new feature that can easily be found on the main tab bar and helps audio fans quickly discover relevant podcasts, radio and specialised talk content. Deezer "Shows" also features more than 15 custom channels that cover topics like comedy, society & culture, fiction, music podcasts and education. Users can find sub-categories and niche subjects like self-help, parenthood, podcasts for kids, inspirational women, entrepreneurs and testimonials. Categories are sorted by topic and users can easily browse the library by swiping left to right.
"Shows" also include new Deezer Originals, local podcasts made just for Deezer users ranging from "Rap ist Kampfsport" in Germany to "L'Heure de Gloire" in France and "Stereo Falante" in Brazil. Radio fans can also find stations from around the world including US, UK, France, Brazil, Germany and the Netherlands.
Fans looking for a little inspiration can also discover personal recommendations under "Podcasts for you." Based on your listening history and preferences, "Shows" can make personalized recommendations, similar to Deezer's curated music content.
The "Shows" tab also gives all paying and non-paying subscribers the flexibility to add any content directly to their personal library. All users can also download their favourite podcast episodes to make listening more convenient.
"As much as we all love music, there are times when we just want to hear a funny podcast or binge on a crime series. Now our 'Shows' feature makes it easier than ever for our users to find the content they love. We provide the best local and global podcasts, fresh original productions and radio channels tailored for our users, " said Frederic Antelme, VP Content and Productions, Deezer
This is a press release which we link to from Podnews, our daily newsletter about podcasting and on-demand. This is reprinted verbatim; we may rewrite headlines and descriptions.