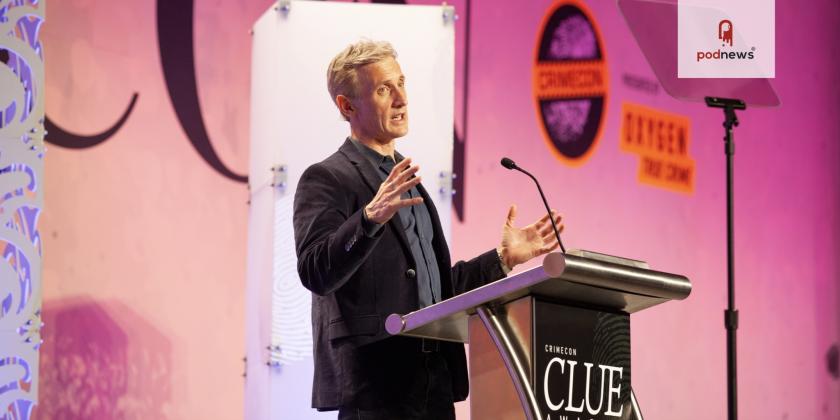 CrimeCon reveals winners of the inaugural Clue Awards
Press Release · Las Vegas, NV, USA ·
Winners of CrimeCon's first annual CLUE Awards were announced tonight at the Paris Las Vegas Hotel during an awards ceremony hosted by Law & Crime Network Founder, NewsNation Host and ABC Chief Legal Analyst Dan Abrams (pictured above).
Launched by CrimeCon – the world's leading live event for true crime content creators, industry professionals and fans – the CLUE Awards debuted as the first-ever awards program dedicated entirely to the true crime genre.
Networks, producers and publishers receiving honors at the inaugural ceremony included EPIX, Spotify and Gimlet Media, Blumhouse Television, Dick Wolf's Wolf Entertainment, Oxygen, CBC Podcasts and Algonquin Books – all selected from a pool of nominees that also included HBO Max, Peacock, discovery+, CBS Audio, Apple TV+, FX and Random House.
Meanwhile, The Black and Missing Foundation (BAMFI) became the first recipient of CLUE's "Crimefighter of the Year" Award. This award was created to spotlight an individual or organization's significant impact and commitment to seeking justice for crime victims. BAMFI Co-Founders Natalie and Derrica Wilson were in attendance to accept the award. Coinciding with the honor, CrimeCon is also making a donation to the organization.
The full list of nominations and winners – encompassing six categories, spanning television, podcasting film and publishing – are:
Television: "Outstanding Docuseries"
WINNER: Fall River (EPIX) Produced by Blumhouse Television, Pyramid Productions

Dr. Death: The Undoctored Story (Peacock) Produced by UCP, a division of Universal Studio Group

Epstein's Shadow: Ghislaine Maxwell (Peacock) Produced by Blue Ant Studios

The Missing Children (Topic) Produced by Topic, True Vision, Nevision

The Way Down: God, Greed and the Cult of Gwen Shamblin (HBO Max) Produced by Campfire Studios, Huntley Productions
Television: "Outstanding Episodic Series"
WINNER: Cold Justice (Oxygen Network) Produced by Wolf Entertainment, Magical Elves

Accident, Suicide or Murder (Oxygen Network) Produced by Dorsey Pictures, a Red Arrow Studios company

Dateline (NBC) Produced by Dateline NBC

Evil Lives Here (Investigation Discovery / discovery+) Produced by Red Marble Media

True Crime Story: It Couldn't Happen Here (Sundance TV / AMC+) Produced by Authentic Entertainment, Mischief Farm, Bungalow Media + Entertainment
Podcasting: "Outstanding Episodic Series"
Podcasting: "Outstanding Docuseries"
"Outstanding Documentary Film"
WINNER: Escaping Captivity: The Kara Robinson Story (Oxygen) Produced by Marwar Junction Productions and Entertainment One

Broken Harts (discovery+) Produced by Jupiter Entertainment and Condé Nast Entertainment

The Doomsday Files (NBC) Produced by Dateline NBC

The New York Times Presents: To Live and Die in Alabama (FX) Produced by The New York Times, Left/Right (a Red Arrow Studios company)

What Happened to Amy (NBC) Produced by Dateline NBC
"True Crime Book of the Year"
WINNER: The Case of the Murderous Dr. Cream: The Hunt for a Victorian Era Serial Killer (Algonquin Books)
Do Not Disturb: The Story of a Political Murder and an African Regime Gone Bad (PublicAffairs, Hachette Book Group)
Killer By Design (Hachette Book Group)
Last Call: A True Story of Love, Lust, and Murder in Queer New York (Celadon Books)
Two Truths and a Lie: A Murder, a Private Investigator, and Her Search for Justice (Random House)
The CLUE Awards' nominees and winners were determined by a world class selection committee, comprised of a wide range of producers, network and streaming executives, and other creatives and industry leaders, representing all sectors of the true crime genre.
About CrimeCon
CrimeCon is an immersive three-day experience for true crime fans, creators and leading industry professionals. Since its launch in 2017, CrimeCon has connected thousands of true crime enthusiasts with the mysteries, cases and issues that intrigue them. With a heavy focus on education, CrimeCon features speakers, panels, breakout sessions, hands-on experiences and more, allowing fans to completely delve into the world of true crime. Created by fans, for fans, CrimeCon brings together the true crime community for a weekend filled with learning, understanding and advocacy. The event is produced by Red Seat Ventures, a digital media company based in New York City. For more information, visit www.CrimeCon.com.
Dan Abrams Bio
Dan Abrams is the chief legal affairs correspondent for ABC News, host of Dan Abrams Live on NewsNation, host of The Dan Abrams Show: "Where Politics Meets the Law" on SiriusXM's POTUS channel, and host and executive producer of Court Cam and Taking The Stand on A&E. A graduate of Columbia University Law School, Dan is CEO and founder of Abrams Media, which welcomes over 20 million monthly unique visitors and currently includes Mediaite.com, WhiskeyRaiders.com, LawandCrime.com and the Law&Crime Network. He has co-authored numerous best-selling books including: Kennedy's Avenger, John Adams Under Fire, Theodore Roosevelt for the Defense and Lincoln's Last Trial, which received the 2018 Barondess/Lincoln Award. His newest book is Alabama v. King: Martin Luther King Jr. and the Criminal Trial That Launched the Civil Rights Movement.
About The Black and Missing Foundation
The Black and Missing Foundation, Inc (BAMFI) is a non-profit 501(c)(3) organization whose mission is to bring awareness to missing persons of color; provide vital resources and tools to missing person's families and friends and to educate the minority community on personal safety. BAMFI was founded in 2008 by experts in the fields of law enforcement and public relations; two vital expertise needed to help bring awareness to and find those missing from our communities. BAMFI creates public awareness campaigns for public safety and provides parents and loved
This is a press release which we link to from our daily newsletter about podcasting and on-demand. This is reprinted verbatim; we may rewrite headlines and descriptions.