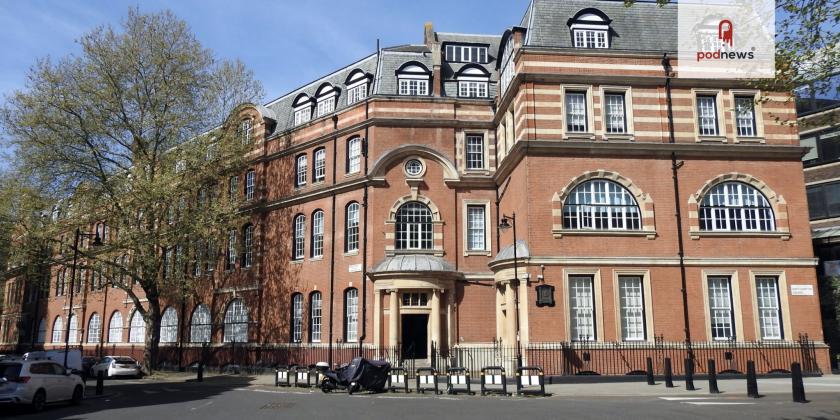 City, University of London to launch Podcasting MA
Press Release · London, UK ·
City, University of London is driving a revolution in podcast education with the launch of the UK's first dedicated MA in Podcasting and a Centre of Podcasting Excellence.
Professor Mel Bunce, Head of the Journalism Department, describes the degree as "the first of its kind" and "one that covers the full spectrum of skills needed to thrive in the podcasting industry - from audio production and visualisation, through to business and audience development".
Podcasting is one of the largest growth sectors in the UK media, according to a recent YouGov survey, and employers are keen to take on highly trained creatives.
City's new MA in Podcasting builds on extensive consultation with industry leaders such as Spotify, Acast, Sony, Audio UK and the BBC to ensure its graduates gain the skills to thrive in podcasting and help to fill the growing skills gap.
Applications are now open for the first students to start in September 2023, taking the course part-time or full-time.
The Degree will be taught in City's Department of Journalism, which is ranked No 1 in the UK for Journalism by the Guardian Good University Guide, and No 1 in the UK for Communication and Media, by the Complete University Guide.
Students will be challenged to develop their audio production, storytelling, and editing, and will learn important media and business development skills that are crucial to success in the podcasting industry. This includes modules looking at: the monetisation, advertising, and branding of podcasting; audience strategy and development; pitching; managing talent; using data and visualisation; and working across a wide variety of genres.
The course will run alongside a new Centre of Podcasting Excellence at City that will hold monthly events for the podcast community, as well as guest speakers, short courses, and journalists in residence.
The MA will be run by City's Head of Podcasting Sandy Warr, a multi-award-winning broadcaster, and Fellow of the Radio Academy. Sandy has been teaching audio on the journalism courses at City since the late 90s. She has presented news and sport podcasts for the Guardian, and continues to front the LBC News Sunday breakfast show.
Students will also be taught by City's Emmy award-winning lecturer Fernando Pizzaro – a supervising Editor for NPR's flagship podcast and news show, Morning Edition, and former Senior Podcasting Editor at the New York Times. They will also take classes with award-winning podcast producer Mark Sandell from 6foot6 Productions, and hear from a range of guest experts working across all areas of the podcast industry.
Former BBC and Bauer Media executive Brett Spencer joins as Director of the Centre of Podcasting Excellence, having worked in the sector since 2005.
The initiative has already received warm support from across the industry.
"The UK podcast industry sorely needs a professional qualification -- as with many aspects of the internet, anyone can be a creator, but there are few institutions championing high standards. As the medium becomes more popular and influential, we need a workforce that understands its responsibilities in terms of ethics and law just as much as any other media sector." - Matt Hill, MD, Re-Think Audio
"An MA Podcasting course will be a valuable addition to the infrastructure of the podcasting industry - enabling students to learn the varied fundamentals of a dynamic and important sector. We welcome this course with open arms!" - Hannah Russell, Co-Founder, Mags Creative, Podcast Production Company of the Year
"Spirit Studios are always looking for intelligent and technically skilled graduates to work across our content studios and there is a real lack of solid educational led courses in the podcast sector." - Peter Cowley, CEO Spirit Studios
"A course like this is massively valuable to the podcasting industry in the UK. The market has matured rapidly in recent years but -- until now -- formal education has been relatively lowkey compared to other industries. It's the perfect time for an educational institution to change that and offer the opportunity for people to gain a thorough grounding in podcasting, and the business of podcasting, to funnel even more experienced -- as well as more diverse -- academically trained talent into our industry." - Lizzy Pollott, SVP, Marketing Communications & Brand, Acast
"Being able to take on people with an MA in Podcasting would mean they're more fully versed in the sector as a whole and can hit the ground running, able to enter the industry at a higher level than any other audio/radio BA grads." - Matt Deegan, Creative Director, Folder Media, co-founder British Podcast Awards
Based in Central London, close to some of the world's leading media organisations, City has provided outstanding journalism education for more than 45 years. The Department has more than 6000 alumni working around the world, in journalism and beyond. This includes many alumni at the forefront of podcasting, such as: Dino Sofos (The News Agents, Newscast, Americast), Helena Wadia and Mathilda Mallinson (Media Storm), Ben Green (The Athletic), and Adam Fleming (Newscast, AntiSocial) and Chris Mason (Newscast).
Details of the MA in Podcasting, including how to apply, are available here: https://www.city.ac.uk/prospective-students/courses/postgraduate/podcasting
This is a press release which we link to from Podnews, our daily newsletter about podcasting and on-demand. This is reprinted verbatim; we may rewrite headlines and descriptions.