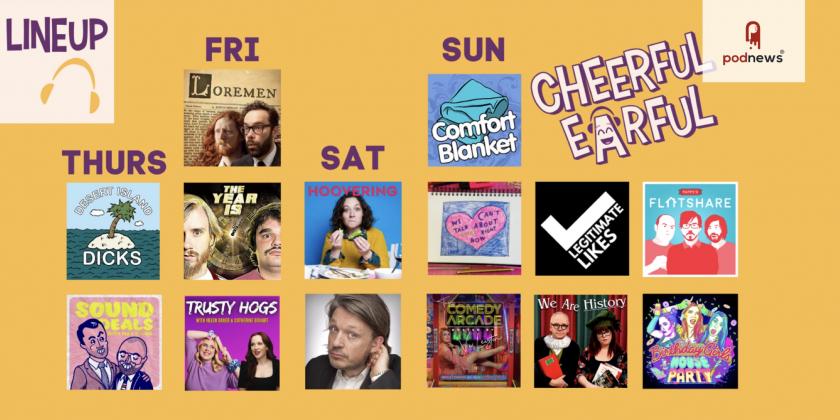 More acts added to new London comedy podcast festival & media partners announced
Press Release · London, UK ·
CHEERFUL EARFUL, a new comedy-podcast festival coming to London this Autumn, can announce a second wave of podcasts added to the line-up. Joining the likes of Richard Herring, Jessica Fostekew & Angela Barnes will be:
TRUSTY HOGS with Catherine Bohart and Helen Bauer. A dose of hilarity and chaos as they try to solve your problems whilst barely wrangling their own.
WE CAN'T TALK ABOUT THAT RIGHT NOW. Join sisters Bebe and Jessie Cave as they discuss things they shouldn't.
LEGITIMATE LIKES with Hugh O'Connor and Will Sebag-Montefiore. They look at some of humanity's most popular fascinations - across everything from pop culture to pastimes to the way the world is run - and decide whether they really, truly deserve so much of our attention.
THE COMEDY ARCADE with Vix Leyton. Part game show and part chat show. Your host, London-based Welsh comedian Vix Leyton, holds an ever-changing numbered list of 30 possible subjects – from everyday to current affairs – and invites four of your favourite comics to compete to take the mic with stories, anecdotes, jokes or even songs.
COMFORT BLANKET with Joel Morris. Talking about the films, TV shows, books or music which people go to again and again to feel safe, happy and welcome.
The festival is also delighted to announce a number of key media partners, including lead media partner, Adelicious, plus Podfollow, Great British Podcasts, PodBible & Podnews. We are grateful to our partners whose support allows us to keep the festival free for performers. With particular thanks to our lead media partner, Adelicious, a premium podcast hosting and monetisation platform – a network built for podcasters by podcasters.
Thursday 6th Oct, The Bedford Pub, Balham
Sound Deals with Max & Ivan (19:00) Hosted by Max Olesker and Ivan Gonzalez
Desert Island Dicks (20:30) Hosted by Dan Benedictus
Friday 7th Oct: The Princess Victoria, Shepherd's Bush
The Year Is… (19:00) Hosted by Bobby Mair and Red Richardson
Loremen (20:30) Hosted by Alasdair Beckett-King and James Shakeshaft
Trusty Hogs (21:45) Hosted by Catherine Bohart & Helen Bauer
Sat 8th Oct: The Bedford Pub, Balham
Hoovering (13:00) Hosted by Jessica Fostekew
RHLSTP (15:00) Hosted by Richard Herring
Sun 9th Oct: The Bedford Pub, Balham
Comfort Blanket Hosted by Joel Morris (12:00)
We Can't Talk About That Now with Bebe and Jessie Cave (13:00)
Legitimate Likes (14:00) Hosted by Hugh O'Connor and Will Sebag-Montefiore
We Are History with Angela Barnes and John O'Farrell (15:00)
The Comedy Arcade (16:00) Hosted by Vix Leyton.
Pappy's Flatshare Slamdown (17:00) Hosted by Ben Clark, Matthew Crosby and Toms Parry. * Birthday Girls House Party (19:00) Hosted by Beattie Edmondson, Camille Ucan and Rose Johnson
This is a press release which we link to from our daily newsletter about podcasting and on-demand. This is reprinted verbatim; we may rewrite headlines and descriptions.