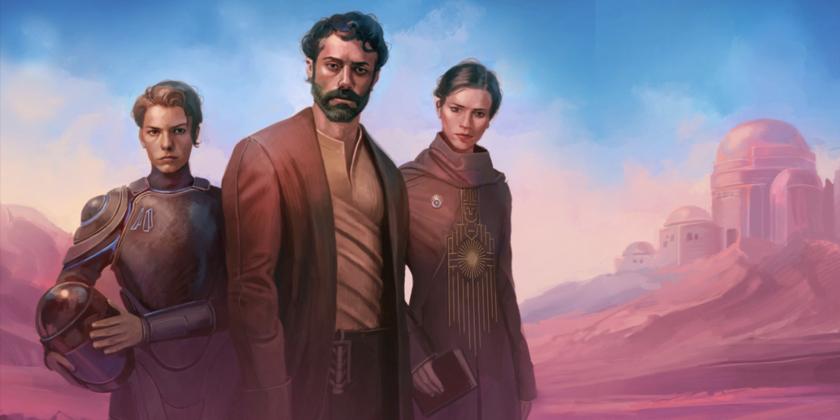 The Madness of Chartrulean, an ambitious Dune-Meets-Game of Thrones podcast, is crowdfunding
Press Release · Austin, TX, USA ·
Packhowl Media, an independent audio fiction production company and Realm partner, is thrilled to announce the launch of a Kickstarter for the second season of groundbreaking political science fantasy podcast, The Madness of Chartrulean.
Showrunner H.M. Radcliff is raising funds to help support an award-nominated cast, led by Aud Andrews (Ambies 2023 nominee for "Best Performance in Audio Ficton"), Kathleen Klein, Christian Collado, Adam Neill, and Magnus Carlssen. As audio fiction continues to grow in popularity, The Madness of Chartrulean seeks to establish itself as a standout production that challenges the conventions of the medium.
Described as a unique fusion of Dune, Game of Thrones, and Shakespearean tragedy, the series has captivated audiences since its release in September 2022 with cinematic sound design, haunting original score by award-winning composer Sean Renner (Das Boot, The Tobacconist), and enigmatic performances.
The show matches the ambition and quality of big-budget productions. Magnus Carlssen, the voice of King Starbringer and producer of sister show The Nebulous Saga, praised The Madness of Chartrulean, stating, "This is a character drama on a world-class scale, and can stand shoulder-to-shoulder with scripted fiction shows from Audible and the BBC."
Set on the fictional planet of Arcas, the story follows Chartrulean, a failed messiah battling cosmic forces that drive him to madness. Meanwhile, political machinations and fraught personal relationships unfurl against the backdrop of technology, religion, war, politics, and ecology. The second season continues where the first season left off, taking Chartrulean to the desert city of Idrica with Havelion, his protege, and Sophrosyne Starbringer, a princess on a parallel quest.
The Kickstarter campaign, running from August 31 to October 1, offers backers the chance to be a part of the production process with early releases, listening parties, and limited run merchandise.
For more information, visit chartrulean.com. Season one can be found on most popular podcast platforms, and subscribers on Apollo (mobile app) gain access to ad-free episodes, deleted scenes, and supercuts. Sean Renner's original soundtrack for the show, released in two full albums (Side A/Side B), is available on most music streaming platforms.
Listen
This is a press release which we link to from Podnews, our daily newsletter about podcasting and on-demand. We may make small edits for editorial reasons.
This page contains automated links to Apple Podcasts. We may receive a commission for any purchases made.