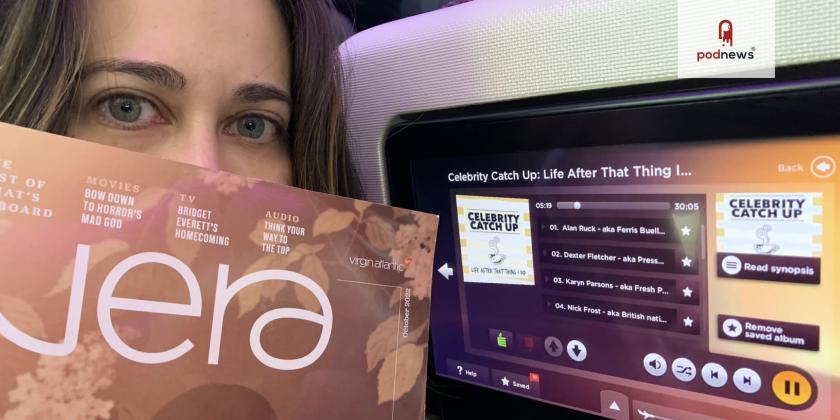 Virgin Atlantic signs new deal with podcast Celebrity Catch Up: Life After That Thing I Did
Press Release · London, UK ·
Virgin Atlantic has agreed a new airline-exclusive deal with Celebrity Catch Up: Life After That Thing I Did, which will see all four series of the nostalgic interview podcast available across its fleet.
A select number of episodes - featuring chats with the stars of much-loved TV, film and music of the 1980s-2000s and exploring how their lives unfolded after - have been available for the past year on Virgin Atlantic's inflight entertainment system. The new deal expands the collection to every episode broadcast so far, as well as new episodes over the coming year.
Launched in July 2020 and made by former BBC News entertainment editor Genevieve Hassan, the independent British podcast has topped the Apple TV/Film charts in a dozen of the 195 countries where it's listened to and has been a mainstay in the top 10.
Ranked in the top 20 best UK celebrity podcasts and recommended by Great British Podcasts and Sunday Times Culture, past guests have included Back to the Future's Lea Thompson, The Breakfast Club's Judd Nelson, director Dexter Fletcher, actor Nick Frost, Savage Garden frontman Darren Hayes and pop icons Steps.
Season 5 will kick off on 7 December with Star Trek legend George Takei as the first guest.
Cathy Walters, Manager of Inflight Entertainment, at Virgin Atlantic said: "After receiving great customer reaction to Celebrity Catch Up: Life After That Thing I Did on board over the past year, we are delighted to extend and expand our partnership with Genevieve and the podcast.
"With over 40 hours of episodes available, there's plenty of nostalgic and fascinating celebrity interviews for our customers to enjoy on their flight."
Genevieve added: "I've been so proud to have my podcast played at 30,000 feet on Virgin Atlantic planes around the world for the past year.
"I'm so happy people have enjoyed the walks down memory lane during their flights. I recently flew home from Miami and it was brilliant to see fellow passengers listening - unaware I was sitting amongst them!
"I'm honoured Virgin Atlantic has invited me to stay on board for another year and share more fantastic guest chats with millions of annual passengers."
All episodes of Celebrity Catch Up: Life After That Thing I Did will be available on Vera from 1 December 2022.
After their journey, passengers can continue listening at celebritycatchup.com or on Apple Podcasts, Spotify, Amazon Music and all major platforms.
Listen
This is a press release which we link to from Podnews, our daily newsletter about podcasting and on-demand. This is reprinted verbatim; we may rewrite headlines and descriptions.
This page contains automated links to Apple Podcasts. We may receive a commission for any purchases made.