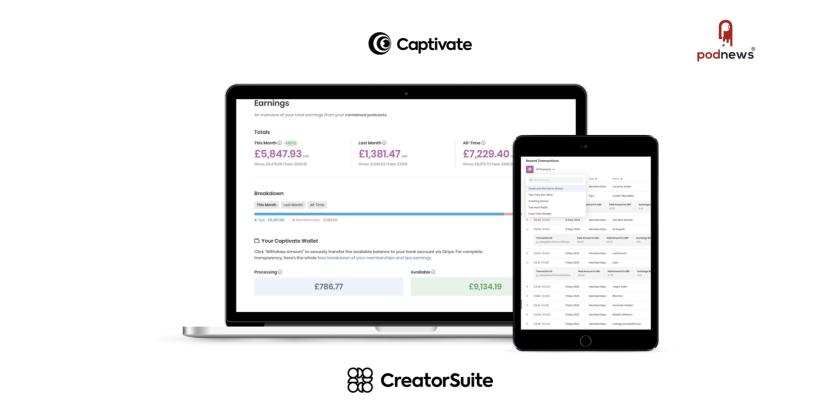 Captivate announces major update and monetisation functionality to support podcast creators
Press Release · London, UK · via Captivate ·
Captivate, a leading podcast hosting and analytics platform owned by Global, the Media & Entertainment Group, proudly announces the launch of two industry-leading monetisation features designed to empower podcast creators: a subscription-based model and a tipping function.
These powerful features will allow podcasters to better engage with audiences and foster a supportive, profitable community.They will also unlock new revenue potential.
In response to the growing demand for more flexible, diverse and sustainable monetisation options, Captivate has developed these tools to provide podcasters with a seamless way to earn income directly from listeners.
The brand-new membership subscription model offers the most advanced functionality of any hosting platform and gives creators total control to create effective monetisation strategies. Podcast publishers now have an option to make exclusive content available for premium subscribers and they can give early access to content for paying listeners.
Creators also benefit from advanced functionality such as being able to set the number of subscription slots available on each membership tier, bringing independent creators a powerful toolkit with which to creatively sell sponsorships and more.
In addition, a new tipping feature will allow fans to support their favourite podcasters with one-time contributions.
Stripe Marketplace, a global payment platform, will ensure secure transactions to give listeners and creators full peace of mind. Stripe's robust security features ensure that all financial information is protected, allowing both creators and supporters to trust the platform.
Captivate's new revenue features also includes an in-depth, simple-to-use revenue dashboard, integration with Apple Pay and Google Pay and a simple "wallet" for managing withdrawals, making it easy for podcasters to manage their income and track earnings.
Mark Asquith, Managing Director of Captivate,Global said: "We're thrilled to launch these new monetisation tools for our podcasting community. The subscription and tipping features provide podcasters with the financial support they need to continue producing high-quality content. We're committed to helping serious podcasters to grow their audience and revenue in diverse and meaningful ways, and these new features are a significant step towards achieving that goal."
Global, the Media & Entertainment group, acquired Captivate in 2021 and integrated the platform into its entertainment app Global Player, and its digital ad platform DAX whilst still focusing on growing Captivate as the first choice for podcast distribution, measurement & monetisation amongst serious audio creators.
James Hickman, Managing Director of Global Player said: "These innovative, fully integrated features open up so many new opportunities for podcast creators - from audience growth and engagement, through to monetisation and revenue. They also provide listeners with a chance to interact with their favourite shows and hosts and show their appreciation for the content. We'll of course continue to use Captivate's market-leading product to continue to grow our own portfolio of hit podcasts too."
In addition to the exciting new membership and tipping features, Captivate is proud to unveil the newly branded "Captivate Creator Suite," a comprehensive toolkit that brings together Captivate's unique, market-leading workflow and revenue tools.
The Captivate Creator Suite encompasses several of the platform's existing features, including dynamic show notes, guest booking and interview management tools, episode planning and research tools, as well as AMIE, Captivate's innovative dynamic content and ad technology, and will continue to expand as Captivate releases more innovative features.
All of these market-leading creator tools are now consolidated into one easy-to-understand offering, empowering serious podcasters with the ultimate toolkit to streamline their creative process, enhance audience growth, and maximize revenue opportunities.
The introduction of these new monetisation features highlights Captivate and Global's commitment to innovation and the ongoing growth of the podcasting industry. As podcasting continues to thrive around the world, Captivate continues to support creators with the well-considered tools they need to excel in this rapidly evolving landscape.
Here's a summary of Captivate's brand-new features:
Advanced membership subscription functionality: Captivate's membership feature offers podcasters the most advanced functionality available on any hosting platform, allowing creators to provide exclusive content, premium subscriber-only access, and early access "windowing" to give total control to the creator.
In-depth revenue dashboard: Captivate's intuitive revenue dashboard enables podcasters to easily manage and track their monetisation efforts, providing a clear overview of earnings and helps optimise strategies for maximum success.
Ease of use: The membership and tipping features are fully integrated into the Captivate podcast hosting platform and the natural episode publishing workflow, making it simple for podcasters to set up and manage monetisation options, and freeing them to focus on creating outstanding content.
Customization: Podcasters can tailor membership tiers and benefits, as well as set prices & exclusive/early-access release windows, allowing them to create unique offerings for their audience. This flexibility ensures that creators can cater to the specific needs and preferences of their listeners whilst not being held back by simplistic revenue generation tools. Podcasters can also limit the number of members per tier, making it significantly easier to manage directly sold sponsorships and more.
Secure transactions powered by Stripe Marketplace: Captivate integrates Stripe Marketplace for secure transactions, providing listeners and creators with peace of mind. Stripe's robust security features ensure that all financial information is protected and safe.
Increased audience engagement: By offering exclusive content and rewards to subscribers, podcasters can foster deeper connections with their audience, driving loyalty and creating a sense of community around their podcast.
For more information, please visit www.captivate.fm
About Captivate.fm
Founded in 2019, Captivate is a cutting-edge podcast hosting and analytics platform designed to help creators grow their podcast audiences and monetise their content. With a user-friendly interface, advanced analytics, and innovative features not found elsewhere, Captivate has quickly become the go-to choice for serious podcasters of all experience levels seeking to build and expand their reach.
This is a press release from Captivate which we link to from Podnews, our daily newsletter about podcasting and on-demand. This is reprinted verbatim; we may rewrite headlines and descriptions.