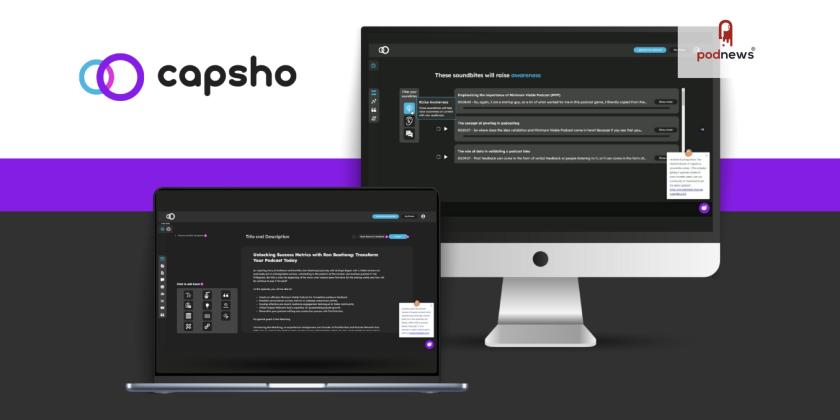 Capsho announces Creative Studio to help content creators create compelling clips that convert
Press Release · via Capsho ·
Capsho, a leading AI-powered marketing platform designed for entrepreneurs who podcast, livestream, and vlog, has announced the launch of their newest product suite: Creative Studio.
Creative Studio is designed to take care of the most time-consuming and impactful step of repurposing your longform content into video assets: identifying and deciding which parts to clip and edit together.
"There are a lot of AI-powered video clip generators out there. Based on feedback from our community - our Capshovians - most of these solutions sacrifice quality for pure efficiency. Our goal is to bring intention and marketing strategy into this process. We designed Creative Studio to quickly parse your transcript and strategically identify the right clips that you can edit in your video editor of choice." - Deirdre Tshien, CEO & Co-Founder of Capsho
The full Creative Studio suite has four main components:
Soundbite Identification: Creative Studio will intelligently identify short, shareable excerpts from the longform video or audio file uploaded. These "Soundbites" for social media will boost awareness, engage audiences, and increase listens and views for podcasts, vlogs, and livestreams.
Educational Segment Extraction: Creative Studio will stitch together the most insightful parts of the content and produce compelling educational segments perfect to upload on YouTube and embed in blog posts.
Potent Quotes Curation: Creative Studio will pinpoint the most quotable highlights and quotes in the content, that can be shared across various platforms to engage and inspire audiences.
Short-Form Video Script Generation: Creative Studio will generate scripts for short-form videos based on the questions answered in the content and the action the user wants their audience to take
In addition to these newly announced features, Capsho continues to provide its Capshovians (as their user base are fondly known) with a comprehensive suite of marketing assets including:
Titles and descriptions
A variety of social media captions that promote, engage and educate across Facebook, Instagram, LinkedIn, Twitter and YouTube Shorts
Promotional and engagement emails
YouTube descriptions
4 different types of blog posts
LinkedIn articles and
Transcripts
Creative Studio is now live and accessible to all Capsho users. Get a free 3 episode trial here.
About Capsho
Capsho is an AI-powered content marketing platform designed to help entrepreneurs who podcast, livestream, and vlog repurpose and market their expert content and build their content legacy.
This is a press release which we link to from Podnews, our daily newsletter about podcasting and on-demand. We may make small edits for editorial reasons.