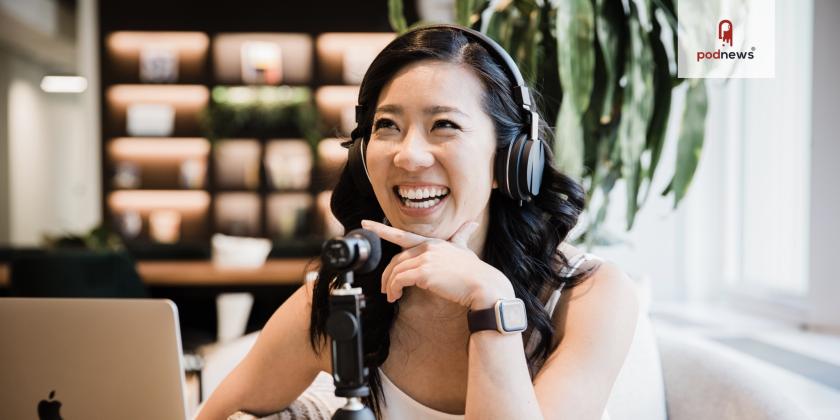 Capsho launches 'HumAIn Editor' and AI-powered customizability as part of 2.0 upgrade
Press Release · New York, NY, USA ·
Capsho, the first-to-market AI-powered podcast copywriter, has launched the newest version of their platform. Capsho 2.0 allows podcasters to turn their podcast episode's audio or video recordings into marketing content designed to help amplify and promote their message.
As AI tools flood the market, it is becoming increasingly important to understand the exact purpose and value of these tools.
Capsho 2.0 is built on the philosophy that artificial intelligence is designed to augment - not replace - human creativity and expert knowledge.
As Capsho CEO, Deirdre Tshien (pictured above), puts it:
"There is nothing more human than the act of creation. AI needs to augment, not replace human creative expression. We are putting our community of podcasters - the human - at the center and equipping them with the efficiency of AI so that their brand and creativity can shine."
This approach of centering the human with cutting edge AI technology to support them, is clearly reflected in how Capsho 2.0 is designed.
Designed by marketers, Capsho doesn't just do the grunt work of transcribing, parsing and summarizing podcast episodes. It also provides high quality marketing asset drafts that podcasters need - from episode titles and descriptions to curiosity hooks, quotes and multiple types of blog posts and much more.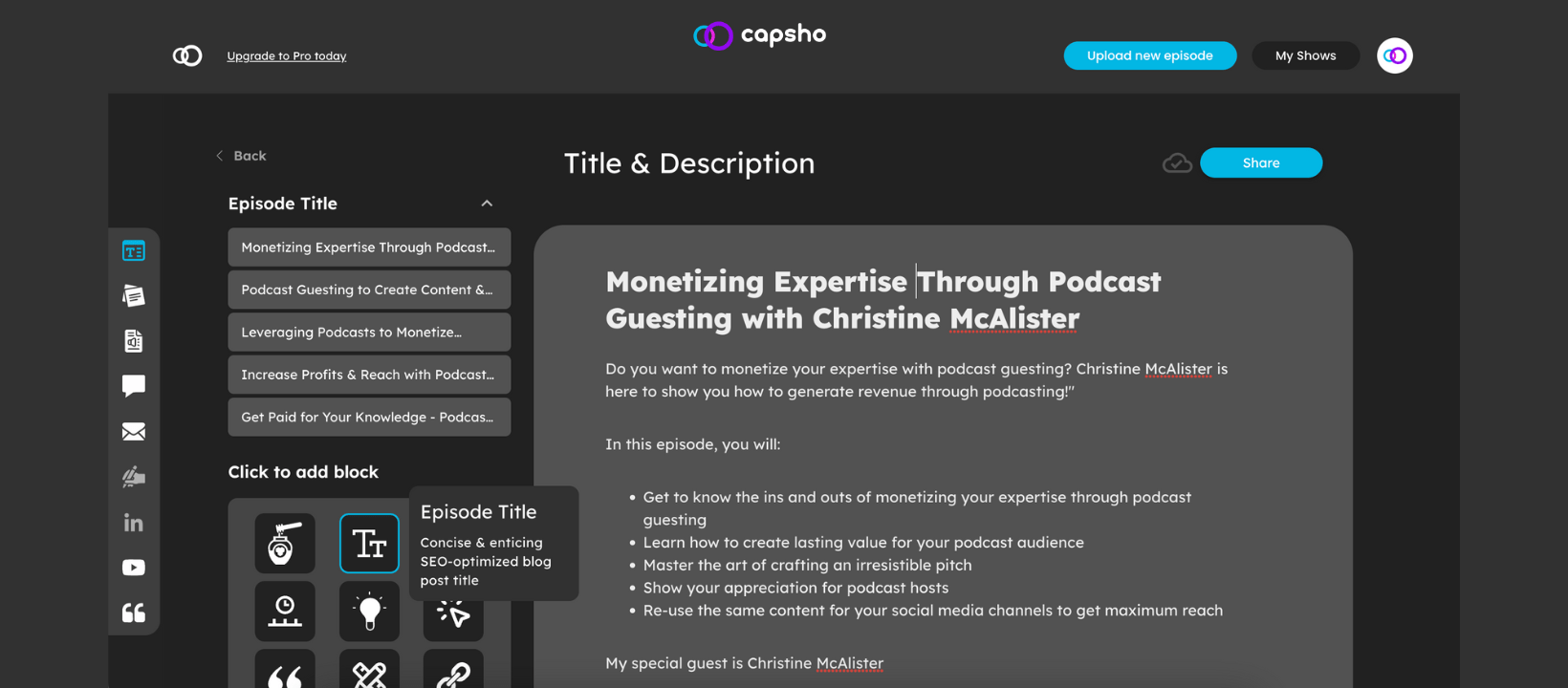 Users will be able to see these drafts in discrete blocks that they can add, edit and save into their own templates which are completely customizable. They will also be able to select a tone of voice to apply to the drafts or let Capsho detect it for them.
These features, among many others, enable Capsho users to get maximum efficiencies from AI while retaining full creative control over their content.
Learn more about how Capsho can help you market and grow your podcast quickly.
About Capsho
Capsho is an AI-powered podcast marketer and copywriter that turns your episode audio or video file into an episode title, description, show notes, social media captions, emails, blog post, LinkedIn article, curated quotes and a full transcript in under 10 minutes.
As an Asian-Australian female-founded software company that is 100% bootstrapped, Capsho is purposefully carving out its place in an industry dominated by venture-backed male voices.
Capsho's Co-Founders are passionate about powering podcasting entrepreneurs (just like them) to strategically leverage their podcasts as a content marketing tool to grow their business.
Join the Podcasting for Entrepreneurs Facebook Group. Try Capsho for free.
This is a press release which we link to from Podnews, our daily newsletter about podcasting and on-demand. This is reprinted verbatim; we may rewrite headlines and descriptions.