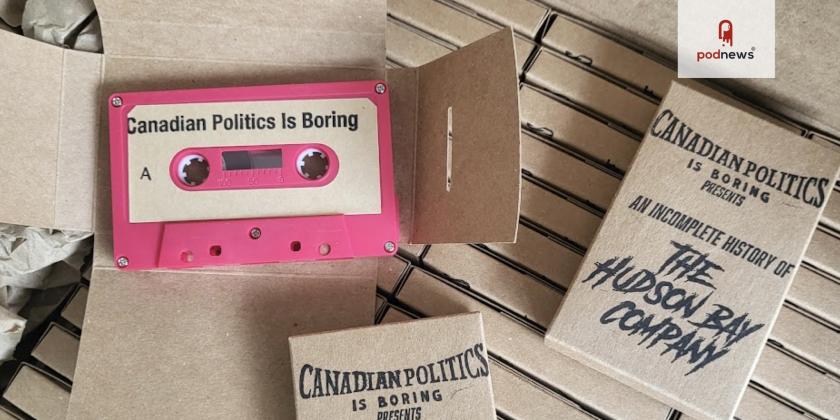 Canadian Podcast Releases Limited Edition Episode on only 50 Cassettes
Press Release · Halifax, NS, Canada ·
Halifax based satire show Canadian Politics Is Boring is experimenting with digital scarcity by embracing analogue scarcity, releasing a special episode on audio cassette. The episode 'An Incomplete History of The Hudson Bay Company' will only exist as 50 cassettes that can only be played on retro devices.
The comedy podcast has a large national audience and is one of Canada's fastest growing political satire shows. Having previously released over 200 episodes since it started in 2018, this one off episode is 48 minutes long (Side A and Side B) and the team plan to delete all digital versions once released.
"Podcasts are famously free and accessible to all. We thought it would be fun to go the other way." Said host Rhys Waters, who alongside his co-host Jesse Harley make up the podcast's core team. "There is real nostalgia for older formats. As someone who grew up listening to cassette tapes in my Dad's 1980's Toyota Corolla, this was such a fun idea. Mixing a new format like a podcast with an old method of distribution."
The cassettes will be distributed to a select few, initially supporters of the show who have subscribed to its Patreon. The remaining tapes will be shared with those who sign up as a welcome gift. Although the duo are keeping hold of a select few to send as a gift to high profile politicians.
The show is part of Acast's Creator Network. Heather Gordon, Managing Director, Canada at Acast, said: "Podcasting has always been home to innovative storytellers experimenting with new ways to reach audiences — and Rhys and Jesse are a perfect example, tapping into the nostalgia of the cassette tape, to offer their fans something special and unique. At Acast we love to help foster creativity with our partners so that they can build new audiences and grow revenue."
The cassettes are being produced by gettapeshere.com, a company founded on the recent surge of enthusiasm for the decades old format. In the 70's, 80's and 90's the cassette reigned supreme and the founders of gettapeshere.com are hoping to preserve it.
The special podcast episode will take the listener on a journey from the early days of the Hudson Bay Company, right up to its modern day successor. It is, as billed, an incomplete history, but one full of the show's typical humor and style.
Listen
This is a press release which we link to from Podnews, our daily newsletter about podcasting and on-demand. This is reprinted verbatim; we may rewrite headlines and descriptions.
This page contains automated links to Apple Podcasts. We may receive a commission for any purchases made.