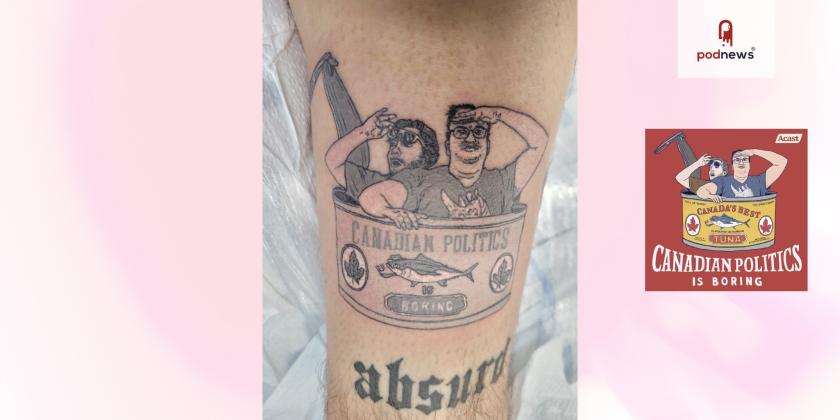 Canadian Podcast pays listeners to tattoo logo on their body as an advert
Press Release · Halifax, NS, Canada ·
A Canadian comedy podcast has come up with a novel way to promote their show- turn listeners into walking billboards. Canadian Politics Is Boring is paying its listeners to have their artwork permanently tattooed on their body.
After running for 3 years, the podcast wanted to find a novel way to advertise, and so far one listener has taken them up on the offer. Kyle Moist, of Fort St John decided that a space on his leg was prime real estate for the show's artwork.
"Having the chance to represent the work that Jesse and Rhys do to educate and entertain Canadians, while getting paid, was an opportunity I couldn't let pass by. Plus, the tuna can logo is awesome!" Said Kyle. "A good life is one full of fun and unique experiences. I got "absurd" tattooed on my ankle as an homage to my big brother's first tattoo and a nod to the philosophical theory of Absurdism. Since then, I've looked for fun, and absurd, ideas to cover my leg."
The tattoo was completed by Doing Tattoo in Edmonton. There's a video below.
"You pay a fortune for 1 month of billboard space, but a tattoo lasts a lifetime." Said Rhys Waters, one of the show's hosts. "Kyle has promised us that he'll wear shorts as often as possible, despite living in the freezing North of BC. He is amazing for doing this, our show is rarely serious and I think Kyle has a similar outlook to us, he must or why else are we doing this!"
Canadian Politics Is Boring is nearly 300 episodes old and discusses the darker side of Politics in the great white north. So far they've covered stories like the RCMP trying to build a 'gaydar' in the 1950's, the Prime Minister who thought he could talk to the dead and the Government of Alberta attempting to silence Bigfoot. The weekly show claims to be the only podcast about Canadian politics for people who hate Canadian Politics, and it's built a politically diverse following in the process.
"I don't want to vote and Rhys can't vote" Said co-host Jesse Harley. "My friends drag me kicking and screaming to the polling booth and Rhys isn't a citizen yet. So it's deeply ironic that we both host one of Canada's biggest political satire shows. Tattooing our listeners is exactly what you can expect from us."
Listen
This is a press release which we link to from Podnews, our daily newsletter about podcasting and on-demand. We may make small edits for editorial reasons.
This page contains automated links to Apple Podcasts. We may receive a commission for any purchases made.