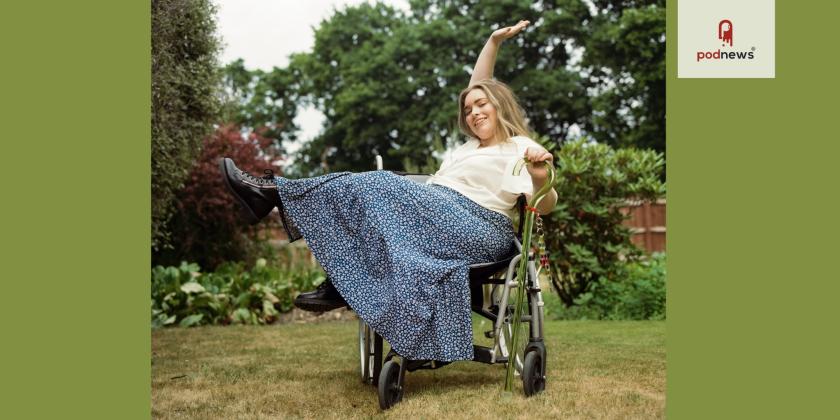 Acast introduces Call Me Disabled
Press Release ·
Call Me Disabled, the third and final podcast from the UK Acast Amplifier programme, launches today.
"Disabled people get told both how and how not to identify a lot," says Poppy Greenfield, host of Call Me Disabled. "You're not disabled; you're specially-abled. Stuff like that caters more to non-disabled people and the stigma around disability than anything. If you see my disability, my access needs can be met. We can work from there. Build something better."
Poppy's podcast, Call Me Disabled, hopes to do just that: celebrate and consider disabled lives.
Last year, Call Me Disabled was chosen as a winner of Acast Amplifier, an incubator programme to discover, establish and promote new podcast ideas. Poppy has been receiving support in the form of equipment, a grant, mentorship, studio time and artwork from Acast - all to help launch her podcasts.
With the support of Acast, Call Me Disabled will be available across all podcast platforms and ultimately have access to Acast's monetisation products, including advertising, sponsorship, and brand collaborations.
Told through intimate and illuminating interviews in each episode with disabled activists, authors, artists, and people she admires, Poppy will explore ideas of identity, accessibility, and the future. But, more than anything, it's an act of radical advocacy – a rallying call to action for transforming society and recognising individual needs for the collective good. "I want to call myself disabled," she explains, "there's a power in it, and a potential to progress. This podcast is for anyone on that journey or who might not even have considered it yet."
With a comprehensive framework of references, Poppy hopes to create a Call Me Disabled community that dapples the dialogue with a keen eye on issues while offering a welcoming, warm space to ask questions and a mission to spark joy. "I want to show how multifaceted and multidimensional the lives of disabled people are," she says. "We're joyful and varied. Ultimately, I inhabit a disability, but I can also be more than it."
Josh Woodhouse, Managing Director for Acast UK & Ireland: "Our three winners of Acast Amplifier in the UK have been deserving, and brilliant to work with as we develop their podcasts. None more so than Poppy, whose Call Me Disabled podcast will highlight some incredible disabled people across the UK. As Poppy says herself, we chose her as a winner because she wants to celebrate disabled lives, and there's no better place to recognise these stories than via a podcast. We can't wait to help her grow her show and welcome her to the Acast Creator Network family."
Listen
This is a press release which we link to from Podnews, our daily newsletter about podcasting and on-demand. This is reprinted verbatim; we may rewrite headlines and descriptions.
This page contains automated links to Apple Podcasts. We may receive a commission for any purchases made.