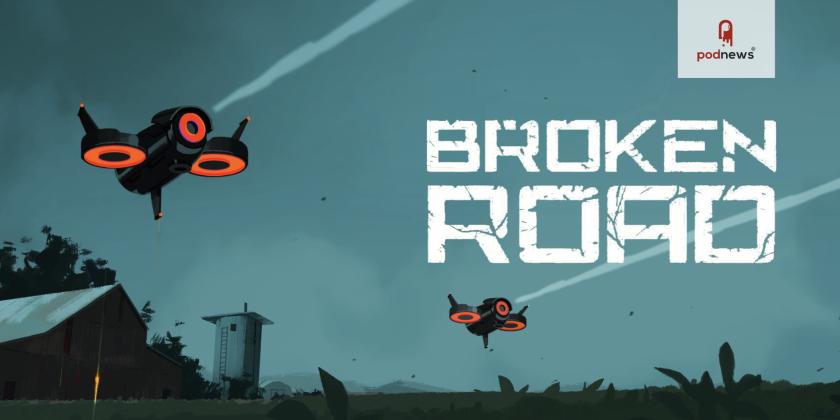 Dystopian Agricultural Sci-Fi Podcast Broken Road Wraps Ten-Episode Season
Press Release · Los Angeles, CA, USA ·
(LOS ANGELES, CA) The dystopian science-fiction audio drama Broken Road, created by FEAR THE WALKING DEAD writer Jacob Pinion and HERO MODE producer E.J. Kavounas, has published its entire ten-episode first season, following a veteran struggling with obsolete military implants who teams up with a defiant farmer and her daughter against a corrupt, morally unhinged lawman. The first season has reached over 100K downloads.
Broken Road offers something for everyone: action-packed fight scenes, quiet moments of personal struggle, romantic tension, and human connection. At its core, it is a story of community-based resilience and resourcefulness in the face of unrelenting corporate greed and seemingly insurmountable forces. Based on the short story "Patience Lake" by Matthew Claxton, writers Pinion and Kavounas were inspired by the subject.
"I was drawn to the stark juxtaposition of near-future sci-fi within a grounded, human story about survival and the refusal to let go of the American dream," remarked Pinion.
Director Ron Newcomb mentioned the story's personal significance: "As a veteran, I was drawn to this story which gives voice to the men and women who served our nation."
SYNOPSIS: In a near and uncertain future, veteran Sergeant Emmett Lee wanders the countryside in search of replacements for his obsolete military-issue implants until he finds himself at the mercy of Rebecca Clark, a single mom struggling to keep her farm afloat with the help of her rebellious daughter Carly. All but the most stubborn townspeople have been driven out of business by agritech behemoth Chem-O-Grow and its ruthless enforcer Arlin Frey. Our reticent hero teams up with the Clarks to undertake a dangerous scheme to free the town from Chem-O-Grow and the cruel Frey once and for all.
Broken Road stars Manu Bennett (THE HOBBIT, ARROW, SPARTACUS) as the villainous Arlin Frey, Lana McKissack (FOUR ROOMS, DARK/WEB) as Rebecca Clark, Peter Shinkoda (FALLING SKIES, DAREDEVIL) as Emmett Lee, and Indiana Massara (CHICKEN GIRLS, HERO MODE) as Carly Clark.
Listen
This is a press release which we link to from Podnews, our daily newsletter about podcasting and on-demand. This is reprinted verbatim; we may rewrite headlines and descriptions.
This page contains automated links to Apple Podcasts. We may receive a commission for any purchases made.