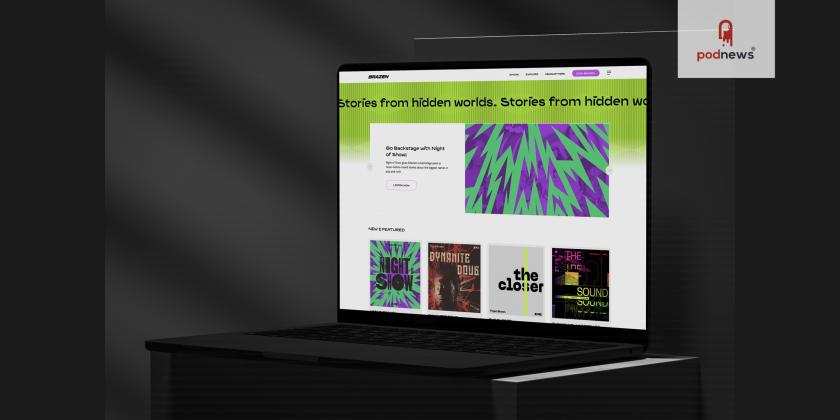 Project Brazen launches new podcast network and multimedia platform: Brazen
Press Release · Los Angeles, CA, USA ·
Innovative journalism content studio Project Brazen today announced the launch of Brazen, a new podcast network and multimedia platform for fearless storytelling and captivating journalism from a wide range of creators and production companies.
A direct-to-consumer offering debuting on May 24, Brazen will be a home to high-end narrative storytelling and ongoing podcasts from entrepreneurial journalists, creators and production companies across the globe. The network will have a special focus on journalism that reveals hidden aspects of the world around us, immersive narrative non-fiction, content that connects with younger audiences and helps listeners understand business and the economy in a fresh way.
The network will be the home of Project Brazen's original podcasts, such as the recently released NIGHT OF SHOW, CORINNA AND THE KING and THE SOUND: MYSTERY OF HAVANA SYNDROME, as well as critically acclaimed series FAT LEONARD, KABUL FALLING and THE CLOSER, a weekly business show hosted by journalist Aimee Keane.
Brazen will be home to shows from other production companies and partners that are seeking an alternative distribution strategy that allows them to have a greater participation in the success of their work. Producers in the Brazen network will have the opportunity to gain access to a larger audience, marketing support, and the opportunity to collaborate with like-minded journalists and creators.
"Brazen is the product of two years of brainstorming about how to deliver the best content and journalism to an international audience through collaboration with our favorite journalists and creators," said Bradley Hope, co-founder of Project Brazen. "In today's fractured media environment, like-minded journalists and creators need new ways to join together without losing control of what matters to them to find sustainable revenue opportunities."
Hope adds: "The mainstream podcast networks - just like reigning streamers in video content - fundamentally misunderstand the creator economy era, which is about aligning interests and sharing risk. Brazen is designed to grow audiences and increase the viability of entrepreneurial journalists and creators."
Brazen, located online at Brazen.fm and on a dedicated Apple Podcast channel, will act as a hub for a growing network of content that also includes short-form documentaries, animation and newsletters, including Project Brazen's popular WHALE HUNTING franchise.
Alongside Project Brazen's podcasts, two new sister brands will be launched to live on Brazen and all major podcast platforms – Sirocco, a Gen Z-focused destination for international content and unfiltered conversations, and Ritually, a new franchise for deeper connection to wellbeing, reflection and spirituality hosted by journalist Nelufar Hedayat.
Sirocco's debut project is the video series NOW WHAT?, hosted by actress Salber Lee Williams (Ghost Island, The Queen's Gambit), that features interviews with people responding to the current climate and environmental problems with their own solutions, whether through art, fashion, innovative startups or activism.
Ritually's debut project is its eponymous cornerstone podcast series hosted by Hedayat. Born out of Hedayat's personal journey to find meaning and inspiration during difficult times, the RITUALLY podcast chronicles her own quest to discover rituals and practices to gratify and enrich her life.
Subscribers to the paid subscription plan Brazen+ will have ad-free listening, early access to new shows and bonus content on Apple Podcasts and any app where they listen.
Project Brazen most recently reached a milestone with its critically acclaimed podcast KABUL FALLING, nominated for a Peabody Award in the Radio/Podcast category. Additionally, the studio recently announced a co-production deal with Academy Award-nominated nonfiction studio XTR to develop its critically acclaimed podcast THE SOUND: MYSTERY OF HAVANA SYNDROME into a documentary series. The studio's global team currently spans creators in the United States, United Kingdom, Germany, Italy, Serbia, Hong Kong, Kenya, Singapore and Sri Lanka.
This is a press release which we link to from Podnews, our daily newsletter about podcasting and on-demand. This is reprinted verbatim; we may rewrite headlines and descriptions.