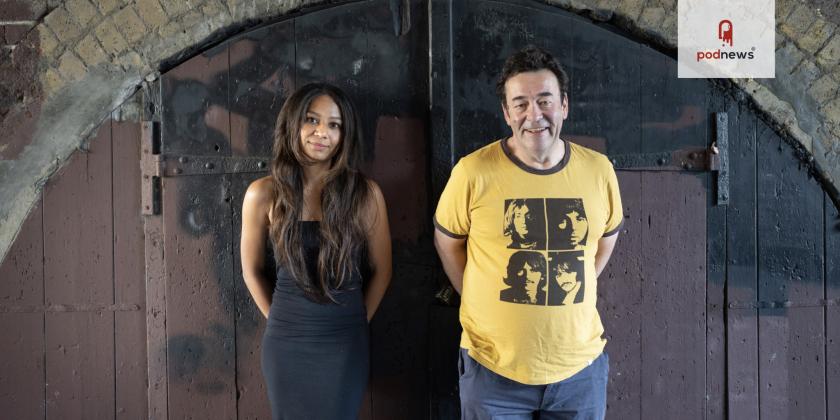 The Booker Prize Podcast to launch on July 6 with hosts Jo Hamya and James Walton
Press Release · London, UK · via Booker Prize Foundation ·
The Booker Prize Foundation today announces The Booker Prize Podcast, launching on July 6, 2023. The new weekly podcast will cast a fresh eye over some of the 500+ novels previously nominated, as well as peering behind the curtain of the latest prizes. It will feature lively discussion and comment, and interviews with authors and many others who take a keen interest in modern fiction.
Hosted by novelist and critic Jo Hamya and critic and broadcaster James Walton, the podcast will delve into the fascinating history of the Booker Prizes, looking at the shortlists and ceremonies from years gone by – and some of the Booker's more controversial moments. The conversations will be wide-ranging, covering the novels' historical context, as well as how they relate to other books and writers – and to current events and other art forms. Jo and James will also provide insight and opinion around the current prize seasons.
Each 45-minute episode will focus on a single topic, divided between 'deep dives' into individual books from the Booker Library, and discussions – with a Booker spin – about popular book genres and topical issues. Listeners will get an insight into the decisions and legacy of the Booker and International Booker Prizes. 
As well as featuring special guests, episodes will include a recurring Booker Clinic segment, where listeners will be invited to send in their personal dilemmas, with Jo and James then prescribing Booker books as remedies. Listeners will be invited to contribute to help shape future by suggesting books that could be discussed and submitting their comments.
Head of Editorial for the Booker Prize Foundation, Paul Davies, said:
'The new Booker Prize Podcast is the next step in the Booker's digital evolution. Over the past two years, we have expanded beyond our annual prizes to become a year-round editorial destination for high-quality, engaging content for book lovers through our website, newsletters and social platforms. We're delighted to be working with our two brilliant hosts, Jo and James, who will enrich our reading lives and show readers of all kinds that Booker-nominated books, old and new, can be accessible, relevant and essential reads.'
The podcast will launch on Thursday, July 6, 2023, with the first two episodes:
Episode 1, The Best Booker Books of All Time (Maybe). Hosts Jo and James get to know each other over their favourite books from the Booker Library, and debate whether No One is Talking About This by Patricia Lockwood could have won the 2021 Booker Prize, and why Patrick McCabe's 1992 Booker shortlisted The Butcher Boy is a novel that will blow your socks off. 
Episode 2, Introducing July's Book of the Month: The Vegetarian by Han Kang. Jo and James explore the first individual book to win the International Booker Prize, whether its main character is 'mad' or not, and the controversy surrounding the novel's translation.
Episodes will be released by The Booker Prizes every Thursday morning and are available on all podcast platforms, including Apple and Spotify.
The Booker Prize Podcast and the books and topics discussed are selected to complement the editorial activity across the Booker Prizes' digital platforms. The podcast forms an additional pillar alongside the regular editorial content featured on the website, @TheBookerPrizes social channels, Substack newsletter and YouTube video content. The content in the podcast will support and be supported by essays, reading lists and recommendations across all channels where listeners are encouraged to join the conversation and share their views.
Jo Hamya said:
'In these early stages, it's been great fun to disagree with roughly half of everything James says and an even greater joy to discover our common ground, or else bring each other round to a new point of view. The Booker Prizes have given us wonderful scope to approach their history and library: my hope is that our podcast is a nuanced, candid, and an easy place to spend time. I can't wait for listeners to think and gossip with us.'
James Walton said:
'There's no denying that Jo and I were thrown together by Booker in a strange kind of blind date. But even after the first recording it felt surprisingly clear that they must have known what they were doing, because working together is proving a joy: informative, stimulating and, most of all, fun. I much look forward to being joined by our listeners who will no doubt keep us on our toes. Here's hoping they'll enjoy the podcast – and side with me in any disputes (good-natured ones, obviously).'                      
The Booker Prize Podcast is produced by British Podcast Award-winning company Daddy's SuperYacht Productions, with music exclusively composed by renowned UK composer Ty Unwin, who has created the scores to over a hundred TV and film projects over the last 25 years for the BBC, Discovery, Nat Geo, Sky and Netflix, amongst others. Projects of note include Power of the Planet, Last Man Standing, Dinosaurs - The Final Day, Ancient Rome and Atlantis.
Listen
This is a press release which we link to from Podnews, our daily newsletter about podcasting and on-demand. We may make small edits for editorial reasons.
This page contains automated links to Apple Podcasts. We may receive a commission for any purchases made.