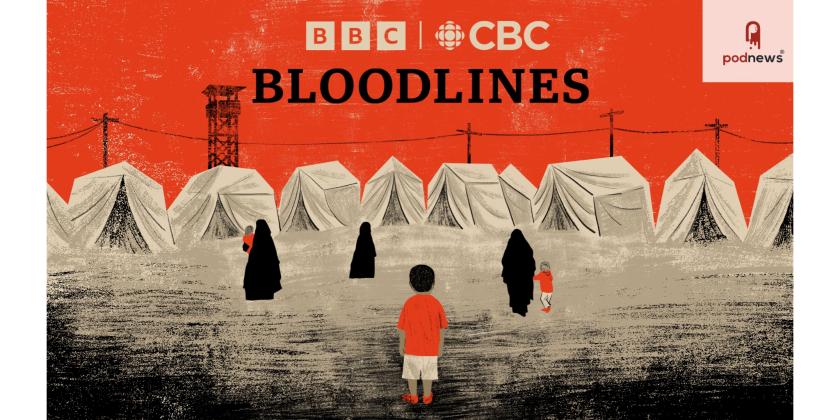 New BBC and CBC podcast "Bloodlines" features interviews with Canadian ex-wife of notorious ISIS figure
Press Release · via BBC/CBC ·
Jointly produced by BBC Sounds and CBC Podcasts, insightful new seven-part podcast series Bloodlines shines a light on Dure Ahmed, the former wife of El Shafee Elsheikh, a notorious ISIS fighter. Her identity was revealed yesterday in Canada where she has been repatriated. Elsheikh and the others in his ISIS cell were nicknamed "the Beatles" by their captives because of their British accents. The militant cell carried out high profile kidnappings and beheadings of American, British and Japanese journalists and aid workers. Elsheikh is currently serving eight life sentences in an American high security prison. 
Bloodlines begins as host and BBC Asian Network journalist Poonam Taneja takes listeners into the wreckage of the so-called Islamic State in search of three-year-old Salmaan, the missing grandchild of a British citizen. While looking for the young boy, Poonam meets Canadian-born Dure Ahmed in a Syrian detention camp
Ahmed willingly shared information about the last known whereabouts of the child. She was friendly with his mother, a fellow Canadian. It was while getting to know Ahmed that Poonam received a tip about her full identity. Poonam recalls, "Meeting Ahmed led to exclusive interviews with her, and we eventually confronted her about who her husband was and the prolific role he played in the Caliphate."    Ahmed, a 33-year-old mother of two, reveals for the first time in the podcast series how she met and married Elsheikh, her decision to travel to live with him under the so-called Islamic State, and her life in a detention camp in Syria. In an exclusive interview with Poonam, Ahmed recounts her experience as a young woman in love, claiming to be unaware of the horrors unfolding around her. She asserts, "I wasn't radicalized; I was just a dumb girl in love, oblivious to what was going on." It's a claim Poonam challenges her on repeatedly.   During their interviews, Ahmed also shared insights into daily life under ISIS rule. She claims that during this period she was isolated and experienced violence from Elsheikh during pregnancy. Ahmed also claimed she tried to escape many times, but with no support system, her only option was to stay. "We couldn't even pull up the blinds. My husband was so private." She eventually found refuge in a women's guest house after her divorce from Elsheikh.   Ahmed's return to Canada led to legal proceedings this week. The Crown lawyer argued, "Ahmed had been steeped in IS ideology, and it would have been likely that she knew of her husband's role with the group before leaving Canada in 2014."  Her bail conditions, including GPS monitoring and a curfew, were reviewed in a Brampton, Ontario court, with a ruling expected this Thursday on 19th October.  
Bloodlines is available weekly beginning October 23 on CBC Listen, BBC Sounds, and everywhere podcasts are available.
Listen
This is a press release which we link to from Podnews, our daily newsletter about podcasting and on-demand. We may make small edits for editorial reasons.
This page contains automated links to Apple Podcasts. We may receive a commission for any purchases made.