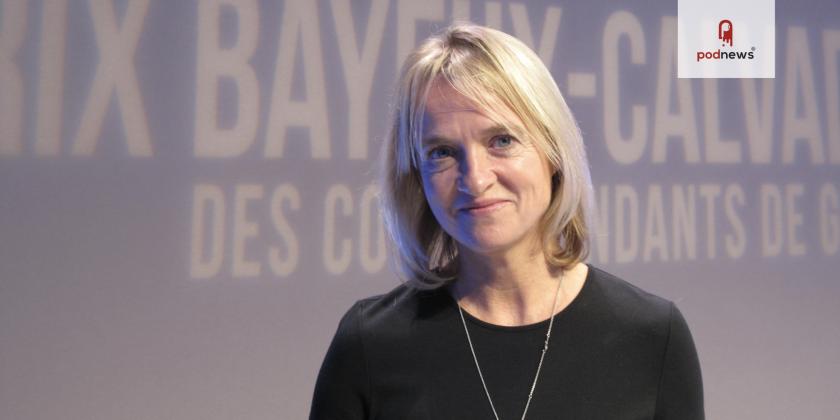 Blanchard House expands team with acclaimed author and journalist Emma Jane Kirby
Press Release ·
Blanchard House, an independent podcast company telling true stories that have the power to endure, are delighted to welcome to the team exceptional journalist and writer, Emma Jane Kirby. She joins Blanchard House after spending nearly 30 years at the BBC as a multi-media, multi award-winning foreign correspondent, programme reporter, documentary maker, story-liner and script editor for radio continuous drama.
Emma Jane joins a team of 20 acclaimed UK Producers drawn from The Economist, BBC and The Times of London, to create journalism-rich mini-series for the US market.
Emma Jane has reported everywhere from the frontline in Afghanistan to 44,000 feet above Moscow in zero gravity. She won the International Bayeux Prize for War Correspondents in 2015 for her original story-telling on the migration crisis, which also prompted an exhibition in the British Museum.
She is the author of the non-fiction novel The Optician of Lampedusa, (Jean Monnet Prize for European Literature, Financial Times Political Books of the Year, Book of The Year, The Tablet and Waterstones Books of The Year) which has been translated into several languages. Her first radio play, Bird In the Sky, was BBC Radio 4's Drama of The Week in 2020. Her latest essay was published this summer in Penguin's Why We Read.
Founded in 2021, Blanchard House is made up of Co-Founder and CEO Kimberly Jung, Co-Founder and Creative Director Rosie Pye and Co-Founder and Host Alex Wiltschko.The company secured a $1 million seed investment last November and set up a partnership with The Shrink Next Door podcast Journalist and Presenter Joe Nocera. The team has won many industry awards and produced flagship shows including Stories of our times, Beyond Today, Home Babies, Murderabilia, Pseudocide and more.
Rosie Pye, Creative Director and Co-Founder of Blanchard House, commented, "We are so thrilled to welcome EJ to the team- to have a writer and broadcaster of this calibre is fantastic. Her previous work speaks for itself, and we can't wait to see what we can create together at Blanchard."
Emma Jane Kirby commented, "I'm delighted to join the energetic, dynamic and talented team at BH who really share my passion for storytelling. It is so exciting to start this new adventure and to create new tales to tell together."

(The Blanchard House team. Photo: Jake Woodnut)
ABOUT BLANCHARD HOUSE
We created Blanchard House with a singular vision: to tell the most captivating, acoustically immersive non-fiction stories you'll ever hear. We represent the very best storytelling, the most trusted journalism and the highest production values. Our series are truly cinematic in scale - with bold, original soundtracks and rich, arresting sound design.
We've hired award-winning audio producers from the world's most creative and respected content producers, including the BBC and The Times of London. We've also invested in three brilliant in-house composers writing the most exciting scores in the podcast space.
Blanchard House tells true stories with the power to endure. Good stories never die.
This is a press release which we link to from Podnews, our daily newsletter about podcasting and on-demand. This is reprinted verbatim; we may rewrite headlines and descriptions.