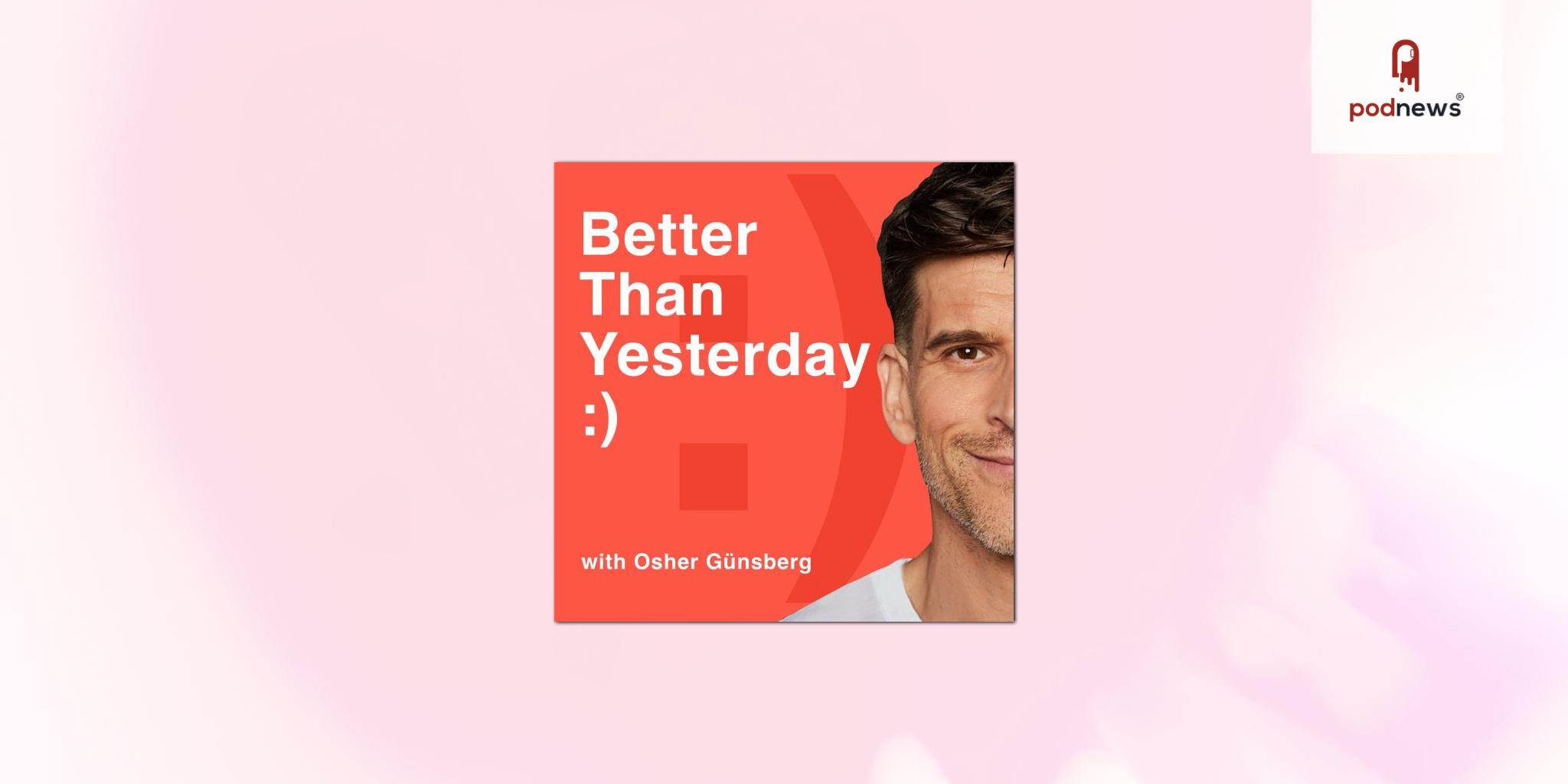 Osher Günsberg's Better Than Yesterday hits 10 million downloads
Press Release · Sydney NSW, Australia ·
Acast, the world's leading independent podcast company, is thrilled to announce that Better Than Yesterday, with Osher Günsberg has exceeded 10 million downloads. Better Than Yesterday launched in 2013, and since joining Acast in 2018, the show's listens have quadrupled. The show is audio produced by Andy Maher, with Rachel Barrett as executive producer.
Osher Günsberg, the host of Better Than Yesterday, said:
"Podcasting is one of my great loves. I relish podcasting's demand for authenticity. It cultivates an intimacy between hosts and their audiences that other mediums cannot replicate. As the show clocks 10 million downloads, it's an excellent opportunity to take stock and reflect on the highlights. My podcast has allowed me to make public a part of me that none of my TV jobs allowed me to show. My podcast has led to everything outside of TV for me. Getting a book deal, doing a sold-out national tour, speaking to corporate audiences about mental health, being invited to be on charity boards — even being asked to come on the nation's leading political debate program several times as a voice of authority on climate action. None of those things would have happened without the podcast.
"I owe the success of Better Than Yesterday to the people that tune in every week. Since I started the pod in 2013, the Aussie podcasting landscape has exploded. It wasn't until I started working with the team at Acast that I could foster and grow my listenership to a place where I could create the content that was important to me and also pay the bills without losing the trust of my audience. I can't wait to see how the show evolves as we charge towards our next 10 million downloads!"
Guy Scott-Wilson, Content Director, Acast Australia and New Zealand, said:
"Congratulations to Osher on reaching 10 million downloads. An incredible milestone to hit. Osher is a pioneer of Australian podcasting and Better Than Yesterday has become one of Australia's most listened-to and loved podcasts, evolving to a tri-weekly conversation with a highly engaged listenership. As the podcast landscape in Australia continues to mature, most recently with Acast's pioneering first-party data solution, I'm excited to see how we grow and engage Osher's audiences further."
Since joining Acast, Better Than Yesterday has extended to a weekly column in Australia's Men's Health Magazine. The show was recently recorded in front of a live audience of Instagram Creators at Meta HQ in Sydney with special guests Flex Mami and Nat's What I Reckon. The episode from this recording will air in November 2022.
Of the 10 million downloads of Better Than Yesterday, the most popular episodes are:
Jackie O
Urzila Carlson
Turia Pitt
Mark Manson
Rosie Waterland
Tanya Hennessy
Dr Nick Fuller
Isaac Hanson
Johann Hari Part 1
Dr Ian Chung
Better Than Yesterday hopes to help listeners make today a little better than yesterday and covers topics from health and wellness to society and culture.
Listen
This is a press release which we link to from Podnews, our daily newsletter about podcasting and on-demand. This is reprinted verbatim; we may rewrite headlines and descriptions.
This page contains automated links to Apple Podcasts. We may receive a commission for any purchases made.