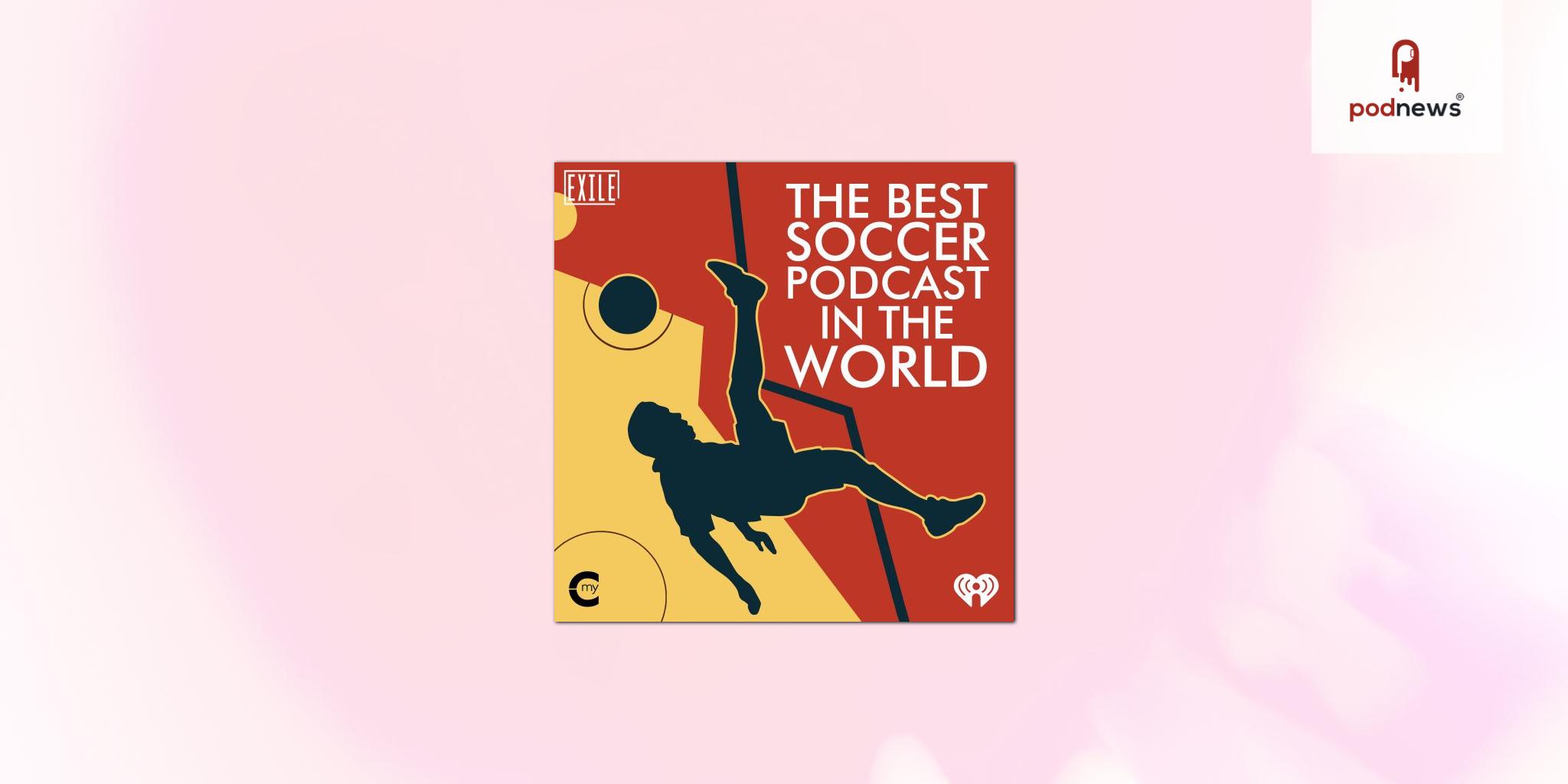 Exile Content Studio and iHeartMedia's My Cultura Podcast Network launch new 12-ep podcast series
Press Release · Los Angeles, CA, USA · via H+M Comms ·
Exile Content Studio and My Cultura, iHeartMedia's podcast network dedicated to elevating Latinx voices and stories, is launching a new 12-episode series, The Best Soccer Podcast in the World in English and Spanish. The podcast reunites executive producer and host, Exile's Head of Studio, Nando Vila, and producer and writer, Zac Lee Rigg, who together were responsible for Fusion's weekly magazine show, "The Soccer Gods," and the political sketch comedy show, "Happy Ending." Ana Isabel Octavio also serves as the series producer, along with executive producers Rose Reid of Exile and Gisselle Bances and Arlene Santana of iHeartMedia's My Cultura. The series will be available on the iHeartRadio app and everywhere podcasts are heard.
"The Best Soccer Podcast in the World," timed to coincide with this year's FIFA World Cup, will guide the listener through the most memorable moments and players of the 92-year-old competition, which has grown into a behemoth commanding a global viewership of 3.5 billion people. The World Cup – where players announce themselves, heroes are born, legends are first whispered, and crowns are forged – is where soccer royalty are anointed. This podcast series will spotlight the great players who have forever changed history's most beloved sports tournament as viewers across the globe get ready to enjoy the 2022 competition taking place in Qatar.
"Soccer is the most popular sport in the world, and every four years, the FIFA World Cup assumes its rightful place as the most anticipated soccer event worldwide, uniting fans across the globe with a celebration of what's become known as 'the beautiful game,' like none other," said Vila. "That's why we couldn't be more excited to launch 'The Best Soccer Podcast in the World' at a time when the world is quickly and fervently turning its attention to all things World Cup, and to do our part to satisfy fan's insatiable demand for high quality, engaging soccer-related content."
"We're thrilled that Nando and Zac have teamed up once again for this podcast series, which should be required listening for fans of sports in general, and soccer in particular, as well as podcast fans who are just curious about this global phenomenon," said Daniel Batista, Exile's Chief Digital Officer. "Together, they've proved to be a team that can break down a world phenomenon like the World Cup in a fun, engaging, and meaningful way, and we know anyone who gets caught up in the fervor of the competition will quickly get caught up in the tales shared in 'The Best Soccer Podcast in the World.'"
In addition to co-creating and hosting "The Soccer Gods" with Rigg, the Miami-born and raised Vila executive produced, created, and hosted the popular Gimlet Media podcast, "We Came to Win." Before that, Vila created and hosted "Midterm Mayhem: The Ultimate Political Smackdown" alongside Kal Penn, and he also served as the executive producer of the Emmy®-nominated documentary "The Naked Truth: Trumpland," which profiled the people who fueled the Trump candidacy. Rigg, who produced Fusion's most-viewed video, with more than 28 million views, has written for Goal.com, Simon & Schuster, ESPN, Robert Reich, The New York Times, and FourFourTwo.
"The excitement building up to the 2022 World Cup is palpable. We're excited to bring this show to fans in English and Spanish, and build on the importance of generational listening for our growing Latinx audience," said Gisselle Bances, SVP, Head of Production and Development for iHeartMedia's My Cultura. "This podcast is for everyone to enjoy and provides a platform for two proven and absolutely engaging storytellers to offer all of us a deep dive into the world of soccer, starting with some of the greatest players to take the field - and the legacies they left behind."
"The Best Soccer Podcast in the World" is distributed by iHeartPodcasts. New podcast episodes will be released on a weekly basis for 12 weeks.
About Exile Content Studio
Exile Content Studio creates content in Spanish and English for a global audience across multiple platforms — TV, Film, Audio and Digital. Exile's team has led content production for the largest Spanish-language media companies in the world with responsibility for film studios, OTT service, broadcast and cable networks, music, news and digital. The company's current slate includes award-winning talent across genres and formats. To stay up to date on Exile's projects, follow @ExileContent on Twitter and Instagram.
Exile Content is a part of Candle Media, an independent, creator-friendly home for cutting-edge, high-quality, category-defining brands and franchises built for the digital age. By bringing together elite talent operating at the intersection of content, community, and commerce, it helps position leading entertainment businesses for accelerated, sustainable growth in the current market and beyond. Candle was founded by its Co-Chairmen and Co-CEOs, leading entertainment executives Kevin Mayer and Tom Staggs, and backed by investment capital from funds managed by Blackstone's flagship private equity business.
About iHeartMedia
iHeartMedia, Inc. [Nasdaq: IHRT] is the leading audio media company in America, reaching over 90% of Americans every month. iHeart's broadcast radio assets alone have more consumer reach in the U.S. than any other media outlet; twice the reach of the next largest broadcast radio company; and over four times the ad-enabled reach of the largest digital only audio service. iHeart is the largest podcast publisher according to Podtrac, with more downloads than the next two podcast publishers combined and has the number one social footprint among audio players, with seven times more followers than the next audio media brand, and the only fully integrated audio ad tech solution across broadcast, streaming and podcasts. The company continues to leverage its strong audience connection and unparalleled consumer reach to build new platforms, products and services. Visit iHeartMedia.com for more company information.
Listen
This is a press release from H+M Comms which we link to from Podnews, our daily newsletter about podcasting and on-demand. This is reprinted verbatim; we may rewrite headlines and descriptions.
This page contains automated links to Apple Podcasts. We may receive a commission for any purchases made.