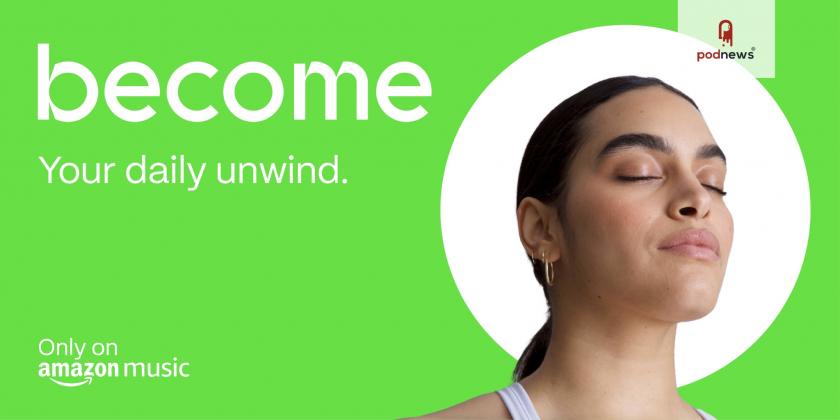 Amazon Original Health and Wellness Podcast Become Launches
Press Release ·
The new Amazon Original health and wellness podcast series, Become, produced by SALT and Amazon Music, launches today, May 23, exclusively on Amazon Music. Released in three weekly installments, Become is your daily audio vitamin—in 15 minutes or less, listeners get a daily dose of relaxation and mindfulness that gets them energized to tackle whatever is next.
The guided experiences from Become work seamlessly into your day; no subscription necessary, no ads, and no class—just a chance to unwind for a couple minutes during your busy schedule to stay grounded. Tune in and tune out whenever you want, for as long as you can. Meditation shouldn't be a to-do burden, so give yourself your best self. The show's short episodes are intended to integrate into listeners' routines, with easy smart-speaker technology to help create a routine around mindfulness and meditation. To listen on Alexa-enabled devices, just say, "Alexa, let's do this!"
Become is a new audio-centric wellness experience that plugs into daily habits with new content and meditations available every Monday, Wednesday and Friday, unlike any other meditation apps. Hosts include a rotating group of four health and wellness experts—yoga instructor Alexis Novak; historian Maytha Alhassen, Ph.D.; yoga instructor Alex Artymiak; and meditation coach Donesia Rose Dudley.
"Mental health, meditation and well-being have as never been more important around the world as they are today, and we see a huge opportunity to more easily integrate that lifestyle into listeners' daily life through audio," said Nick Panama, SALT CEO and Co-Founder. "Become is a completely new kind of wellness experience in the market, free from screens and apps, that blends the best parts of breathwork, intention setting, and mediation to give you that spark to take on the rest of your day, reset from a stressful meeting, or unwind before bed. We're excited to bring this to the world on a global stage with Amazon Music and Alexa-enabled devices."
The first three episodes of Become are available now on Amazon Music.
This is a press release which we link to from our daily newsletter about podcasting and on-demand. This is reprinted verbatim; we may rewrite headlines and descriptions.