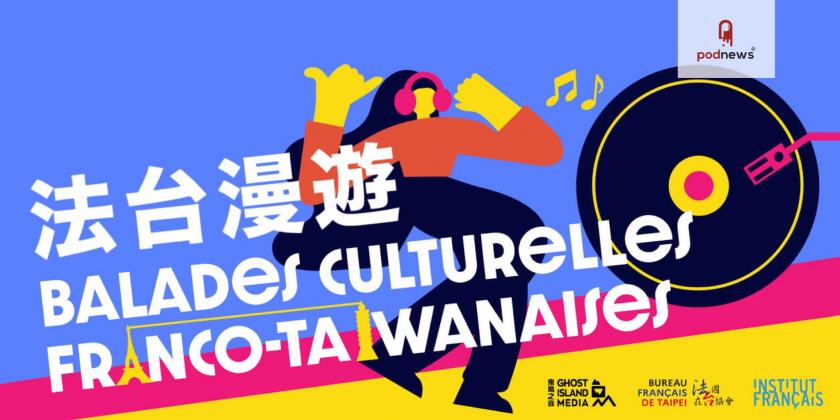 Ghost Island Media launched its first multilingual podcast in French and Mandarin
Press Release · Taipei, Taiwan ·
Ghost Island Media in Taiwan has launched its first multilingual podcast, 法台漫遊 Balades Culturelles Franco-Taïwanaises, simultaneously in French and Mandarin. This new series is a branded project with the French Office in Taipei with the support of Institut Français. This is Ghost Island Media's 11th show.
Collaborations between international artists - and the public presentations of their works - have been tricky over the past two years because of COVID. This was true even in the safe haven of Taiwan. Podcasting thus became the perfect way to document - and celebrate - the many exchanges that did happen. In this new interview series, we meet French artists who have worked in Taiwan the past two years, participating in residency programs and working with Taiwanese creators. They are music producers, directors in film and theatre, actors, and new media creators. This is a celebration of culture and friendship between the two countries.
Interviews were conducted in French, then retold and dubbed in Mandarin with the help of Taiwanese voiceover artists. The French edition is hosted by David Kibler, head of culture at the French Office in Taipei (Bureau de Français de Taipei). The Mandarin edition is hosted by Emily Y. Wu, co-founder of Ghost Island Media and co-host of "Metalhead Politics" podcast.
The limited series will be on a monthly schedule.
See show links at https://FranceTaiwanPodcast.com
Ghost Island Media is a multilingual podcast network based in Taipei, Taiwan, with current affairs podcasts in Mandarin, English, and French. Ghost Island Media won "Best Podcast Host" in 2021 at the KKBOX Awards in Taiwan and was nominated twice for "Best New Podcast" in 2022. It was a finalist at the Excellent Journalism Award in 2020 and the Sustainable and Constructive News Award in Taiwan in 2021. Ghost Island Media launched its first show in April 2019, spearheaded by Emily Y. Wu.
Ghost Island Media: https://ghostisland.media
Listen
This is a press release which we link to from our daily newsletter about podcasting and on-demand. This is reprinted verbatim; we may rewrite headlines and descriptions.
This page contains automated links to Apple Podcasts. We may receive a commission for any purchases made.