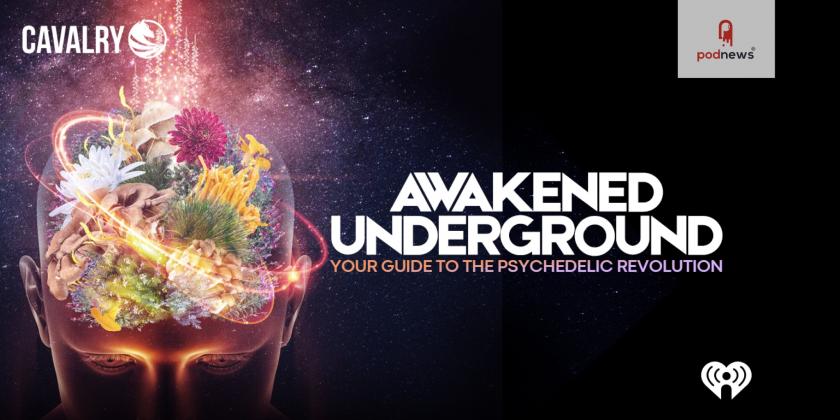 Cavalry Audio delves into the world of plant and psychedelic medicine with The Awakened Underground podcast
Press Release · Los Angeles, CA, USA ·
Cavalry Audio, the podcast division of Cavalry Media, announced today it will premiere its new limited series podcast, The Awakened Underground with host Cody Blue. The investigative talk show is comprised of 10 episodes and will explore the ancient art of healing yourself with shamanic plant medicines & psychedelics and what these mystical experiences teach us about the nature of consciousness. The series will premiere its first three episodes on March 29 with subsequent episodes released weekly on iHeartRadio and all major podcast listening platforms.
Host Cody Blue, an international award-winning filmmaker and son of Twisted Sister front man Dee Snider, will sit with experts in the field of psychedelic medicines including shamans, scientists, doctors, athletes, and celebrities who have healed themselves with psychedelics to destigmatize, demystify, and explore these ancient healing modalities in a way that the western mind can consume. Elevating the discussion, Cody Blue will draw from his personal experiences, having healed a variety of issues through psychedelic plant medicines including depression, anxiety, ADHD, and more.
"Whether you're someone who is already on this path to healing or its your first time hearing about it, I'm looking forwarding to broadening the minds of all our listeners," said Cody Blue. "As someone who struggled with the many side effects of traditional pharmaceutical medications, my hope is this show will lead people to better understand the benefits of shamanic plant medicines and psychedelics as well as question the real motives behind the traditional medications being pushed by major pharmaceutical companies."
The show will also become a family affair when Cody welcomes his famously straight edge dad, Twisted Sister front man Dee Sider, to try and convince him to use this new path to healing. Both Cody's mom, Suzette Snider, who is also straight edge and his younger sister Shy, a fashion influencer, will be on the first episode to talk about how they were able to heal various maladies with psychedelic medicines. The Snider family had previously been the subject of the A&E reality show Growing Up Twisted and most recently featured on Celebrity Family Feud in 2021. Currently, when Cody is not screenwriting and directing, he studies and practices plant medicine Shamanism, sitting in medicine circles around the world, and even holding his own mushroom ceremonies to help others heal.
The Awakened Underground is directed by Tanya Dahl, produced by Cody Blue Snider and Cavalry's Jeff Apple with company principals Dana Brunetti and Keegan Rosenberger serving as Executive Producers, and is distributed by the iHeartPodcast Network. The podcast is the latest in the line of successful releases from Cavalry Audio, including the recent releases The Pink Moon Murders which debut at #12 on Apple Podcasts and The Shadow Girls which debut at #7 in the true crime category. Other podcasts on their slate are ART FRAUD, Here's The Thing with Alec Baldwin, Daddy Issues with Joe Buck & Oliver Hudson, Modasucka with Michael Blackson, Can You Survive This Podcast? with Clint Emerson, Forever Young, Good Risings, and VERDICT, its first scripted podcast. Cavalry Audio podcasts have collectively achieved over 22 million downloads yearly.
Cody Blue is represented by Verve and Circle of Confusion.
Listen
This is a press release which we link to from our daily newsletter about podcasting and on-demand. This is reprinted verbatim; we may rewrite headlines and descriptions.
This page contains automated links to Apple Podcasts. We may receive a commission for any purchases made.