YouGov reveal Australia's podcast listening statistics
Press Release · via YouGov ·
On the occasion of International Podcast Day, data from YouGov Profiles shows that a majority of Australians now listen to podcasts, with one in five claiming they listen to a podcast at least once a week (20%), followed by one in six (16%) who do so at least once a day. The rest listen to a podcast at least once a month (9%) or lesser than that (13%). Two in five Australians (40%) do not listen to podcasts.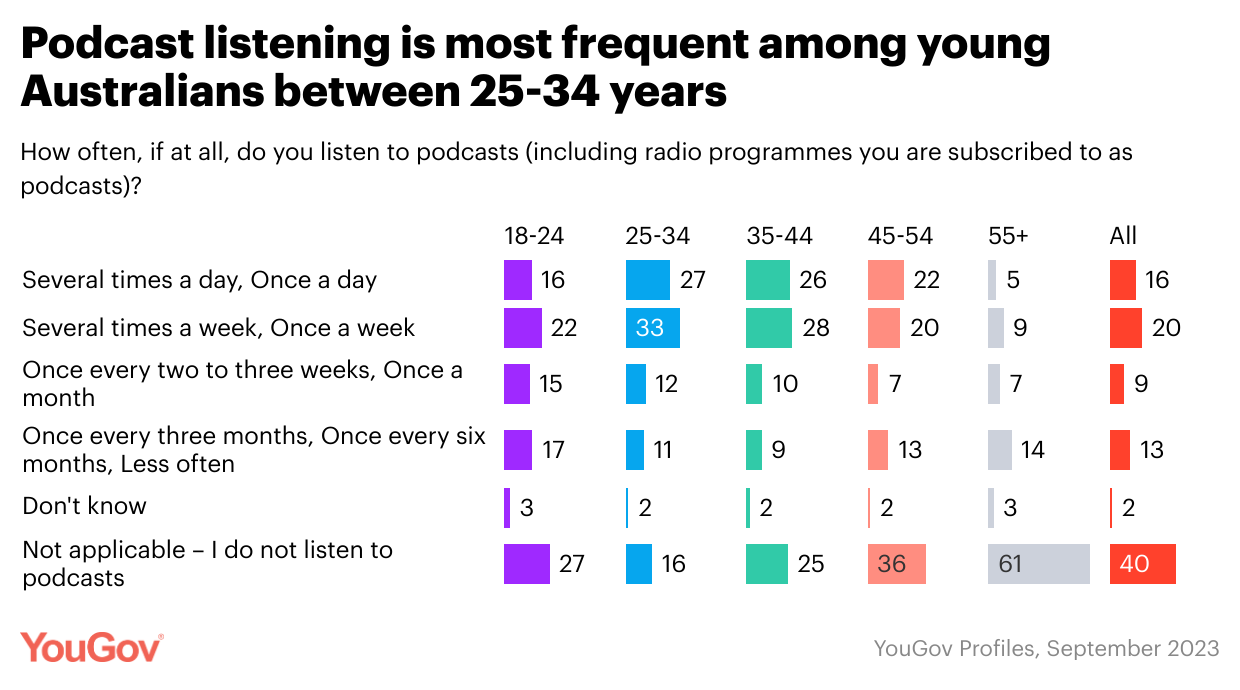 Podcast listening is concentrated among younger Australians with 27% of those aged 25-34 listening at least once a day and 33% listening at least once a week. This group is followed by those between 35-44, 26% of whom listen to podcasts once a day or more, and 28% once a week or more. Listenership drops off among older age groups with three in five (61%) of 55+ adults saying they do not listen to podcasts at all.
Music (29%) is the top podcast genre amongst those who listen to podcasts followed by news & politics (17%) and comedy (14%) in second and third place. Science and true crime genre (10% each) bring up the rear of the list of top ten podcast genres amongst Australians.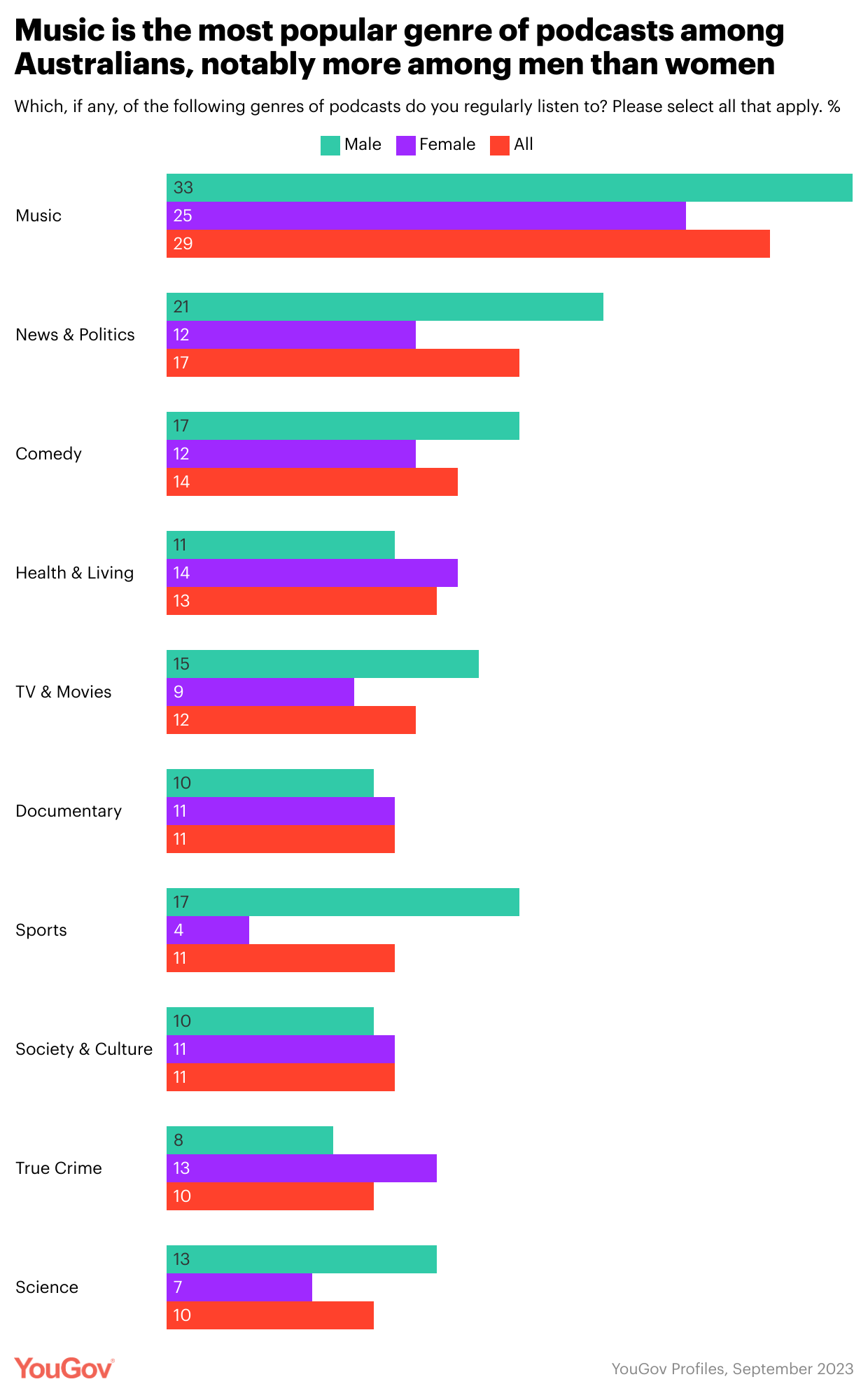 While a third of male podcast listeners (33%) listen to music podcasts, this proportion falls to a quarter among female listeners (25%). Similarly, men are also significantly likelier than women to engage with podcasts about news and politics (21% vs. 12%), comedy (17% vs. 12%) and TV & movies (15% vs 9%). The largest disparity is around sports podcasts, where a higher number of men consume this genre of podcasts compared to women (17% vs 4%).
On the other hand, women are more likely than men to regularly listen to true crime podcasts (13% vs 8%), as well as health and living podcasts (14% vs 11%).
Data from YouGov Profiles shows that among the various podcast service providers, around a quarter of Australians who listen to podcasts use Spotify to do so (24%). That is followed by YouTube (21%) and Apple podcasts (13%).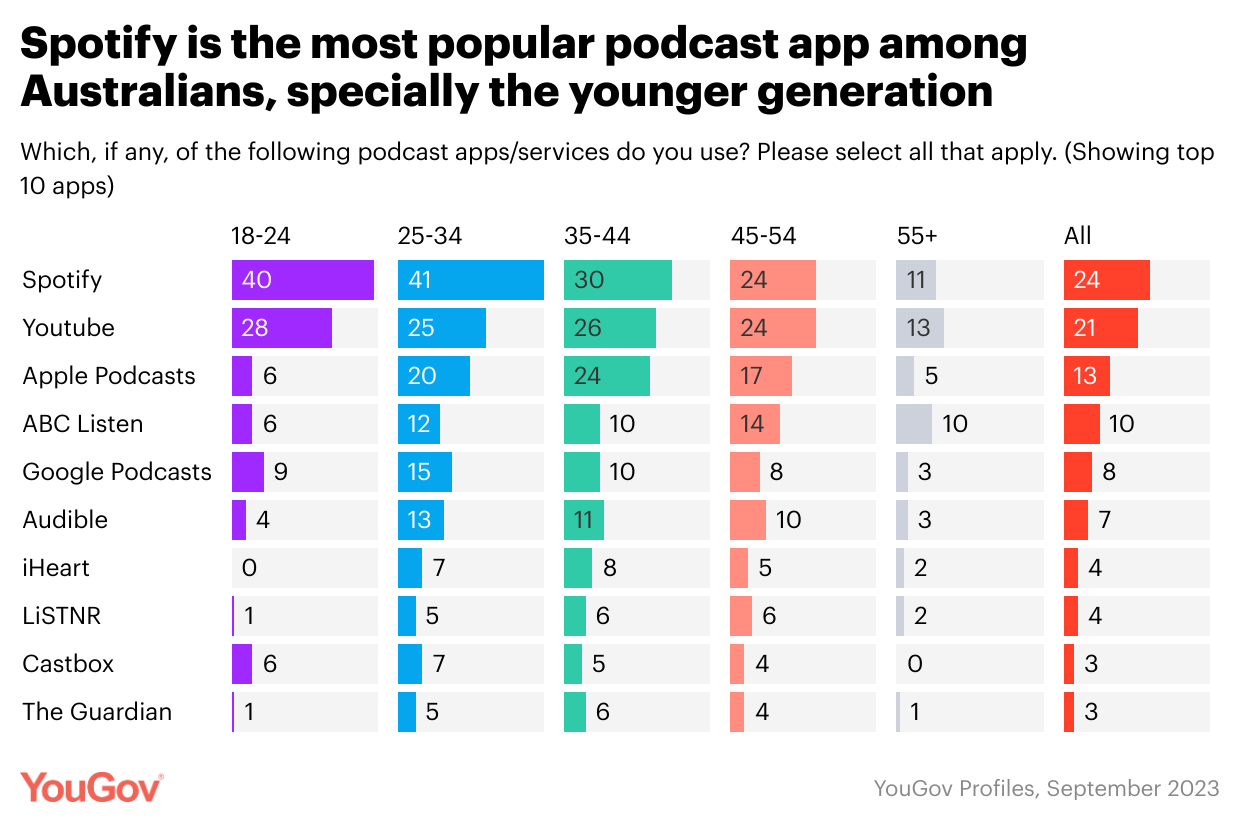 Two in five of 18-34 and 25-34-year-old respondents use Spotify podcasts compared to one in ten of respondents aged 55 and above (11%).
Apple Podcasts finds a larger audience among 25-44-year-olds as compared to the others. Similarly, ABC Listen is more commonly used by those between 45-54 than the rest.
Among the genders, YouTube and Spotify are equally popular among men, but among women Spotify is more popular (at 24%) than YouTube (18%).
Methodology: YouGov Profiles is based on continuously collected data and rolling surveys, rather than from a single limited questionnaire. Profiles data for Australia is nationally representative of the online population and weighted by age, gender, education, region, and race. The dataset is from September 2023.
This is a press release which we link to from Podnews, our daily newsletter about podcasting and on-demand. We may make small edits for editorial reasons.