ARN's iHeart and Magellan AI reveal Australia's top 15 podcast advertisers for Q2/23
Press Release · Sydney NSW, Australia · via ARN Media ·
ARN's iHeartRadio Australia and Magellan AI have revealed the top 15 brands advertising on Australian podcasts for Q2 2023, with Amazon topping the list.
Overall, Q2 spending on Australian podcast advertising grew by a huge 64% year on year, indicating a clear trend of brands increasing their investment in podcast advertising. The report found that all podcast genres continue to see an uplift in investment, with a marked increase into the biggest categories Society & Culture (up 48%), News (up 49%) and Comedy (up 127%). Growth in brands embracing the undeniable engagement of True Crime content has also hit new heights, up 116% year on year.
Corey Layton, ARN's Head of Digital Audio, said: "Podcasts are Australia's fastest growing mass medium with brands utilising its soaring engagement to connect with audiences in a more intimate and engaging way. The surge in Australian podcast advertising spending by 64% underscores a compelling shift towards a medium that's as diverse as it is impactful."
The report, which uses the latest artificial intelligence technology, analyses thousands of episodes from 400+ of Australia's most popular podcasts to determine the top brands advertising in this rapidly growing medium.
The Q2 2023 list of top spenders on Australian podcast advertising features brands from a broad range of categories including online retailers, telco and entertainment, with Amazon, McDonalds and nib Group the top 3 ad spenders.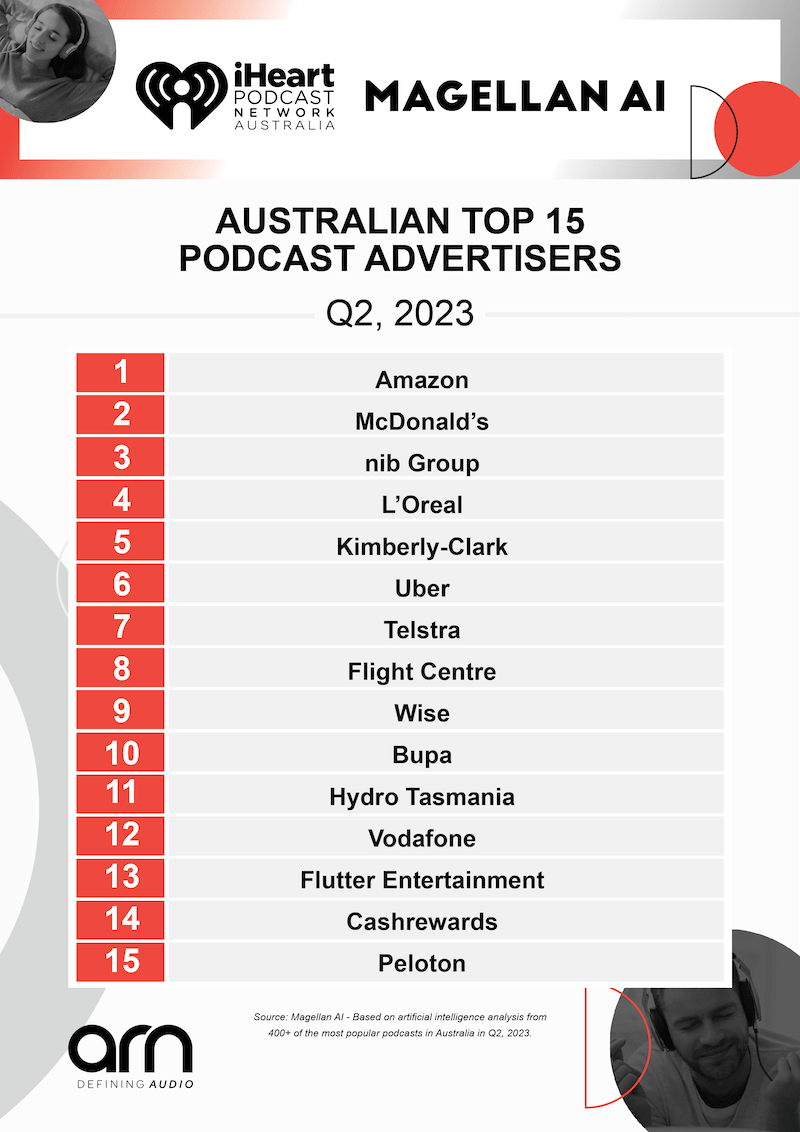 This is a press release which we link to from Podnews, our daily newsletter about podcasting and on-demand. We may make small edits for editorial reasons.