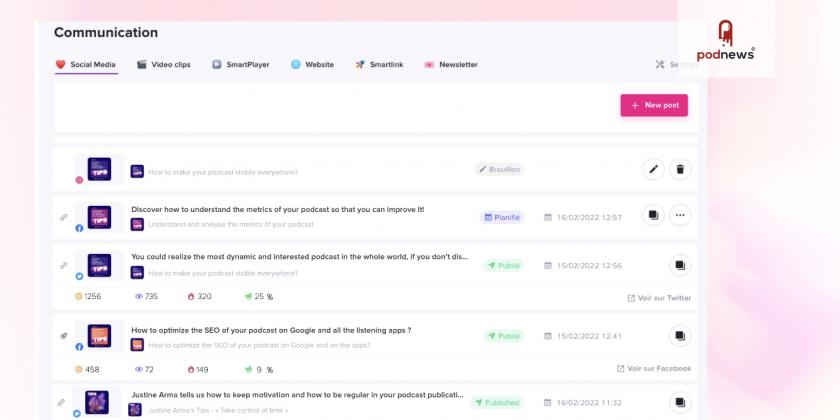 Ausha, the world's first podcast host to offer a complete social media promotion tool
Press Release · Paris, France ·
After recently adding the ability to create multi-format Video Clips and add custom CTAs to all its marketing materials, Ausha now offers podcasters the Social Media Manager. A powerful tool to boost the promotion of your podcast on all social networks.
Social networks are one of the most important lever of discoverability for the promotion of podcasts. Because this is how listeners discover new podcasts and how they start the word-of-mout (which is, you know it well, the key for a new podcast).
For this reason, Ausha has developed a powerful and innovative module to create, plan and publish its communication on social networks.
Until now, podcast creators had to pay services like Buffer or Hootsuite to be able to create their posts in advance and schedule them on social networks. Now, they don't need to go through an additional service because Ausha is connected to Instagram, LinkedIn, Facebook and Twitter.
Ausha's new module makes it possible to add media to each new publication (custom Video Clip, link to the episode or the show's website) and to schedule an unlimited number of posts on all social networks, independently of the publication of a new episode.
In addition to being able to create and schedule posts, Ausha displays data that will allow podcasters to measure the success of their communication.
For each publication, they can now analyze the number of impressions, the number of interactions and the engagement rate of their audience, directly from Ausha.
"Our goal at Ausha is to help podcasters find their audience and we sincerely believe in the power of marketing to grow a podcast," explains Maxime Piquette, CEO of Ausha. That's why we're developing tools to help podcasters promote their show. Our Communication Module will evolve in the coming months with new and more innovative features. Our new Social Networks tool that we have just developed is one of the first steps."
This is a press release which we link to from our daily newsletter about podcasting and on-demand. This is reprinted verbatim; we may rewrite headlines and descriptions.